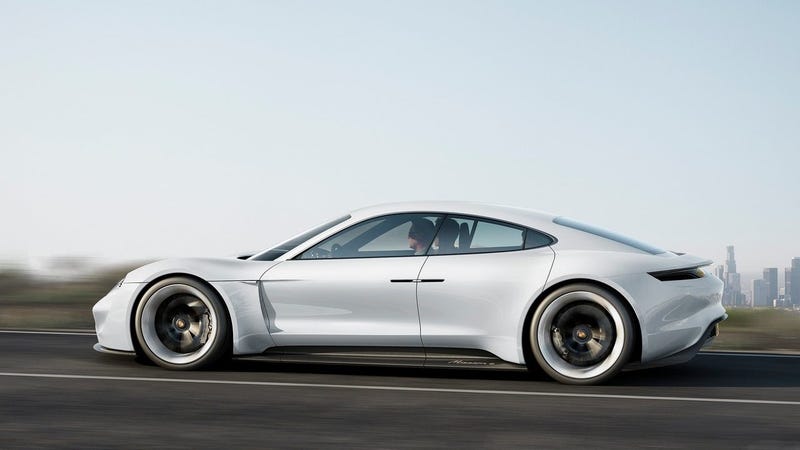 The press pics of the Porsche Mission E Cross Turismo are pretty slick. They show the car in a fine light looking all purposeful and Porsche-ish. But in person, here at the Geneva Motor Show, it looks a little more rough than ready.

Porsche has been teasing plans for its all-electric Mission E, expected to pack as much as 670 hp, with hyperfast charging times to boot. On Wednesday, the automaker ramped things up a notch, announcing plans to install fast chargers at every single Porsche dealership in the U.S. Porsche's EV chief also reportedly…
Despite being the more exciting cars to read about and drive, sports cars and supercars usually aren't on an automaker's top moneymaker list. Which is why the first wave of electric offerings will be cars that appeal to the mass market. After that is when the fun stuff starts coming out, if this chatter about Porsche…
According to Automobile magazine's Georg Kacher, one of the very few to have driven Porsche's sleek alabaster Mission E electric vehicle, the car will be offered at three power levels with the mightiest one coming in at an impressive 670 horsepower. That's a lot of lightning-horses.
The Porsche Mission E, in a heated battle with the wind over which can make a quieter "whoosh" sound, tested on the Nürburgring recently. It's what cars do. If you have negative opinions about it or electric cars overall, do not share them out loud. Your whispers won't be quiet enough to keep a secret from this thing.
Porsche has developed an electric Cayman. The bad news is that they don't plan on selling it. The good news is that it previews the impressive technology that will be introduced with the upcoming electric Porsche Mission E sports sedan.
Tesla should be used to getting called out by other automakers by now—not that it doesn't dish out its fair share of industry trash talk from time to time. Now it's Diarmuid O'Connell, a business development executive, who basically called out the entire field of electric vehicle competition for being boring, claiming…
This is probably not Audi's next Tesla rival. But it looks so good that it simply must be shared with you, the reader, so that you may join me in wishing it into reality.

The Porsche Mission E is a pretty exciting concept, there's no denying that. But innovation isn't free, and Porsche will have to set aside a good amount of cash in order to make its new electric sports car happen—including workers' pay.
Good news for fans of Porsches, fast electric cars, and pretty things: the company has announced that the stunning Mission E electric concept will go into production by the end of the decade, aimed at taking the EV performance spot from the Tesla Model S in a big way.
Everyone thinks Porsche's Mission E could be the next electric Panamera. But it's smaller than that, which means you might be looking at the next 911 instead despite the four doors. No luxurious rear seats, but speed and beauty this time with an exciting concept that we're hoping hits the streets by 2019.