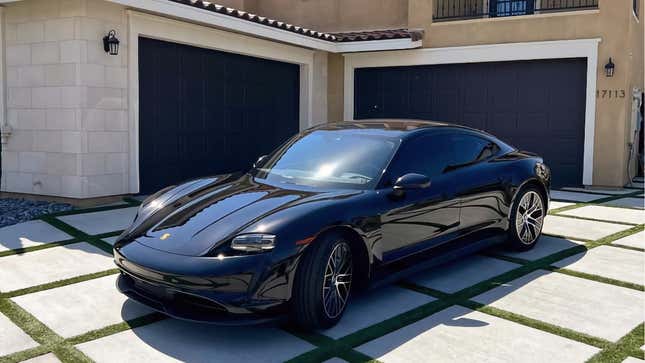 The seller of today's Nice Price or No Dice Porsche Taycan says the arrival of a third child has made the car an impractical choice as the family whip. They also say it's priced to sell, so let's see if it's cheap enough to get potential buyers to start thinking about getting into the Porsche family.
What Exactly Is Going On at Tesla Right Now?
Despite being one of the early entrants into the rabidly popular SUV and crossover game, Japanese carmaker Isuzu never made much of a dent in the U.S. market. Perhaps most telling is that the company's legacy isn't in its products, but in the advertising campaign that introduced spokesperson and prevaricator extraordinaire, Joe Isuzu.
The 1991 Isuzu Impulse XS we looked at yesterday might not be well remembered, but for fans of the marque, it certainly seemed like a solid survivor. That, however, may not be enough, at least not at our Isuzu's $7,000 asking. That earned the Impulse a hefty 80 percent No Dice loss, a result that not even the car's Lotus-tuned suspension could help dodge.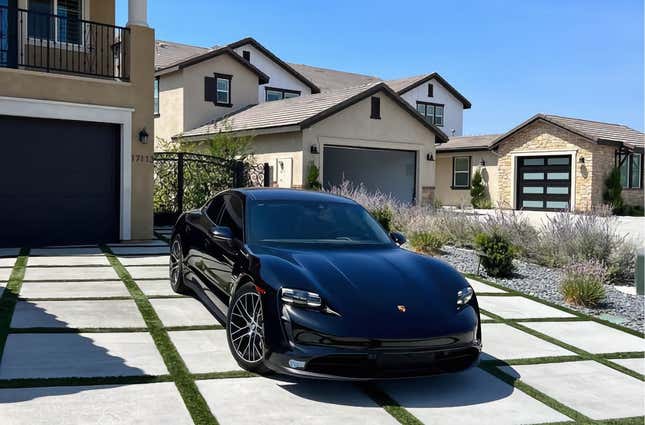 G/O Media may get a commission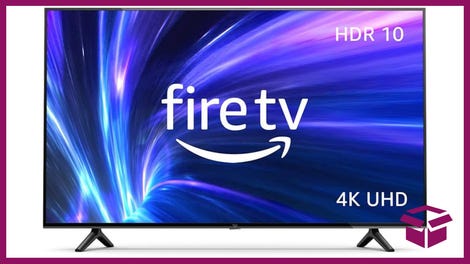 42% Off
Amazon Fire TV 50" 4K Smart TV
Nearly a decade after Tesla shocked the world with the debut of the Model S, that range-topping electric saw its first major competitor in the form of the Porsche Taycan. The German automaker will be further vexing Tesla with electric versions of its Macan small crossover and will probably beat the promised Tesla Roadster remake to market with the expected electric 718.
One thing that all of these cars — both Tesla and Porsche — have in common, besides their electron-eating power plants, is that they are very expensive. That doesn't just apply to new cars either. Supply and demand pressures mean that used cars in general, and electrics in particular, can still command a premium.
This 2021 Porsche Taycan is 24,500 miles into its use, and according to its second owner, the arrival of a third child has made the Porsche a less than ideal choice as a family hauler. That size is a by-product of the car's shape which is low and sweeping. Favoring form over function, the design is about as close to a four-door 911 as you could get save for breaking into Porsche's vault and stealing a 989 prototype.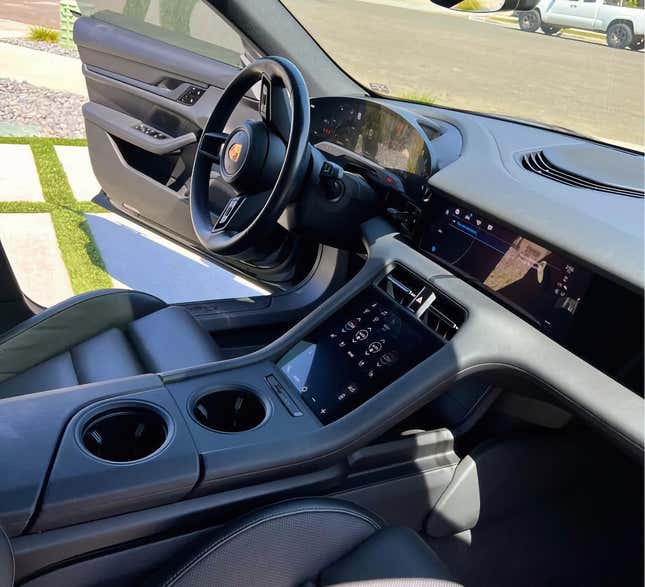 The swoopy bodywork wraps around a four-seat cabin and tops a RWD version of Porsche's J1 platform, with a single 321 horsepower electric motor and two-speed transaxle between the rear wheels. The removal of the front motor gives the Taycan greater range than its AWD siblings at the cost of a bit of overall grip and hookup upon launch.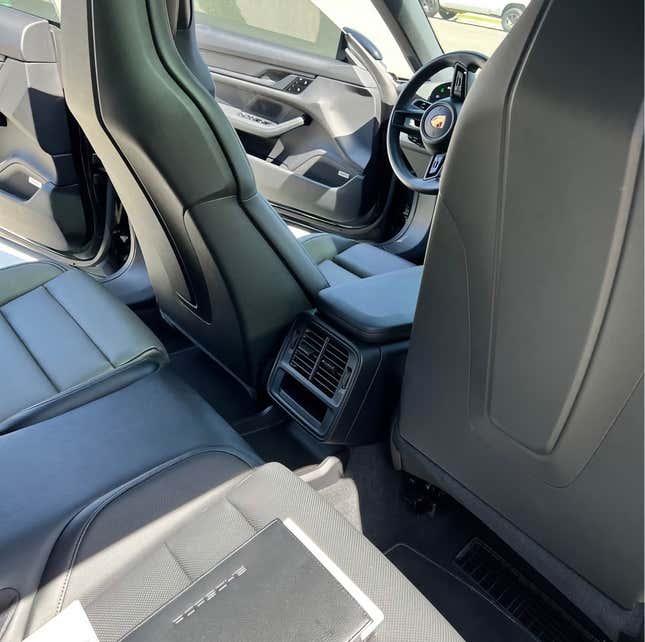 The seller says they bought the car from a friend at the country club since, of course, they did. What the seller doesn't tell us is whether this car has the standard 79.2-kWh Performance Battery or the optional 93.4-kWh Plus pack. Let's assume it's the smaller-capacity battery. That offers an EPA-rated 200 miles of range, which admittedly is not all that great, but with a car as good-looking as the Taycan, hanging out next to it at a charging station isn't the worst thing ever. And with Porsche's 800-volt charging system, those Instagram-able charging sessions won't take much time since the car can go from five percent to 80 percent charge in about 22 minutes.
This one comes in black on black with polished alloy wheels and, of importance to Californians only, the desired state stickers that allow solo driving in the HOV lanes. It's a new enough car to have all the bells and whistles, and seems to have no significant wear and tear. The price tag is $79,999.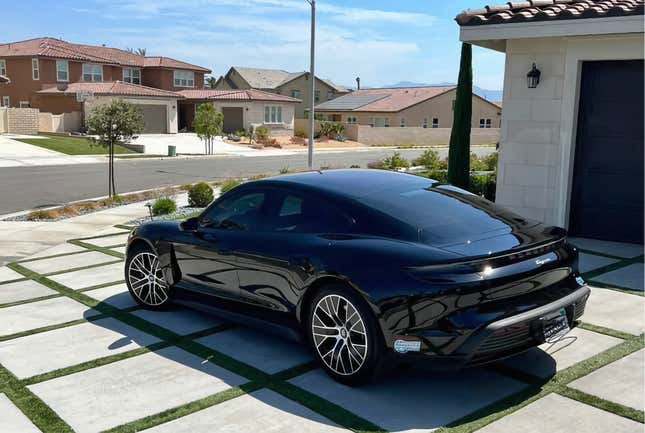 That's a couple of grand below the car's original base price, without any options or extras. As it's being sold private party, there aren't any tax breaks to be had, but it's still a good bit off what a new car would cost, as well as what you might have to pay at a dealer. Is it cheap enough, however? What do you say? Is this electric Porsche a deal at that $79,999 asking? Or, does that price ground it out?
You decide!
Facebook Marketplace out of Riverside, California, or go here if the ad disappears.
Help me out with NPOND. Hit me up at remslie@kinja.com and send me a fixed-price tip. Remember to include your Kinja handle.