With the Porsche Missi... errr... Porsche Taycan on the horizon, the famed German sports car brand is preparing for its electric future. But I'm impatient and don't want to wait for the all-electric 911 that could take years to arrive, so for now I'm glad that renders of such a thing exist.
Courtesy of artist Dejan Hristov, these renders represent a radical departure from the gas 911 we've known for the majority of written history. The headlights were the first thing I noticed, filled in with body color; the taillights, on the other hand, are even more out there.
"The most revolutionary idea on this car is the solution of the rear lights: the lights are holograms. In this way, they can be very large and visible from any angle," Hristov told us in an email. In theory, he says this technology could be used to display information about the road and traffic to people behind the 911.
G/O Media may get a commission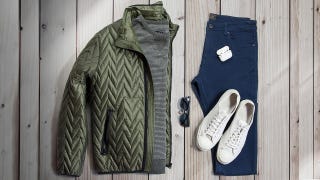 60% off
Jachs NY Fall Sale 60% Off
Also of note is the lack of a rear window. Coupled with the straight-bar holographic taillights, the straight sheetmetal slab where the window normally would be contributes to a rear fascia that's more CD player than traditional sports car.
Hey, who needs windows in our camera-filled future, right?
So is this what the electric 911 will look like? Almost certainly not. Besides the difficult-to-implement and impossible-to-make-legal design touches, there's a bigger issue. We're talking about the Porsche 911, a car almost allergic to notable styling changes.
The eventual electric 911, I'd wager, will look a lot like the gas 911. But I don't care; I dig these renders anyway. If Porsche isn't going to make a radically different 911, we might as well have more creative people do it.