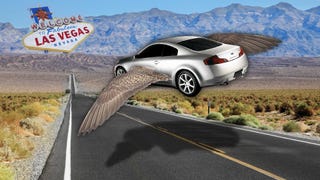 Trips to Las Vegas rarely go how you expect them to (well, unless you're a boring person who doesn't take chances, then they do). Once in a while, though, the unexpected is ridiculously good.
The side blades on the Audi R8 are original but dubiously necessary. That doesn't mean faking a pair onto your Infiniti G35 Coupe means you're original, it means you're dubiously necessary. (Hat tip to TJ)
The driver of this Corvette was allegedly intoxicated, swerving across the road and speeding up to 150 MPH before crashing into an Infiniti G35 and tumbling deep into California's Boisa Chica Wetlands.
We have SickWrathTerror over at the Motive Mag Forums to thank for sharing this photo of one Infiniti G35 owner apparently unaware that the 2009 GT-R was going to be available in the states. [Motive Forums]
Remember yesterday when we told you how the pricing on the Infiniti G35X was a bit funny? How the "Sport Package" appeared to be included in the price of the vehicle yet calls to Infiniti dealers said otherwise? Well today the option doesn't even seem to be listed on the website — not only that but they took away the…
Looks like Nissan's Infiniti brand has some splainin' to do with regard to their online pricing. Tipster Steve D pointed us to a bit of pricing which we agree seems a bit odd. Seems the online car builder on the Infiniti website says the price of the "Sport Package" is included in the price of the G35X at no charge.…