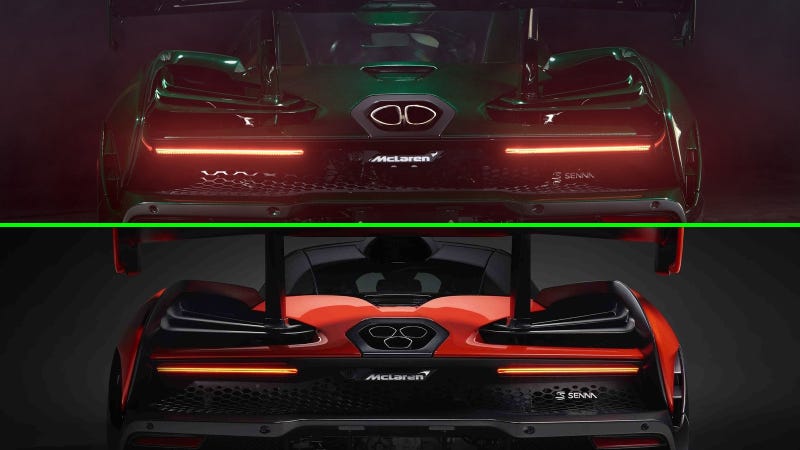 "Wait a second," you scream at your computer. "You mean to tell me that U.S.-spec McLaren Sennas don't get the same exhaust as the euro-spec ones?" This is true, but for once it's not a bad thing. Our American Sennas are even rowdier than what's pootling around Europe right now.

Please, McLaren Senna owners, take your cars on road trips. Please, don't keep them under wraps in a climate controlled basement somewhere. Take your incredibly engineered, incredibly expensive, and incredibly ugly cars out for long haul road trips, because cars were built to be driven. You probably don't have…
We saw the second McLaren Senna ever delivered, and specifically, its key on Tuesday. We also heard its glorious roar. Behold.
When people talk about multi-million dollar cars, everyone wants to talk about the speed. Or the luxury. Or the GOOOOOOOLD. But I like the littlest details, the ones most people don't even think about. Like this, the key fob for the McLaren Senna.
The lightweight McLaren Senna supercar made a run up the Goodwood hill this weekend with Bruno Senna at the wheel. The nephew of Formula One's perhaps most iconic driver, former F1 driver in his own right, and 2017 FIA WEC LMP2 world champion, the 34-year-old Senna is also a McLaren factory development driver and…
A quick glance at the speedo in the $1 million, 789 horsepower McLaren Senna showed I was knocking on 300 kph, and quick brain math meant that was nearing 186 mph. My foot stayed planted on the gas. Then at the 200 meter board… I stood on the brakes to make turn one at Estoril. We lost over 100 kph in no time at all.
Earlier this week we learned that the upcoming three-seat McLaren BP23 will be crazy fast—faster than even the legendary McLaren F1 was. Now the mad scientists from Woking have unveiled two important numbers: 243 and 106.
Hot off the heels of launching a super hardcore version of the Senna, the Senna GTR, you'd expect McLaren to want to take a bit of a break. Not so! Now it's here from the Geneva Motor Show with some news about the upcoming F1-style three-seater BP23: It's going to be fast. Very fast.

The McLaren Senna is a divisive car. It's light, powerful, and not all that pretty. Some people hate the looks, others like it because it's going to be so freaking fast. McLaren wasn't done when it made the road car though. It decided to see what would happen if it didn't have to worry about safety regulations,…
I've made no secret of my distaste for the McLaren Senna's looks. Thankfully, McLaren has heard my bellyaching and given us this: the McLaren Senna "Carbon Theme." It's not bad! It's just really freaking expensive.
Visually, the new McLaren Senna is a lot to take in. I distinctly remember grimacing when I first saw the press photos of it, but now that I've actually taken a longer look at it, I appreciate it a lot more. I still don't find it attractive, though.
The newest member of the McLaren Ultimate Series has dropped a little earlier than expected, appropriately dubbed the McLaren Senna. This isn't the three-seat layout car we've been hearing about, but it's still really exciting.