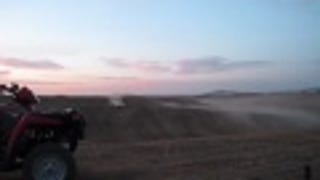 We're used to seeing Scandinavians jumping home-brew Volvos, often to their death, but this jump comes from North America and it's the longest Volvo leap we've ever seen. It is a tribute to the open expanses of this continent.
Although it is possible there are two nearly identical custom two door full size Mercurys in the world, it seems a lot more likely this topless Marauder is the same car shown by Ford at the Chicago Auto Show in 2002. There are no details whatsoever included in the Ebay listing for the car you see here, but this custom…
When you're rollin' Grand Marquis style in Kuwait, laughing at the suckas in their effete Benzes, you need to let the world know how you feel about… well, we can't quite figure that out.
The two cowboy-hatted "Equine Entrepreneurs" at some point noticed the horse always seemed interested in tagging along whenever they went somewhere, so they modified their car to make it easy for Patches to do so. He apparently lives for a good cheesebuger and has put down as many as five in one sitting, doesn't like…
Sometimes you look at the price of a car for sale and you ask yourself, "Is that a pretty good deal, or would I have to be smoking the rock to pay that much?" That's what Nice Price Or Crack Pipe is all about, and we're going to follow up yesterday's high-buck factory-racer '63 Pontiac- which 65% of you felt went for…
When we first reported on the sad story of a dead woman towed away with the car she died in, reports seemed to indicate that the first responders knew that there was a dead woman at the scene. According to the LA Times, not so much. In fact, it looks like there were firefighters on the scene for more than an hour and…
As much as we hate waiting in line at the DMV, we usually just bring along a book and an iPod to pass the time. We're guessing 80-year-old Therese M. Smith didn't have an iPod, which is why she drove her 1990 Mercury Grand Marquis (the official car of old people) into the windows of the office. Seven people were sent…