It was a tumultuous year for the auto industry and for American car enthusiasts. We watched new cars rise, old companies fall, and heroes pass. These are the ten car stories that Jalopnik readers thought defined the automotive world in 2011.
Welcome back to Answers of the Day — our daily Jalopnik feature where we take the best ten responses from the previous day's Question of the Day and shine it up to show off. It's by you and for you, the Jalopnik readers. Enjoy!
10.) We got a new Porsche 911
Suggested By: OAO
Why it's important: The evergreen sports car entered into a new generation of excellence in 2011, with a bigger, plusher, and yet somehow more rewarding form. Everyone from weekend racers to Beverly Hills poseurs has something to look forward to in this new car.
G/O Media may get a commission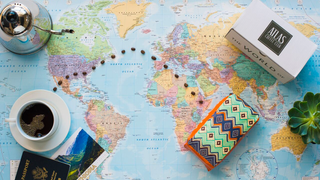 First Bag Free
Atlas Coffee Club - Free Coffee
Explore global coffee
With each bag, Atlas includes details on the coffee's tasting notes and a postcard about the region and its coffee history. And when you subscribe, you have options to tailor frequency, grind size, and roast preference of your beans, so you'll always be brewing the perfect cup.
See: 2012 Porsche 911: First Drive; The full gallery and specs; How Porsche tested the new 911
9.) The revival of Ayrton Senna
Suggested By: danzeger01
Why it's important: With the US debut of the stunning documentary of his life and death, Senna, America and the world reignited their passion for the spirited, spiritual racer from Brazil.
See: Our review of Senna; fans getting Senna tattoos
8.) The Toyobaru family debut
Suggested By: Xander Crews, Proud of BOXER
Why it's important: Toyota and Subaru delivered the shining light for automotive enthusiasts this year, the Toyota FT86/Scion FR-S/Subaru BRZ triplets, though we won't get the Toyota here in America.
We're happy that Toyota is trying to get its groove back, but we're shocked that there is a new, affordable car that we can't wait to drive and want desperately to own.
See: Scion FR-S: First live photos and details; Yes Toyota and Subaru can save driving
7.) Formula One announces it return to the United States
Suggested By: Fast Forward
Why it's important: Bernie Ecclestone approves two new American grands prix: one in Austin, Texas, and one in New Jersey, just across the Hudson River from New York City.
We might only be setting ourselves up for complete disappointment when the cities back out of the money pit that is Formula One in a few years, but for now we're just happy we don't have to drive up to America's hat to see F1.
See: David Coulthard talks donuts, breakfast tacos, and F1 in the US; David Coulthard takes the first dusty lap of the Austin track
6.) The last Ford Crown Victoria was built
Suggested By: Lothar34
Why it's important: The last representative of what was once America's automotive standard, the body-on-frame full-size sedan, ended its astounding 32-year production run. The Crown Vic was the country's last great body-on-frame rear-drive V8-powered sedan. No tall-boy crossover or SUV can truly take its place of a simple, durable, great vehicle.
See: The last Ford Crown Victoria ever built; The death of the Ford Crown Victoria is a sad day for America
5.) The death of Saab
Suggested By: nibbyS500
Why it's important: Saab was finally committed to the earth after it filed for bankruptcy with no buyers, and then GM sealed its fate by blocking any hopes of a sale to the Chinese due to concerns over the transfer of technology.
A celebrated marquee finally succumbed to a decades-long disease of platform prostitution in the harsh modern international car market.
See: The Death of Saab; Don't buy a Saab; Börn From Jets: The Five Greatest Saabs Ever; The seven cars that killed Saab
4.) Crashed Volt catches fire
Suggested By: W123D sedan roadster - WRX - 944 LeMons edition
Why it's important: The safety of electric vehicles was called into question when a crashed Volt caught fire in storage. Jalopnik and many others concluded that electric cars are indeed safe, but the electrification of the automobile took a significant blow with this PR nightmare for plug-in hybrids and pure battery electric vehicles.
See: Chevy Volt crash test fire exploded into federal investigation; Are electric cars safe?
3.) The Google Car crash
Suggested By: RalphieDC
Why it's important: The world took its first hard look at what the world will look like with driverless cars on the road. Jalopnik uncovered the first exclusive photos of the crash, sparking an ongoing debate over driverless cars. Are they an automotive menace or a saving grace for deadly accidents and mind-numbing traffic?
See: Google's driverless car crashes; How Google's self-driving car works
2.) The death of Dan Wheldon
Suggested By: Corz
Why it's important: A respected racer, husband, and father died competing. Many will remember him personally, and his death will be a driving force for new safety measures in open wheel racing.
See: Dan Wheldon Dies at Las Vegas IndyCar Race; the chilling footage of the crash
1.) The tsunami in Japan
Suggested By: Kiwi_Commander
Why it's important: The earthquake, tsunami, and nuclear crisis in Japan dealt a resounding blow to the Japanese nation, and to the export-heavy Japanese auto industry. The rest of the world made gains while giants like Toyota and Honda faltered. It was more than just a car tragedy, though. It was a massive human one.