Does the 2012 Porsche 911 continue to advance the 911's sports-car capability, while making it accessible to the widest possible pool of potential drivers, and without throttling its famous rear-engined motoring quirkiness? Let's drive the new Carrera S and find out.
Full disclosure: Porsche wanted me to drive the new 911 so badly, that they paved their own high-speed autocross course at an airfield north of Santa Barbara, California, where they put me up at a silent-film-era resort. To my knowledge, Roscoe "Fatty" Arbuckle never stayed here.
Imagine a world in which lifting a Porsche 911's throttle mid-corner does not guarantee an about-face toward oncoming traffic. It's a world Porsche 911 engineers have striven to create for decades, even while the one factor that might correct the problem shan't be touched — that is the 911's engine, hanging, rucksack-like out over the rear axle.
And yet, in doing so they've created a car that, in skilled hands, can do miraculous things — both despite and because of — its unique configuration. Now, here we are, driving the most radically altered 911 model since the 996. It's longer, lower and rides on a wider front track than the 997 model it replaces. It's also more efficient, thanks to a few hybrid-like tricks like a start-stop function (in the PDK transmission) and the adoption of electromechanical steering. That last one's been a controversial move, since steering feel has been one of the 911's best traits.
G/O Media may get a commission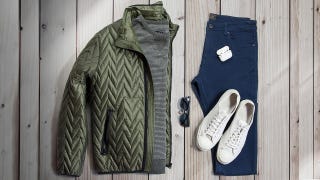 60% off
Jachs NY Fall Sale 60% Off
Porsche calls the new 911 model — the 997's successor — 991 because, well, don't bother asking — it doesn't matter, anyway. Porsche executives joke that they'll still be building 911s long after they run out of potential 900-range numbers to use. And when German engineers make jokes, you know it's very serious stuff.
They also say the new 911 S has beaten the previous model's Nürburgring lap time by 14 seconds, putting it in 997 GT3 and Turbo territory. That's pretty serious too.
Naturally, a boost in power has been a major factor in the faster lap. The new S model's 3.8-liter flat six produces 394 hp and 325 lb-ft, continuing a relentless march upward. The base Carrera gets a downsized 3.4 liter six that produces five more horsepower than the previous 3.6-liter. From the driver's seat, the extra power translates into more dramatic launches via PDK's launch control.
But an equally important difference in the new car's lap time was from the new addition of Porsche's Dynamic Chassis Control (PDCC) active anti-roll gear. It's a novel version of a system introduced on the Cayenne that engages the stabilizer bar during cornering, while allowing the wheels independent range of motion in a straight line. That means a more comfortable highway ride, but when it's called on to change direction, the 911 stays comically flat — for a road car — responding to steering inputs with remarkable quickness.
But what about the 911's typical, gut-checking rotation after turn-in? It's just not there. Yes, Porsche has largely engineered out the burble in the pit of the stomach that once arose when a 911's engine started doing its pendulum dance. Experienced 911 drivers have always known how to make the car's tail-happiness work in their favor. Now, perhaps due to the new model's longer wheelbase, that feeling is deeply in the background. You have to really screw up to get the new 911 to bite back.
[Video: In regard to the 991's handling differences, we asked Porsche works driver Patrick Long for his first impressions of the new 911, specifically as it regarded changes in turn-in and controllability, and to predict what the racing version might be like. ]
And then there's the steering issue. Naturally, when you mess with a Porsche 911's steering, it's like colorizing "It's a Wonderful Life." Sure, it's got its advantages, but the faithful will undoubtably huck tomatoes. The truth is, the new system delivers slightly less information to the hands, and yet the car's mechanical reflexes compensate by being so alert that it might seem petty to lament the hydraulic pump. Yes, there is a tradeoff, but it's not the end of the 911's steering mojo. That doesn't mean we're not looking forward to how engineers will improve the system in the future, especially for the next GT3 — current king of all steering.
Transmission wise, the new 911 is made for dual-clutching. In Sport Plus mode, the PDK's shift times are astounding, and it's now become clear that the killer app for PDK is letting it do all the shifting work – its predictive algorithm has become just that good. If you'd rather not be tempted by the dark side, stick with the new seven-speed manual, which feels as natural as a fourth appendage. And don't worry about a missed shift – you can only grab seventh from fifth or sixth gears. And you'll only do that when you want to lope along at a couple thousand RPM, sipping high-test through a cocktail straw.
The interior continues Porsche's adaptation of the Carrera GT's console design. It's a little more snug than 911s of the past, but the quality of materials and touch-point feel is better than ever. A new, high-res 4.8-inch screen in the dash cluster provides eye-line access to navigation and other features, which now include a G-Force display.
The 911's relentless march upward in performance, technology and quality indeed comes at a stiff price. And that price is a base of $97,350 including $950 destination for the Carrera S (the base Carrera will cost $83,050). The 2012 911 goes on sale on February 4, 2012, so if your back pension hasn't come in by then, you may be out of luck.
Indeed, the 991 is the most stable, un-scary, even-tempered 911 in the model's 49-year history. But if fear truly is the heart of love, as Catholics believe, then can anyone love a Porsche 911 that gives them nothing to fear? Yes. It's a mystery.
2012 Porsche 911 2dr Cpe 997 Carrera Specs