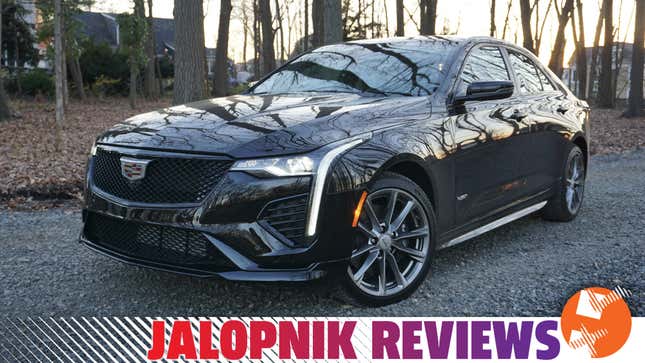 The CT4-V isn't so much a performance car as it is just a middle child in Cadillac's CT4 lineup. It slots above the base CT4, but decidedly below the balls-to-the-wall CT4-V Blackwing. That might give you the impression that the CT4-V is Cadillac's answer to the BMW M340i and Audi S4, just at a lower price. But it's not. And after hundreds of miles behind the wheel, this car's position in the world is… well, it's complicated.

Full Disclosure: Cadillac was kind enough to lend me a 2023 CT4-V with a full tank of gas to do what I wanted for about a week as I traveled home to surprise my dad for his birthday (it worked).
Driving the Cadillac CT4-V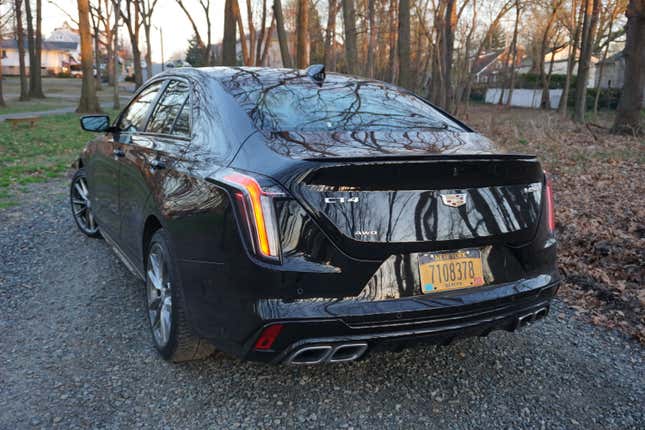 In a vacuum, the CT4-V is a fine car. It's quick, makes a decent noise and is pretty fun to drive on a twisty road. There's just one issue: We do not exist in a vacuum, and neither does the CT4-V. At $57,790 as tested (including $1,395 for destination) the CT4-V is far cheaper than its competitors, but not by enough to make up for its performance shortcomings.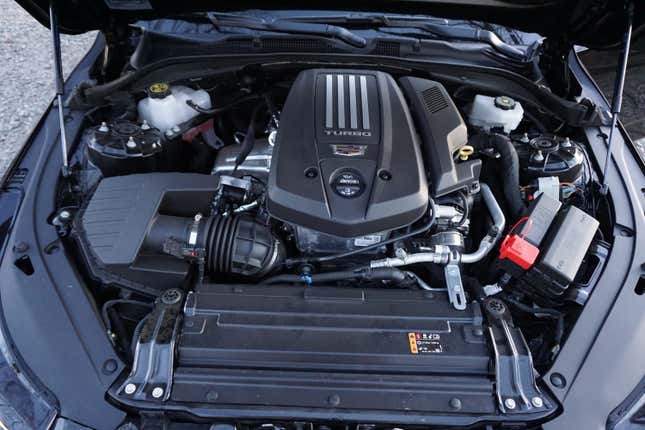 The standard 2.7-liter turbocharged inline-4 engine is a real sweetheart and so is the quick-shifting 10-speed automatic transmission. 325 hp and 380 lb-ft of torque are sent to an optional all-wheel-drive system, and if you're tired of things like linear power bands and hidden turbo surges, this powerplant is for you. Turbo lag is a really noticeable thing in the CT4-V, and while some people may not like that, in a weird way, it makes this car kind of fun. Put your foot down at low revs, wait a second or two, and then everything hits. If you like that old-school feeling, you'll love the CT4-V.
A bit of fake engine noise is present inside the CT4-V, and its intensity can be changed based on the preselected drive mode or your own personal preference. I never found the noise to be too intrusive, and with a couple of taps on the screen it can be shut up completely. Unfortunately, there isn't much sound happening outside the car. In all honesty, it sounds like just about every other slightly hopped-up four-popper. It'll fart on upshifts and crackle when you let off the throttle.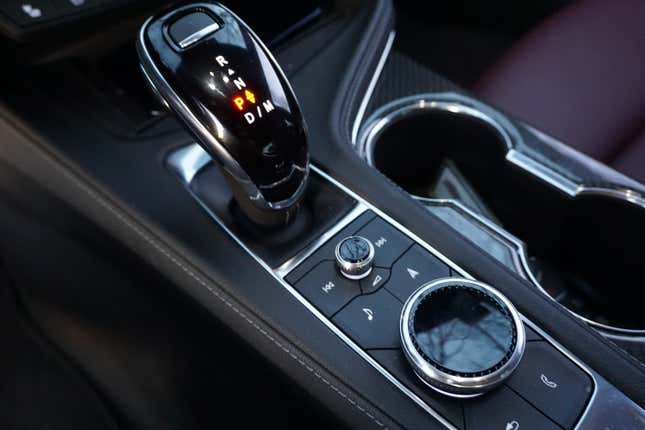 In most drive settings, the 10-speed automatic will smoothly transition from gear to gear, but when you put the CT4 in full-kill V Mode, it rockets off shifts as quick as you could ever want. I know that some people will feel like 10 gears is a few too many, and I get that. But with all those gears, you can always be right in the heart of the powerband if you aren't into turbo lag. Another added bonus of having as many gears as a Trek is the fact that, at 85 mph, you're running below 1,800 rpm, which is great for efficiency. The EPA says you'll get 20 mpg city, 28 mpg highway and 23 mpg combined in the CT4-V, and over the duration of my test, I found that to be fairly accurate.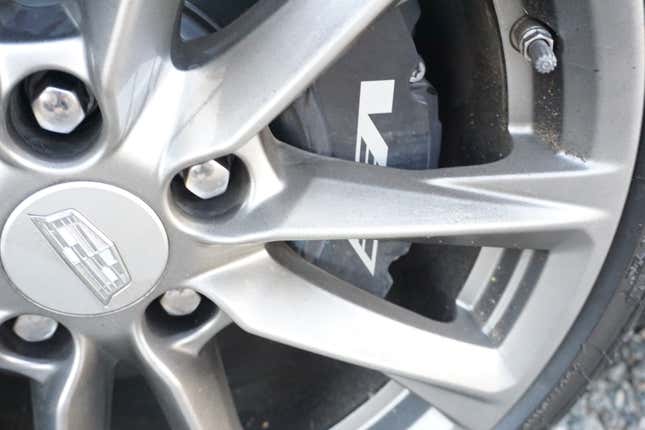 In terms of that optional all-wheel-drive system, I didn't get to push it too much, but it did help me rocket off some seriously quick 0-to-60-mph times in the high-4-second range. If all-wheel drive isn't your thing, rear-wheel drive is standard, and it'll save you $500. Overall, the CT4-V rides a little bit firm, but it's never uncomfortable.

That's all great, but none of it is really enough to not be overshadowed by the one major issue with the way the CT4-V drives: its steering. I drove this thing over 520 miles, and not once did I get a single feeling that the steering wheel was in any way connected to the front wheels. It's numb, vague and left me second guessing just about every time I pushed this car on a twisty road. I do not feel that the issue is enough to keep me out of a CT4-V, but if Cadillac wants to make a truly compelling compact sports sedan, the steering needs to be a damn lot better than this. I said my piece, Chrissy.

The CT4-V's Interior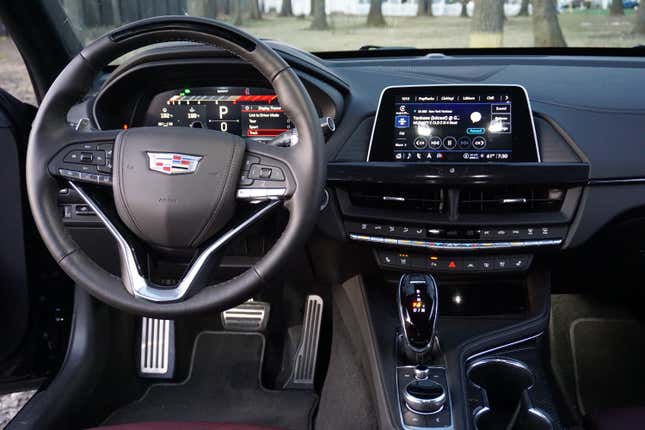 The inside of the CT4-V is a rather mixed bag. Some of the elements are really great, like the massaging leather seats and power-adjustable thigh extenders and side bolsters, but unfortunately, there are some real head scratchers.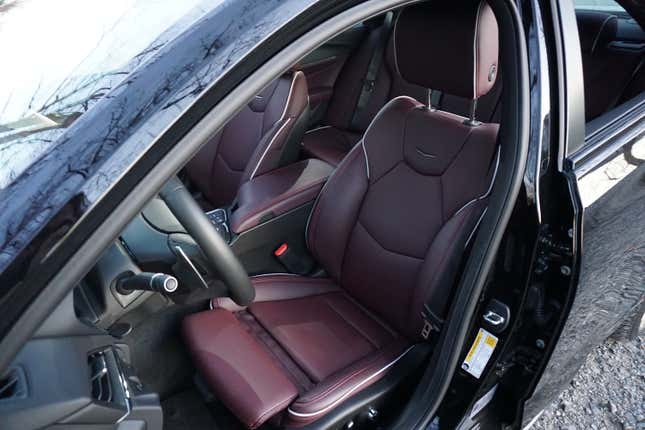 There are a lot of cheap plastics, but I guess that's a necessity of the CT4-V's relatively low price. One thing that truly drives me wild is the size of the steering wheel. Most of the time, you want your sport sedan to have a smaller-diameter wheel; this one feels like I'm captaining a great ship, and it really just doesn't fit in with the rest of the vehicle's character.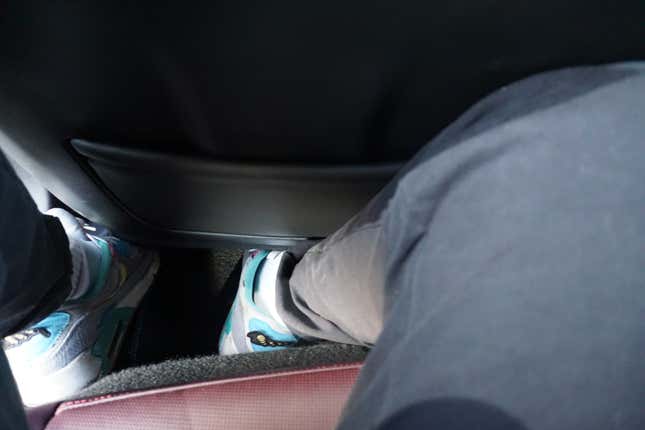 What's worse, though, is that I don't fit all that well in the CT4-V. I'm just over 6 feet tall with a long torso, and even with my seat positioned as low as it'll go, I can't get my hair to stop brushing against the headliner.

The problems are even worse in the back. I cannot for the life of me figure out how Cadillac made a car this large on the outside so small on the inside. I can't even come close to sitting in the rear seats behind my seating position. There's a severe lack of rear headroom and the transmission tunnel takes up a lot of valuable real estate on the floor.
Tech Packed into the CT4-V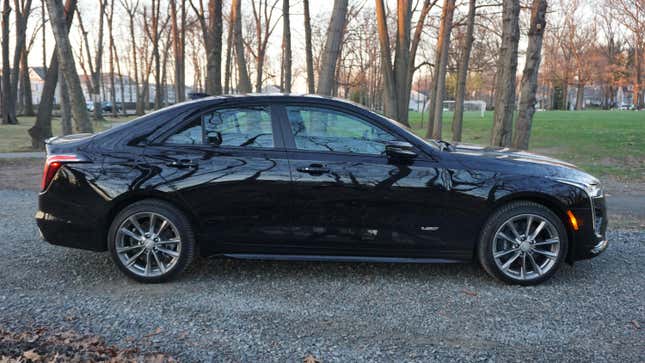 The interior might have issues, but at least the CT4-V's tech is great. One of the first things you'll notice is the extremely high-definition gauge screen. It's customizable, and even has a minimalist mode, which feels like a throwback to Saab's Night Panel.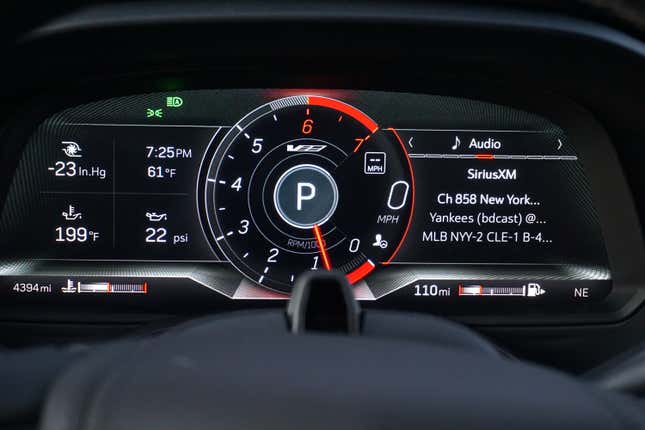 On the subject of displays, I absolutely love Cadillac's latest infotainment software, but the 8-inch screen is too small. It's dwarfed by products from European competitors. But at least the infotainment control wheel feels like a nice, high-quality item.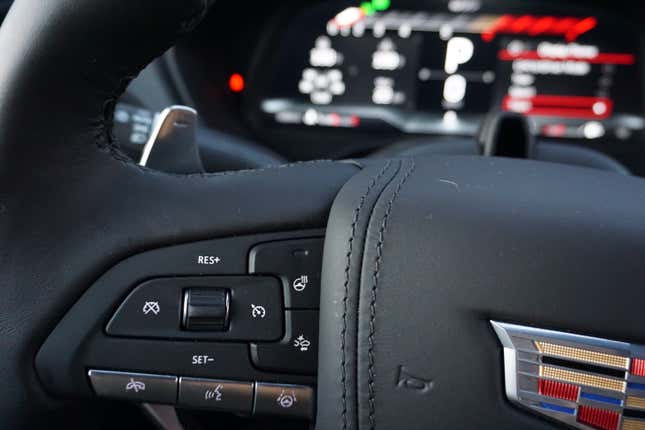 The best thing about this Cadillac, though, is Super Cruise. It's part of the $8,100 Super Cruise 2 Package that, along with the driver-aid tech, gives you an upgraded sound system, navigation and upgraded exterior lighting which adds LED cornering lamps.
Just like in other Super Cruse-equipped vehicles I've driven, this whole program is a dream. As long as you're on one of General Motors' hundreds of thousands of miles of pre-mapped roads, the car will control the steering, throttle and braking at highway speeds for long distances.
It's smooth and easy to use. It's what Tesla's incorrectly named Full Self-Driving system wishes it was.
The CT4-V on the Outside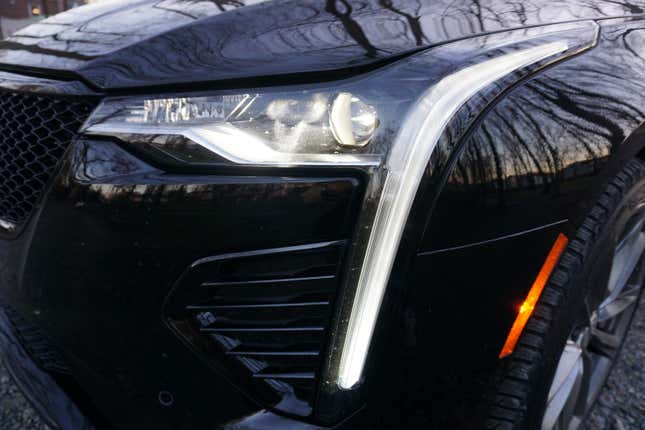 The CT4-V is fairly understated as far as sport sedans go. There's no gaping grille up front or huge wing out back. It's all very subdued. However, Cadillac still can't seem to quite get over the stigma it created for itself over the years. More than one time, my passengers described it as an "old man car." Apparently they were unmoved by the raspy exhaust note and smattering of V badges.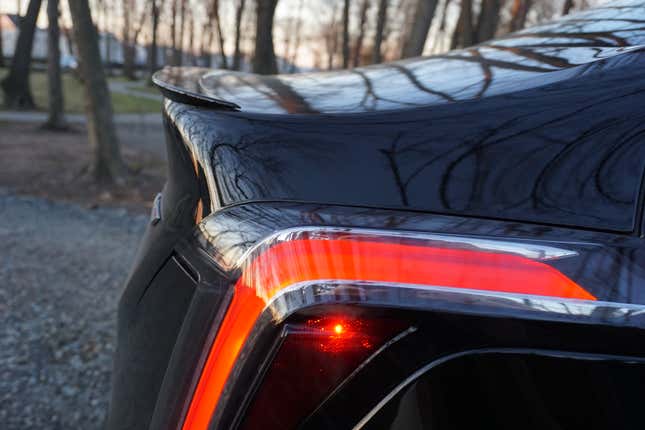 In all reality, those two elements – the badges and four exhaust pipes (one for every cylinder, though they're actually fake and mask dual exhaust outlets) – are the only ways to tell a CT4-V apart from a regular CT4. There's also slightly less chrome than the normal CT4, which I suppose gives it a slightly sportier look. None of this is to say that the CT4-V isn't handsome, however; its clean and crisp lines do make for a thoroughly modern-looking sedan. It's almost an antithesis to what BMW has done with its four-door 4 Series Gran Coupe.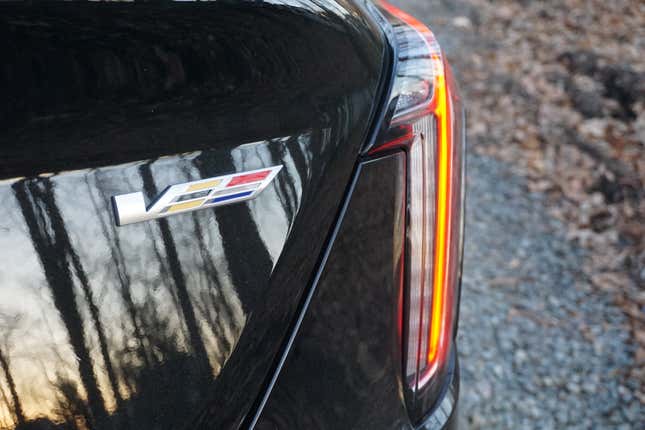 My tester is equipped with 18-inch wheels at all four corners, and they sort of look small compared to the rest of the CT4-V. If you want something a little bit bigger and are cool with potentially losing some ride comfort, 19s are also available as an option.
I do like a lot of this sedan's other details, though, like the long, vertical LED running lights up front and the small lip spoiler out back.

Summing Up the CT4-V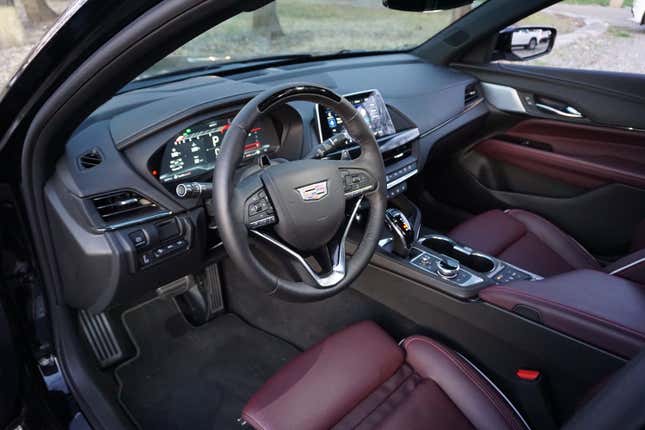 On one hand, the Cadillac CT4-V is an absolutely competent vehicle that will serve you well. It gives you a lot more performance than the regular CT4, but it doesn't quite stack up to other vehicles in its class. The Audi S4 and BMW M340i are more expensive, but they're way better to drive.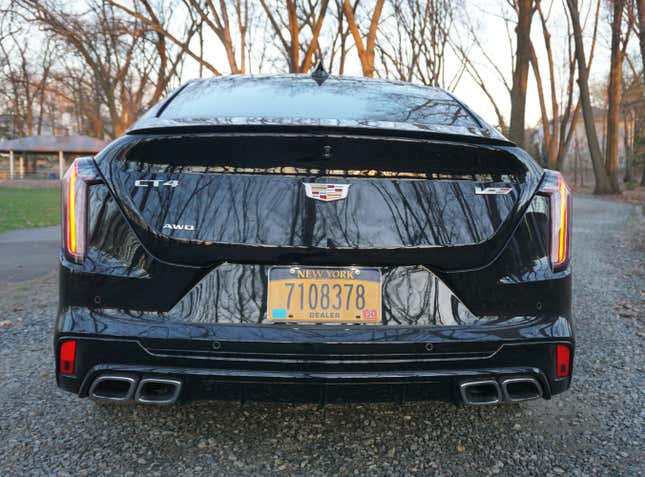 The V sits firmly in between the regular CT4 and the CT4-V Blackwing, and with a starting price of $47,690 (including destination), you do get a good bit of kit for your money. But I just don't know if that's really where you want to be at the end of the day. Instead of a middle ground, the CT4-V just feels like a compromise.