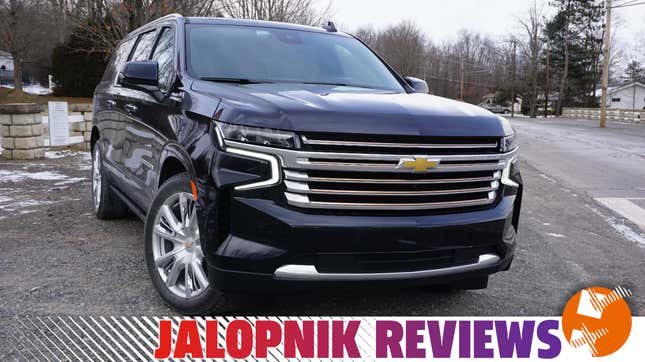 The top-of-the-line Chevy Suburban High Country seems like a vehicle of a bygone era. Surely there's no reason why anybody would shell out damn near $92,000 for a 19-foot-long behemoth with a 6.2-liter gas-guzzling V8 in 2023. I admit I, too, was totally a nonbeliever. But then I drove it.

Living with the Suburban makes you realize why it costs as much as it does, and why so many people buy rigs like this every year. It's a vehicle meant to fit your entire family, their friends, their pets, and a month's worth of luggage, all while towing a boat and cruising quietly and comfortably down the highway. And the Suburban does that job better than just about anything I've ever driven.

Full Disclosure: Chevrolet lent me this Suburban with a full tank of gas to do what I wanted for an extended weekend in Northeast Pennsylvania. I went to my first baptism.
Big in Every Dimension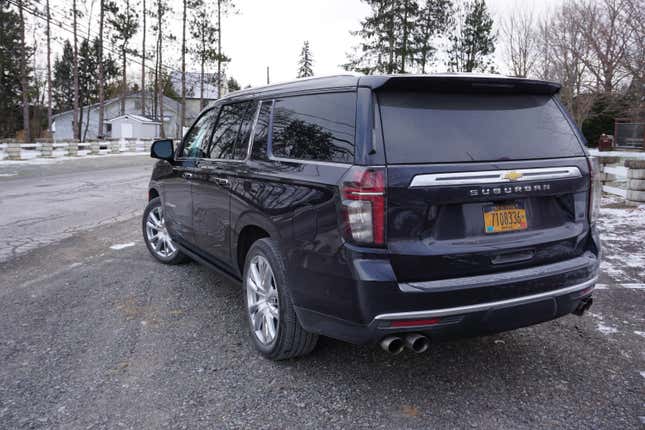 Everything about the 2023 Chevy Suburban is massive. From its footprint to its engine to the feeling you get when you're behind the wheel, you cannot escape that large-and-in-charge aura. You are in command of a vehicle that weighs a tick over 6,000 pounds, and if you load it up to its maximum capacity, you'll be piloting an SUV that weighs over 7,600 pounds. Ain't America something?

G/O Media may get a commission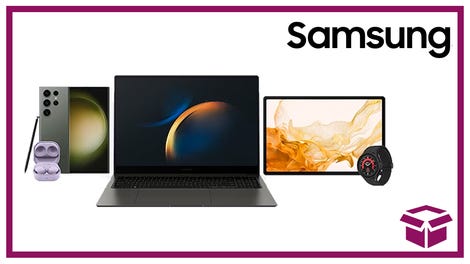 24 hour deals
Discover Samsung - Daily Deal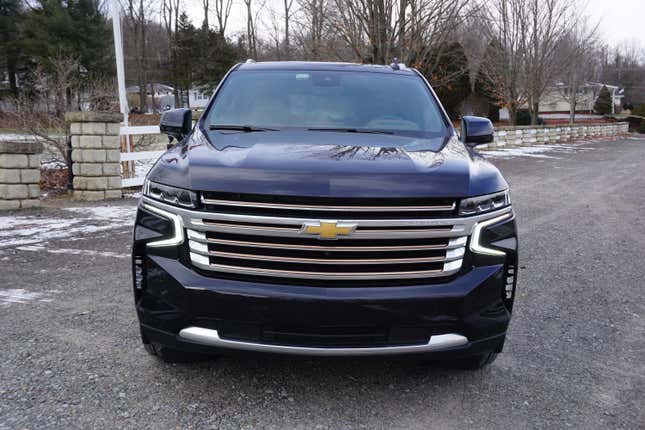 You do get a lot of vehicle for that weight, though. The Suburban is just shy of 19 feet long and nearly 7 feet wide, not including the mirrors. Luckily, this Suburban High Country was equipped with a fantastic 360-degree camera system that made even tight New York City streets easy to manage. Hey, if Uber drivers can do it, so can I.

That huge footprint lends itself to an equally big interior. The Suburban High Country is configured to seat seven passengers, with two captain's chairs in the second row, but if your family is the size of a CYO basketball team, you can get seating for eight or even nine passengers, with a front-row bench and everything.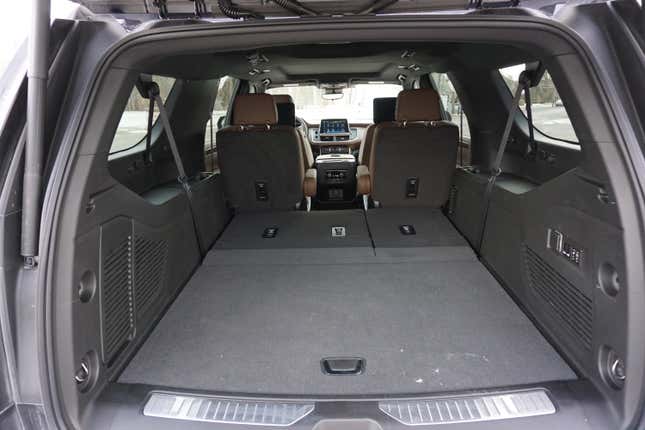 The seven-seat configuration is perfect for families who don't like each other very much, mostly because no one will even be in the same zip code when they're sitting in this car. You'll never run out of head-, shoulder-, knee- or leg-room. Even third-row occupants will be comfortable sitting three-across, and the trunk is still massive. With the third row up, there's 41.5 cubic feet of cargo space. Those seats can fold at the press of a button to give you 93.8 cubic feet of cargo space. If you're moving all of the contents of a small house and need to drop the second row, you'll have more than 144 cubic feet of room. That's 20 more cubic feet than you get in a long-wheelbase Ford Expedition Max.
Super Cruising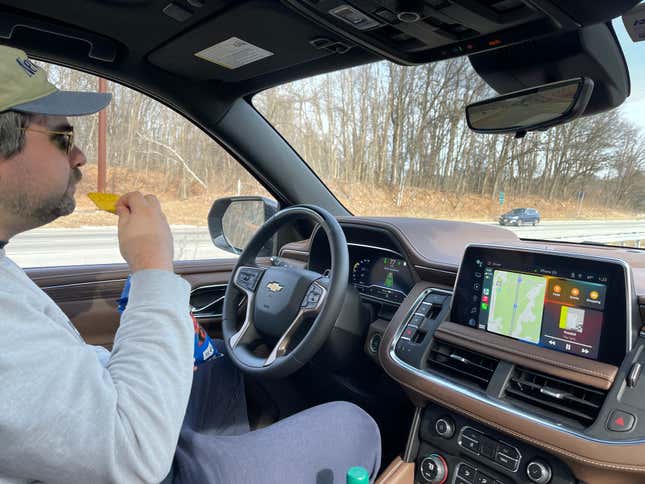 General Motors' Super Cruise hands-free highway driving assist is awesome, but it doesn't come cheap. It'll cost you $2,500 up front, and an additional $25 per month as a subscription. That may sound like a lot, but if you do a bunch of highway driving or get stuck in traffic often, it's a godsend.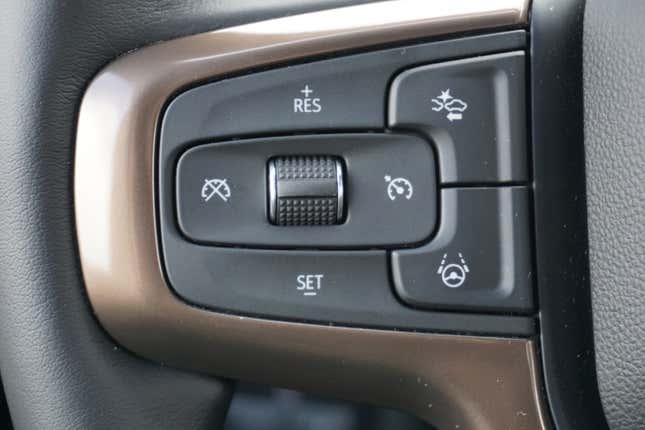 With the touch of a couple of buttons, your vehicle will, for the most part, be able to pilot you down the highway hands-free. If the road has been mapped out by GM and the vehicle can see the lane lines, the Suburban will give you the okay to take your hands off the wheel, and keep them off. That's a big departure from most other automakers' systems that make you touch the wheel every 30 seconds or so. I was able to drive from my home in northern New Jersey all the way to Scranton, Pennsylvania, about a 110-mile journey, while only touching the steering wheel one time on the highway. It's a remarkable thing that takes a lot of getting used to – hell, if it comes up on slower traffic, it'll automatically change lanes, pass the slower vehicle, and go back to its original lane – but Super Cruise is one of the best driver-assistance technologies available today.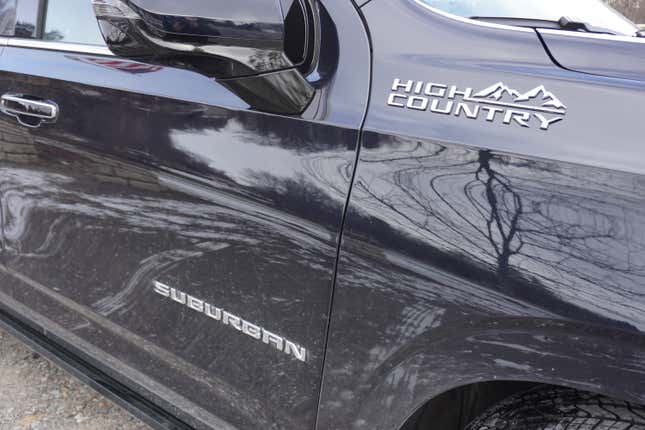 The reason it's so good is because GM is fairly selective on where you can activate Super Cruise. Unlike Tesla's shaky system, which for better or worse can be activated literally anywhere, Super Cruise only works on 400,000 miles of pre-mapped highway in the U.S. and Canada, but that number is growing. If you find yourself on a bit of road that hasn't yet been mapped by GM, you can still use adaptive cruise control with lane-centering tech, which requires more hands-on operation. It's sort of like diet Super Cruise.

Driving the Suburban High Country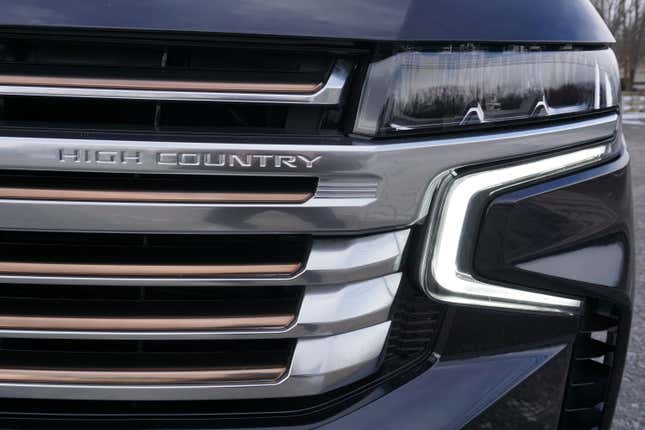 There are a few things that separate the top-shelf High Country from other, more plebeian Suburban trims. After all, a base Suburban LS with zero options starts at $58,795, and a four-wheel-drive High Country starts at $81,945 (all prices include $1,895 destination charge).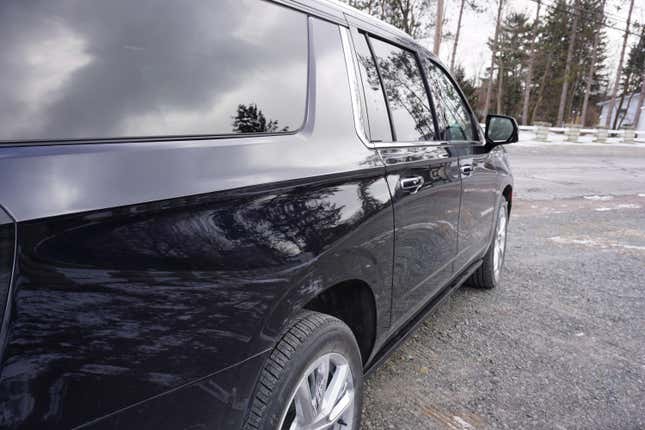 One of the most notable additions is the height-adjustable air suspension with MagneRide dampers. This setup works brilliantly, providing a super cushy ride over some of Pennsylvania's less-than-ideal roads. As equipped, the Suburban really does ride like a luxury car, and it should, considering my tester's $91,665 price tag. When you're stopped, the Suburban will lower itself to make getting in and out easier, but if that isn't enough, the truck can be had with $1,745 power-retractable running boards.
It should come as no surprise that the Suburban's size and comfort-oriented chassis mean it's not exactly a great-handling SUV, but that is totally fine. No one is buying a Suburban expecting it to drive like a sports car. It'll go around a corner and won't tip over, but that's really all you can say about a beast like this. The Suburban has a Sport mode, but I can't tell you that it drastically changed the driving experience other than making the extremely numb steering a bit heavier. The Suburban High Country lumbers and rolls through corners, with a distant V8 burble to help you along.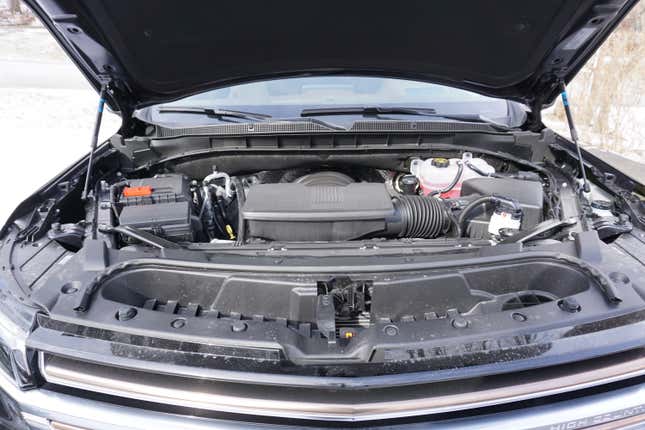 Which brings me to the crown jewel of the Suburban High Country: GM's wonderful 6.2-liter naturally aspirated V8. It makes a beefy 420 horsepower and 460 lb-ft of torque routed through a 10-speed automatic transmission, and while it may not be the most modern engine on the market, it is still incredibly charming. It fits the character of this truck to a T. The only other engine you can get in the High Country is a 3.0-liter Duramax turbodiesel inline-6, which, ironically, saves you $1,550. The diesel is the mid-grade engine and the 6.2 is the top-tier upgrade, while the base 5.3-liter V8 isn't available on the High Country. While I'm sure the Duramax is great, it's no V8. You bought a big SUV because you love big things. You want the biggest engine.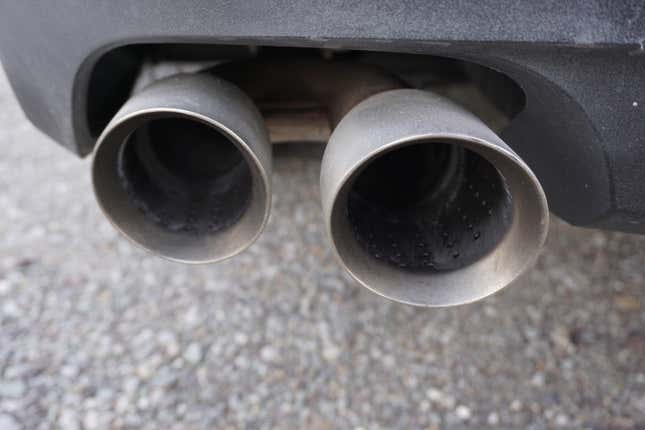 There is, of course, one big tradeoff. Despite the fact this SUV has a stop/start system and cylinder deactivation, its fuel economy is truly abysmal. Over 524 miles of testing – a lot of which was on the highway – I only managed to get 13.8 miles per gallon, which is terrible, especially considering the EPA says this SUV should return 14 mpg city, 18 mpg highway and 16 mpg combined. Add a 28-gallon tank and mandatory premium fuel to the mix, and you'll find yourself spending some serious time and dough at the pump.
The Suburban High Country Interior and Tech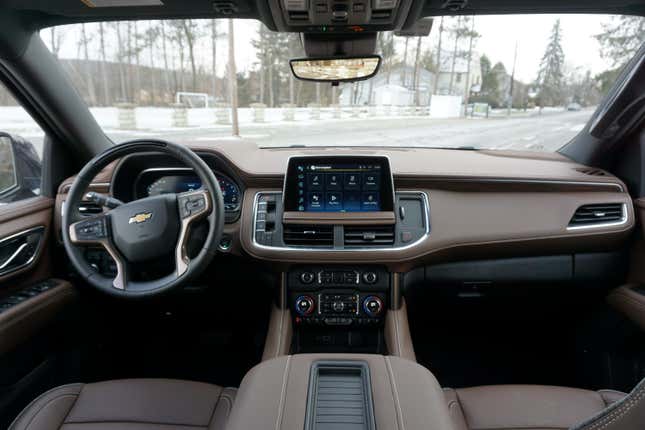 Despite the High Country's premium trimmings, there's no getting around the Suburban's fairly utilitarian roots. The High Country at least distracts you from some of its cheaper-looking plastics with some great pieces of technology. It's no Escalade – the cost difference between the two SUVs has to be felt somewhere – but it ain't bad.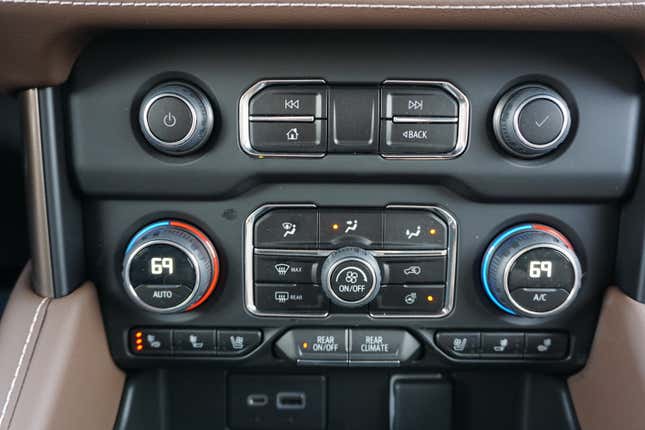 The first thing you'll notice is screens. There are five of them. Three are included as part of the High Country trim: the driver's instrument panel, the center-stack screen and a rearview mirror camera. All of them work absolutely brilliantly. The gauge cluster is customizable – though I wish you could display a map on it – and the center screen is quick and easy to use, with breezy phone pairing. The rearview mirror camera gives you a clear view of what's behind, and is great if you have the trunk loaded with cargo or rear passengers blocking the mirror. The High Country also comes with a standard head-up display, but I don't really count that as a screen.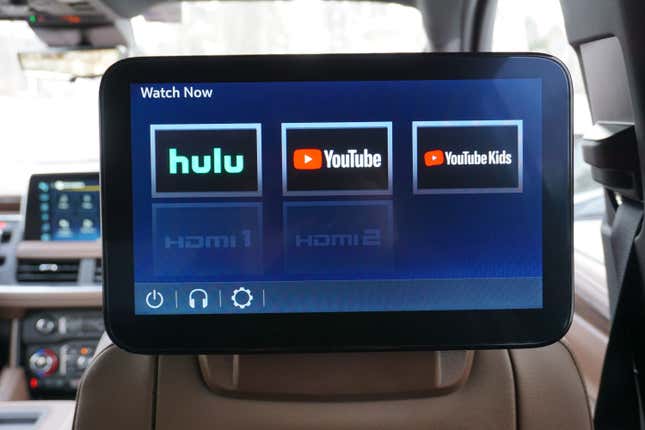 The two other displays measure 12.6 inches and are mounted to the backs of the driver and passenger seats. They're a $2,000 option that'll allow you to stream from pretty much all of your favorite services. If that isn't enough, you have an HDMI hookup to connect your preferred gaming console. How people do this and do not get sick is beyond me, but hey, they'll be perfect for distracting your annoying kids.
The High Country also comes standard with a foot-operated tailgate, heated and ventilated front seats and heated middle-row seats. All of this is enough to make the High Country – for the most part – feel as premium as its price tag.
Summing Up the Suburban High Country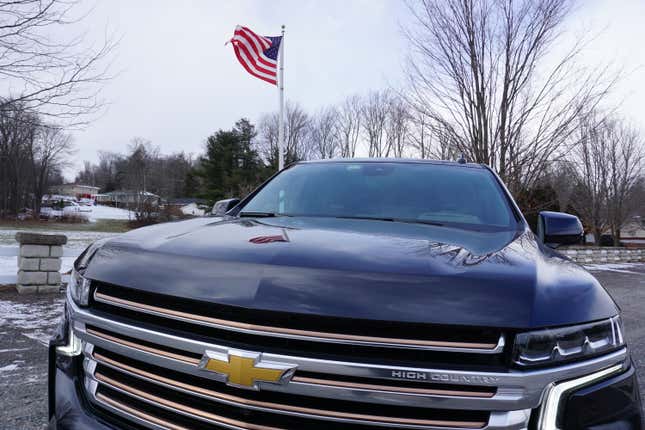 You might be asking, why would anyone spend Cadillac Escalade money on a Chevrolet? Well, to me the reason is simple: stealth wealth. You've done very well for yourself, and you want to buy something big to haul all your shit. Plus, you want something American. If you buy an Escalade, everyone will look at you as a snooty rich guy. No one will think that in a Suburban. Other than the big wheels, the quad exhaust, and the High Country badging, there's not much setting this top-tier Suburban apart from its run-of-the-mill siblings.
In many ways, the Suburban High Country is the culmination of decades of GM developing and refining its full-size SUVs. The large utility vehicle is almost certainly never going away, but V8s are giving way to ever-more-powerful electric motors. If you want big space, big power and big tech in an unassuming package, there are few SUVs more suited to the task than the 2023 Chevy Suburban High Country.
2023 Chevrolet Suburban 4WD 4dr High Country Specs
Transmission/Drive
Automatic