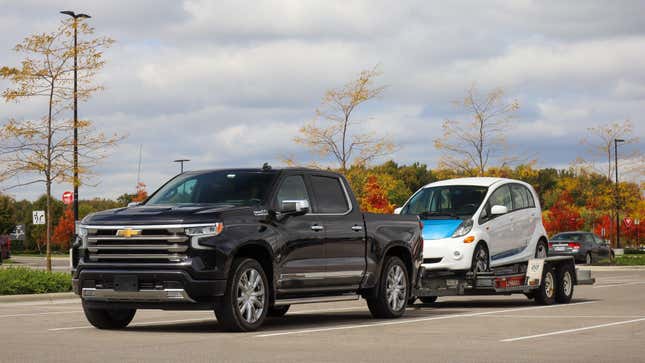 Modern pickups drive damn near as well as many luxury sedans, which arguably facilitates the troublesome trend of using pickup trucks as family sedans. Today's trucks are tech-laden, sophisticated things, a far cry from the pickups we had just a few decades ago. How do you make that job even easier? Well, you make a pickup truck that can drive itself. With a trailer. Sort of.

Full Disclosure: Chevrolet generously loaned me a 2022 Silverado 1500 High Country equipped with Super Cruise to tow my Mitsubishi i-MIEV from Columbus, Ohio to Winchester, Virginia and back. After a little over a thousand miles, I'd say both the Silverado and Super Cruise are pretty cool, even if they do have a few faults.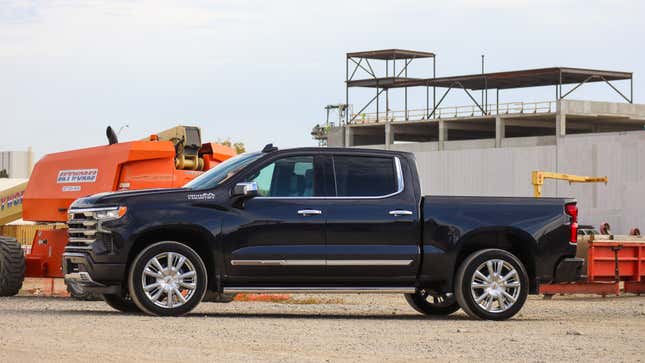 The truck Chevrolet sent me was a 2022 Silverado High Country with basically every option box checked. At $72,950, this is basically the most expensive Silverado you can buy without upgrading to the 2500, ZR2, or HD series. Refreshed for 2022, the Silverado's updates could easily be misconstrued as just a few minor changes.

After all, on the outside, the new truck doesn't look all that different. The front fascia has been restyled, with the biggest change being the boomerang-shaped DRLs. But really, it's the interior and the tech upgrades that set apart the 2022 and forward Silverado.

The dashboard and center console have been completely restyled. GM stepped up the quality here, with better plastics and a more understated application of metal accents. My top-trim High Country came with a swanky retro blue-tinted leather coating on all surfaces, mixed with some pretty good open-pore wood.

In the center, a 13.4-inch touchscreen controls most functions, although there are hard buttons and knobs for HVAC and volume. The screen itself is super vibrant; I personally think it's one of the prettiest screens on the market, with good color and a strong black point. It's always visible, even in situations that introduce glare.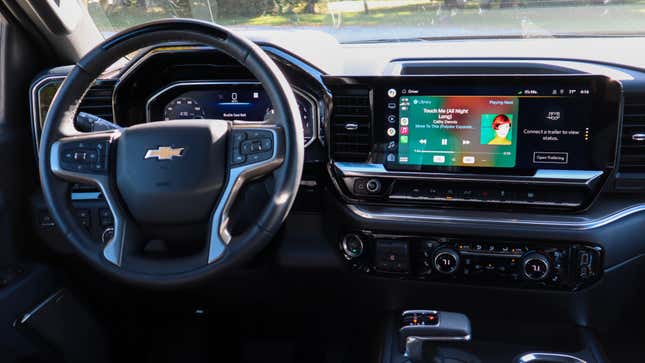 Most notable, though, is that the touchscreen is using Google's new car-based operating system. Essentially, it's an automotive version of Android; first seen on the Polestar 2, the operating system is now available to use by any manufacturer who wants it (and wants to pay Google for the pleasure). The Android system has native Google services embedded into it, like Google Maps or Google Assistant.
I'm glad GM outsourced the infotainment interface to a real tech company here; I was impressed with the Android Automotive application in the Polestar 2, and I'm largely impressed in the Silverado. The flow is straightforward, the interface is easy to use, and graphically, it's pleasing to look at. Still, there were a few quirks: the Silverado's infotainment was sometimes laggy, and inputting addresses into Google Maps sometimes wasn't as easy as it could have been. The keypad on the screen had issues with lag, and overall the system didn't seem as quick at locating addresses as researching them on your phone.
Secondly, the truck does have Apple Carplay, but because CarPlay is phone-based and essentially runs parallel to the actual infotainment screen's duties, certain things don't get passed over from the phone to the dashboard. Like, if I was using Google Maps on my phone, then plugged it into the vehicle, I'd be navigating on Google Maps via Apple Carplay, not via the integrated Google Maps in the Android Automotive OS. It seems like a silly thing to nitpick, but using Google Maps integrated into the OS is crucial to Super Cruise's operation.

Oh yeah: with the 2022 refresh, GM gave the Silverado Super Cruise, albeit only on the topmost High Country trim. Super Cruise is a Level 2 autonomous driving system, once only available on Cadillacs; on select geofenced roads, it allows for completely hands-free driving.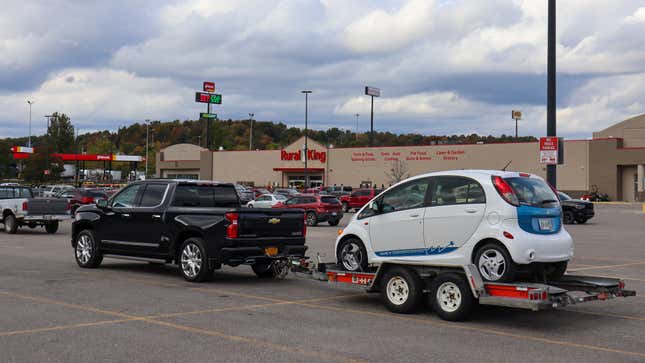 Super Cruise is the biggest reason why I wanted to get behind the wheel of the Silverado. I have a confession: I low-key hate towing. My route for this trip went from Columbus, Ohio to Winchester, Virginia, a 350-mile slog through the northern tip of Appalachia, through WV, MD, PA, and VA, over hills and valleys, much of it with zero cell phone service.
I've done this route before, using Super Cruise in a Bolt EUV and towing with a Honda Ridgeline. I wondered, would doing both in the Silverado be more than the sum of those two separate experiences? Towing in the Ridgeline made me like the truck less, and I found Super Cruise in the Bolt to be kind of pointless; I turned it off and drove manually after an hour and a half into my seven hour journey.
And yet, while towing in a big, powerful truck, Super Cruise just felt right, if a little surreal.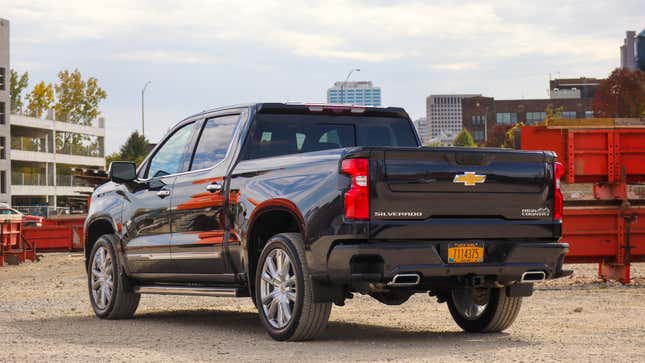 The Silverado's 420 horsepower, 460 lb-ft of torque and 10-speed automatic can make quick work of towing most anything this side of a double-wide trailer. Between my i-MiEV and the weirdly heavy U-Haul car transporter, my combined rig was hovering around 5,500 pounds, well below the Silverado's 10,500-pound max towing capacity.

It was amazing how easily the Silverado handled the car trailer compared to the last time I did this route towing a similar amount of weight using a Honda Ridgeline. The Silverado's sheer capability, combined with Super Cruise, made for an almost set-it-and-forget-it towing experience.
It's such an odd feeling sitting behind the wheel, with your hands in your lap, essentially babysitting the vehicle while it happily navigates itself and 5,500 worth of electric-car junk down the road.
When towing, certain Super Cruise features are turned off, namely automatic lane changes. The cameras and proximity sensors that make Super Cruise work just can't account for the added length of the trailer. But, automatic lane keeping and radar cruise work just fine.
As I said before, the last time I used Super Cruise was on the Chevy Bolt EUV. The Bolt's system is mostly the same, except automatic lane changes aren't available. I thought the system was cool on the Bolt, but manually changing lanes, then holding the steering wheel just right while the system figured out when it was okay to resume control, got irritating. Somehow, the same setup wasn't so annoying in the Silverado. I'd wager that because it's such a wide vehicle, finding the center of the lane takes a lot less effort and happens more quickly. Lane changing while towing with Super Cruise was delightful, even if I had to do it manually.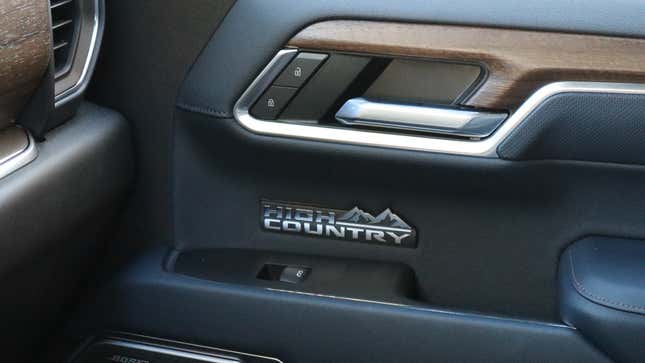 Over the roughly 700-mile round-trip from Columbus to Winchester and back, I used Super Cruise nearly everywhere it was available. The Silverado was great at maintaining speed up and down the big hills in Maryland. It maintained lane position without any qualms as I drove through Wheeling, West Virginia. Believe me, I've had some experiences with other brands' attempts at "autonomous driving" or guided cruise control, and I expected the Chevy's system to bail at inopportune and unwarranted times.
That never happened, though. The Silverado is content to roll along on its geofenced freeways all day. And when Super Cruise does shut off — if the truck can't see any lane markings, or in construction zones — the system will warn the driver well in advance. The built-in LED light in the steering wheel will flash red, and the seat will furiously vibrate. Otherwise, it's smooth sailing on the more than 200,000 miles (and growing) of mapped freeways.
There are a few small gripes with Super Cruise, though. For starters, there's no way to actually see which roads have Super Cruise mapping without putting a destination in the truck's GPS. If you're a person who shuns GPS, finding out if the road has Super Cruise is a guess-and-check ordeal.

Also, Super Cruise is dependent on a good GPS signal as well as cell service. I stopped in western Maryland to use the restroom. When I returned and merged onto the freeway, Super Cruise said it didn't have any road information, even though I hadn't altered my route whatsoever. About a mile later, the truck regained service, and Super Cruise was once again available.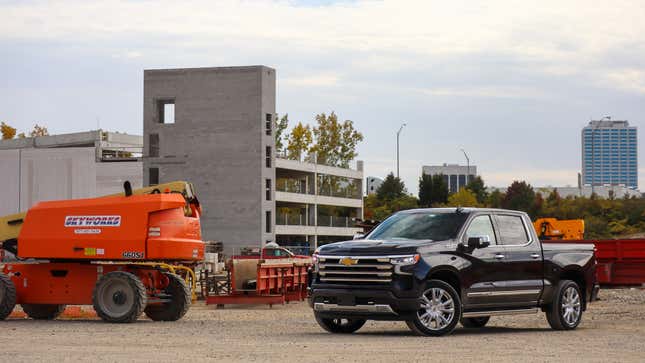 Still, despite those qualms, I was impressed with Super Cruise. When I got to my destination, I marveled at how not-tired I was. I had done a six-hour slog with a trailer through tight curves and big hills, and I wasn't even remotely fatigued. I think that's the beauty of Super Cruise; GM has created a system that tangibly makes the driving (and towing) experience easier and less burdensome, without abdicating the driver's responsibility to actually watch the road.

The 2022 Chevy Silverado is a big, hulking brute, but that's not really unique to this class of vehicle. When equipped with Super Cruise, the Silverado goes from a pretty good truck to a stealth techno powerhouse that can tow more than 10,000 pounds.