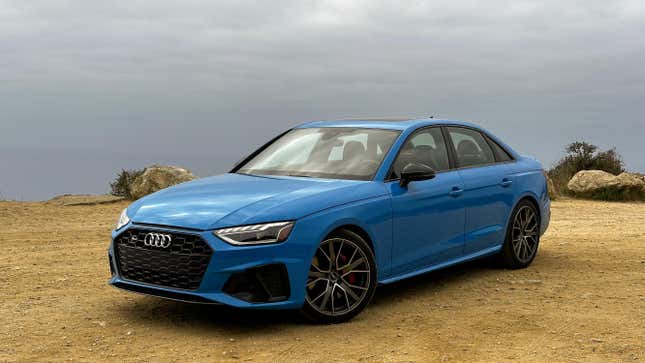 When you're car shopping or even just thinking about cars, it's easy to assume that as an enthusiast, you are going to want the fastest, most hardcore variant of something in a given class of automobile, or at least the most intense version of it that your budget will allow. Here's the thing, though, you probably don't, or at least not if you plan on driving it every day.
2023 Audi RS5 Competition: How it Drives and Handles
Take, for example, the venerable Audi A4. On the base end, it's a perfectly nice and reasonably attractive luxury-esque sedan, though slightly underwhelming with its 201-hp 2.0-liter turbocharged four-cylinder drivetrain. It's the Audi that people lease when they want to get into their first European model. At the other end of the A4 stack is the Audi S4, and while it pales in comparison to something like the BMW M340i or the Mercedes-AMG C43 in terms of performance, it might just be the one to buy.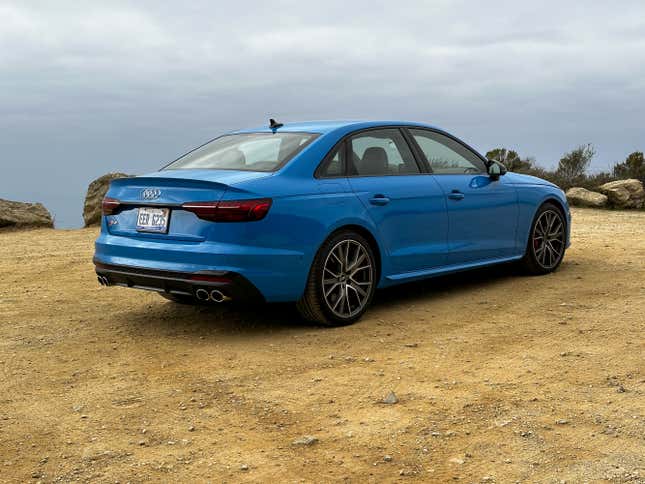 Why is that? Because in doing nothing exceptionally great, it doesn't make sacrifices that detract from it doing everything really well. Don't worry, I'll explain. So, the drivetrain in the S4 is Audi's tried-and-true 3.0-liter turbocharged V6 that makes a healthy, if unexceptional, 349 hp and 369 lb-ft of torque. It's not earth-shattering, but that power is delivered in a really smooth and pleasant way that works with the standard eight-speed automatic transmission. It's not peaky or violent and won't make you sweat or howl in delight; it's just, nice. Also, it's got Audi's Quattro all-wheel drive, which makes the car feel solid and sure-footed.

The S4's chassis is also fairly middle-of-the-road, but again, that's a positive. The best word to describe its suspension is taut. It's firm but not harsh or punishing; it handles broken pavement well. Even in my very special testing, which involved driving it a few miles to the hospital with a perforated intestine (I don't recommend you try this), it really wasn't too bad (read: speed bumps didn't leave me in tears). On a very technical road, you'll wish for something more focused with better body control, but the S4 isn't a bad compromise even in those situations. One area far from average though is the braking system. The S4 has good pedal feel and plenty of confidence-inspiring initial bite, and that's a positive in any car.
So far, we have a reasonably quick and comfortable sedan with good brakes. What about things that are less tangible, like styling? Again, the Audi crushes it by being in the middle of the continuum. The A4 is already a handsome car. Sure, it's a little anonymous looking in standard trim, but the S4 gets just enough of a tweak to make it exciting. The small carbon decklid spoiler is subtle but looks good. The more aggressive front and rear bumpers and side skirts are just enough to make you notice it in traffic but never garish. The wheels are typical Audi, which is, to say, great, and while this is all personal taste, I think you could do a lot worse (see: 3-series).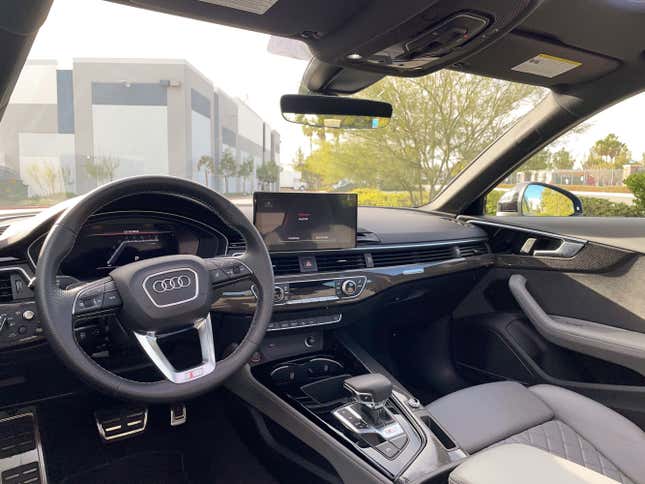 The interior is way less subjective and has long been an Audi stronghold. The S4 has an awesome interior. My test car is trimmed in light gray leather with diamond stitching and an embossed Audi S logo on the seatbacks. The seats themselves are amazing because they do the near-impossible job of looking super sporty while being all-day comfortable. They even have a massage setting. Seats that look like these never have massage options. All the materials you see and touch feel expensive, and the build quality is superb. Add in that the controls are all super sensibly laid out and easy to use, and the S4 is again hitting a home run.

The interior room is also pretty good, at least for front seat passengers. I'm 6 feet, 4 inches tall and found no issues with head or legroom, though I think most adults would struggle to sit behind me comfortably. Trunk space is accomodating at 12 cubic feet, and I had no issues fitting a big grocery trip in there or bags for a multi-day road trip.
The Audi MMI Touch infotainment system is pretty standard fare if you've been in other more recent Audi products. It's attractive, responsive and easy to navigate. The haptic feedback is a little weird, but it's nothing I would have trouble living with. Connectivity is excellent with wireless Android Auto and Apple CarPlay, and the standard Bang & Olufsen stereo sounds great. Audi's Virtual Cockpit Plus is once again a pleasure, offering many cluster configuration options to suit everyone's tastes and needs.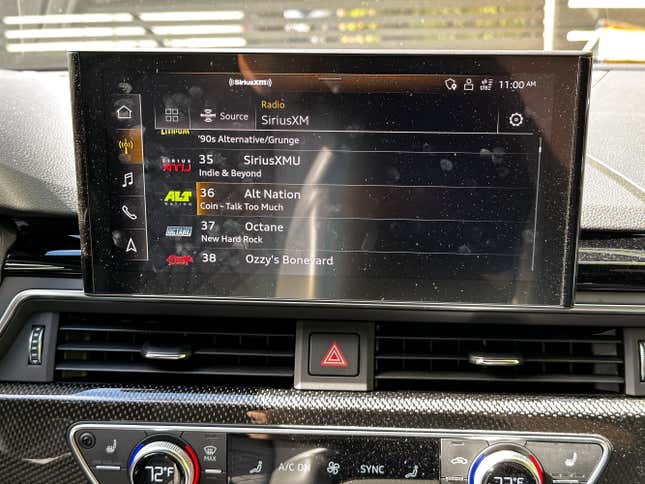 Safety tech is usually a standout feature on this class of European sedan, and the S4 isn't a disappointment here either, with features like adaptive cruise control with lane centering, park assist, 360-degree camera and lane departure warning showing up as standard on the middle trim level. The base model isn't so much cheaper either that I'd skip it to save the cash and do without this tech. Nothing here is bleeding edge, but it all works as it should.

Pricing is another area where the S4 starts to look good compared to its more hardcore siblings. The 2023 S4 starts at just $53,895. The top-tier Prestige model, like my tester, begins at $62,195, and while there are a few options to add if you want performance suspension, etc., that's still not much more than the base C43 AMG, which starts at $61,050. For my money, the Prestige offers enough extras — LED headlights, a heads-up display and parking assist — to make its price bump worth it.
There's this saying that a person's eyes are bigger than their stomach, and I can say that this translates well to people's needs for a daily driver. The S4 is nowhere close to the best car I've driven in the last year, but it would certainly be on my shortlist for cars I'd actually want to live with, especially if it were going to be my only vehicle.