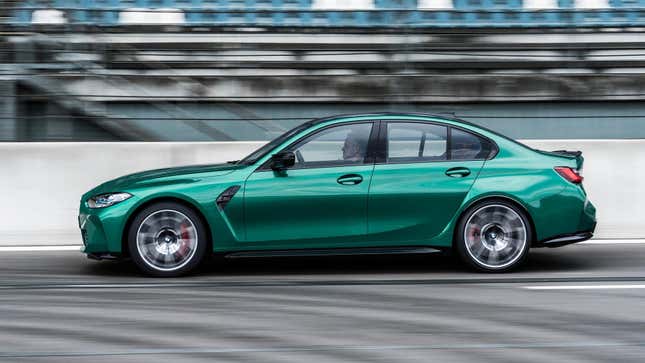 I'm sad to report that my manual driving days are over. I thought I could still hang, but nope, I can't do it anymore. A combination of dealing with Osgood-Schlatter disease plus old football injuries means my knee cartilage is long past wearing thin. But what sucks the most is that I decided to throw in the towel while driving one of the best stick-shift sport sedans on sale today: the 2023 BMW M3.

Disclaimer: I asked BMW to let me live with an M3 for a week. They obliged but told me the only M3 they had available was a manual model. No problem, I thought. Turns out I was wrong.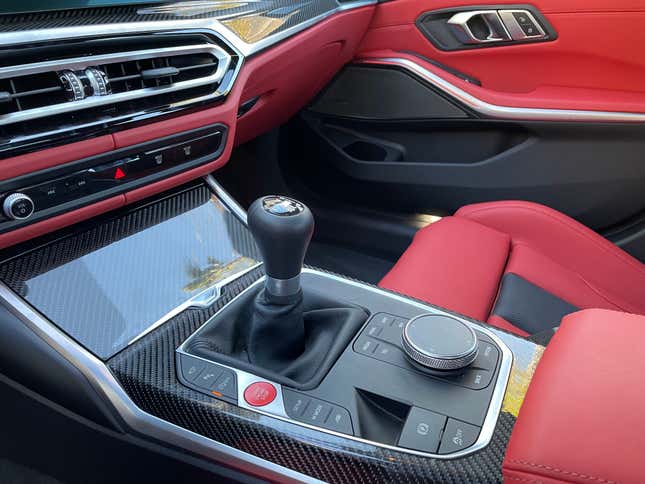 The base M3 is only available with a six-speed manual. If you want the eight-speed automatic, you have to step up to the M3 Competition. That means the manual M3 is a little bit cheaper: $75,295 including $995 for destination, which is $2,310 less than the auto-only Competition. With options like $1,300 staggered wheels on performance run-flat tires, $950 carbon fiber interior trim, and $1,000 adaptive LED headlights, my M3 comes in just under $80,000. Not bad.

Still, while the manual is cheaper, you lose some power by choosing to row your own gears. The base M3 makes 473 hp and 406 lb-ft of torque compared to 503 hp and 479 lb-ft in the Competition. Powering the M3 is a 3.0-liter twin-turbo inline-6, and the manual is only available with rear-wheel drive. The manual sedan is also the slowest of the M3 models, with BMW quoting a 4.1-second 0-to-60-mph time. The Competition does the same deed in 3.8 seconds while the all-wheel-drive Competition xDrive lowers that number to 3.4 seconds.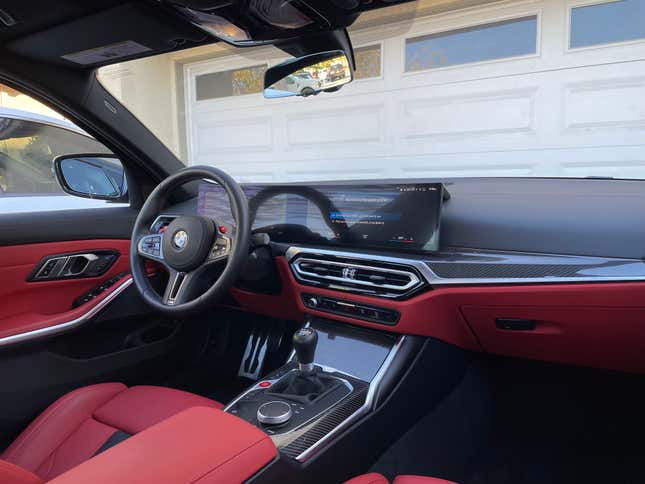 I was absolutely stoked to get behind the wheel of this thing. I had a whole driving route planned and everything. But when I pushed in the clutch to start the engine, I felt a slight twinge in my left knee. I didn't think anything of it; because of my history, slight twinges and pains are a part of daily life for me.

Ignoring the pain in my knee, I pushed in the clutch pedal – which has very long travel, by the way – and the turbocharged straight-6 roared to life. At this point, I was giddy. Heading down the street, I went to shift into second, and the pain in my knee returned, enough to make me flinch. Again, I ignored it and kept going. But then it hit hard.

The next time I pressed the clutch, it felt as if someone had taken a knife and stabbed me in the inside of my left knee. I nearly stalled the car trying to pull over to find out just what the hell I was feeling. I ended up sitting for about 5 minutes just waiting for the pain to subside. Luckily I was just a few miles from home. "Could I keep going?" I wondered, and I tried setting off again. But then I felt pain while both extending to depress the clutch and bringing my leg back in to engage it. That's when I gave up and limped the car home in extreme pain.

Everything I've heard about the M3 leads me to believe it's brilliant to drive. It has a drift analyzer for your rear-wheel-drive shenanigans. The steering is dead-on precise. Everything I've heard says you know exactly what's happening with the car at all times, because the chassis is so good. And there's grip for days. There are also individually customizable settings where you switch between two totally different performance setups at the touch of a button.

By default, you have to appreciate the existence of the M3's available stick-shift, due to the fact that manual transmissions are an endangered species these days. But even in my limited driving, I don't think I like the M3's manual all that much. Gear throws can be a little long and the shifter has a rubbery feel. But damn, I wish I had more of a chance to get used to it.

Trying to live with the M3 was brief but great. But it revealed an unfortunate truth: My days of driving manual transmissions are over. I won't get to enjoy cars like the Acura Integra Type S, Honda Civic Type R or Toyota GR Corolla. I'll just have to appreciate them from afar. But honestly, maybe it's for the best. Living in Southern California means a manual transmission can be a pain – literally – in traffic. While I'll always miss the experience of driving a manual, I'll be fine giving my knees a break.