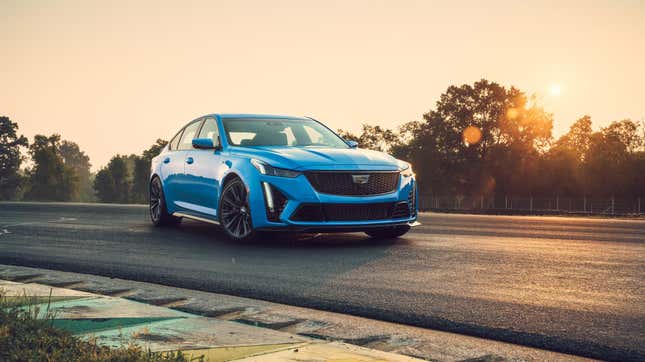 The Cadillac CT4-V Blackwing and CT5-V Blackwing are some of the best-performing sport sedans ever made. Cadillac has been getting accolades from all sides over how good they are. But one thing was missing: not everyone knew what they were due to rather sedate badging. That's about to change, as GM Authority reports that Cadillac is giving Blackwing owners a new badge so they can show off the special machine they're behind the wheel of.
Best Corvette Generations, According to Bob
GM contacted Blackwing owners informing them of the new badge and how it'll help them stand out.

You earned it! The CT4-V Blackwing / CT5-V Blackwing models will now carry the Blackwing designation beneath the V-Series badge on the rear decklid. We know how special your V-Series Blackwing is, the designation will make it stand out even more!
The new badge will go under the existing V badge and consists of a silver plaque that says "Blackwing." Customers that want to get their own badge can reach out to Cadillac Customer Care to request one. What's not known, though, is how much this is going to cost owners, or if this is something that's going on Blackwing cars coming from the factory going forward.


The whole move is interesting in that this is what Cadillac should have done initially. One thing that never stood out, aside from the performance of the Blackwing cars, was that unless you really paid attention, there really wasn't much to set them apart from the standard V cars. Sure, there were different wheels and rear lip wings. But side by side they're nearly identical.
The journey of the Blackwing badge itself is an interesting one as it always been rather hidden. First coming to market in 2019 in the ill-fated CT6-V and CT6 Platnium, Blackwing started life as the name of the fire-breathing and hand built 4.2L 550 horsepower twin-turbo V8. But those were extremely limited in production and at one point it seemed that Cadillac was done with the Blackwing engine, which took $23 million to develop and cost $20,000 per engine to build. And while it's great the Blackwing is finally getting its flowers in the form of a badge it should have had since the beginning, Cadillac should do more as it's doubtful we'll ever see anything like it developed again.