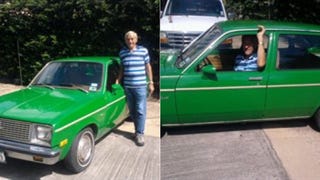 In a development that seems timely in light of the federal government shutdown, you can now own a car that belonged to a politician who was never a fan of the federal government: the 1979 Chevrolet Chevette owned by former Texas Congressman and ex-presidential candidate Ron Paul.
After the semi-high-tech Vega turned out to be such a headache for The General, the Chevette was just the ticket: crude, simple, and cheap to build. Already obsolete when it debuted in 1975, the Chevette was a fossil by 1986.
That's sort of how the mid-Malaise Era went; you could opt to swap your rapidly-eroding dollars for the already obsolete Chevrolet Chevette, or for a much larger car made by an obviously doomed manufacturer.
You Chicago-area folks might remember Timmy of Long Chevrolet in Elmhurst, in which case you've already been inoculated against the effects of this stunning combo of Malaise Era machinery, bad suits, brain-scouringly bad UHF production values, and Timmy's shouts. Chevettes Chevettes Chevettes!