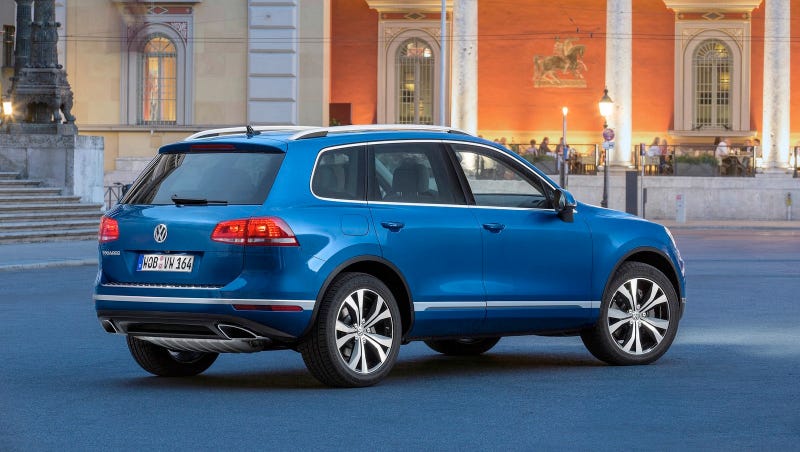 At this current juncture in history, Americans cannot get enough of the large SUVs. They have become more precious to us than food, or air, or the well-being of our pets and children. There is one glaring exception to this trend: the Volkswagen Touareg, which is too small and too expensive to be a real competitor. And…
From what Nissan would like us to believe, the Altima Coupe will not be missed. It's done after 2013, likely because no one bought it. Which is odd, because I keep seeing them everywhere.
Man, it's been a rough couple of weeks for Chevy trucks. First one gets publicly humiliated by a Dodge truck in a tug-of-war that was probably allowed to go on too long, and now another one gets soundly trumped by some German engineering.
VW launched into another class of Baja today as it released it's Touareg Baja Racer at the LA Auto Show. Racing along the same 630 miles of desert peninsula as the ever popular Baja Bug class, this Trophy Truck packs a 542 HP 5.5 liter V12 turbodiesel powerhouse motivating only the rear wheels to kick up some thick,…
The Volkswagen Touareg that was crowned as the first DARPA Grand Challenge winner in 2005 (the first challenge was in 2004, but no winners were crowned) is making a grand tour that will eventually lead the fully autonomous vehicle to the top dog of museums, the Smithsonian. The Touareg was nicknamed "Stanley" since…
Volkswagen, always being one with the hip kids across the Internet, has jumped on one of the popular Internet trends from a couple years back: dirt car art. When "wash me" was too dull, artists like Scott Wade began taking the dirt-coated windows and creating some pretty spectacular designs and now Volkswagen has done…