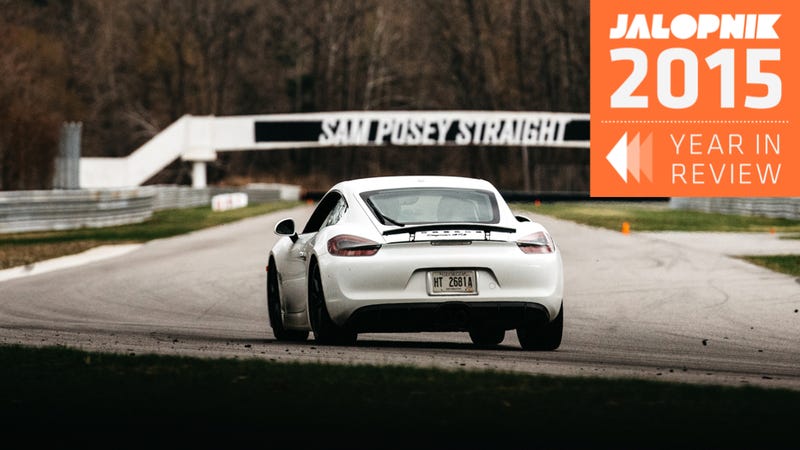 This past year it felt like we drove damn near everything. From Subaru rally cars to the Bentley Mulsanne Speed. From a Power Wheels to a McLaren 650S. From an Audi TT, to an Audi TT, to an Audi TT a third time, because sometimes we all disagree and everyone is wrong, including ourselves. This is every single car we reviewed in 2015.
You've already seen the best and worst cars we've driven, but in between there was a whole bunch of vehicles we've loved, despised, or just felt plain meh about.
We abandoned our arbitrary, often confusing numbered Jalopnik Review to bring you better reviews through better storytelling. We drove a supercharged bonkers version of the original Acura NSX, and a incredibly smooth and French and odd Citroen C6. We absolutely loved the Toyota Avalon, weirdly enough, almost as much as we nuts over the Alfa Romeo 4C. We started reviewing bikes in earnest for the first time ever!
Some cars were even perfect, which made them bad, and some cars were so flawed we fell hopelessly in love.
In short, we are window-licking, nose-eating nutters. And we wouldn't have it any other way. Here's all our reviews this year, or at least most of them.
The latest batch of Mini products kind of feel like they're carefully engineered by ze Germans to adhere to a certain level of kitsch and fun. "Ja, Dieter, if we put ein light-up panel here und here, ze car is 69% more likely to be enjoyed by ze snake-people." Somehow, though, this sort of works. Enter the new Mini Clubman.
Some things bear repeating. For instance, I tend to harp on about how value trumps price and that you shouldn't ever settle for the mundane just because it's technically the safer choice. As if to prove my point, the automotive gods at Mercedes-Benz have created the AMG C63 S: the world's most perfect expression of the automotive experience. Well, almost.
There are Mustangs. There are Shelby Mustangs. But in all of Mustang-dom, few nameplates are as equally revered and feared for their brutal ferocity and tendency to literally send owners to hell like "Super Snake."

Everyone wants to talk about the 2016 Chevy Camaro SS. This makes sense. It's the one with the V8. But after a 1,000 mile road trip across the west, I can tell you the smart money's on the unofficial "Working Man's Edition;" the 1LT V6. Cloth seats, stick shift, 335 horsepower of essential Camaro for the enthusiast driver who doesn't need rainbow ambient lighting to feel good about their car.
The McLaren 570S is the most important car built in Woking since Gordon Murray's F1. Seriously. And as they discovered that less grip can equal more fun, not only did it turn out to be beautiful, but also bloody fantastic to drive. It's a proper supercar for normal humans who want to go very fast without breaking a sweat.
If a guy dressed up like a clown walks into your office and produces for you a balloon poodle, you're not going to be that surprised. If your boss comes into your office and starts krumping, you'll probably feel differently. The Charger Hellcat is the clown and your krumping boss is the Cadillac CTS-V. It's insane, in a less obvious way.
Longtime readers of this website may remember that when it launched a decade ago, Jalopnik announced itself to the world as a place that loved cars sometimes "just because of the curve of a hood." And in a nod to compelling hood curvatures—as well as the site's "exclusive sponsor" at the time—its logo contained the Audi RSQ concept from I, Robot.

Here's a neat little recipe for a car. Take one part premium badge, one part economy car, make it not only a hybrid but a plug-in hybrid with 14 miles of all-electric range, move it with a six-speed dual-clutch gearbox, and make sure it tops out at almost $50,000, before tax credits. Never asked for that sandwich? Well, we now have the 2016 Audi A3 Sportback e-tron, and the weird mixture sort of works.
A few months ago I traveled from New York City to Buffalo on a quest for the best chicken wings anywhere. I took a 2015 Lexus RC 350 AWD to get there because I needed something that could gobble up the miles without any drama while being comfortable. The thing is, I didn't need to go that far. Here's why.

I was 18 in 1989. It was my most formative year on many levels. What I liked then has resonated stronger and longer than any other year. That is the case for music, but even more so for cars.
Flooring it in a 550 horsepower, all-wheel drive Jaguar F-Type R is hard to describe, what with your brain pressing against the inside of your skull, your eyes bumping up against their sockets.
The BMW M3 is faster. The Mercedes-AMG C63 has over 150 more horsepower. And yet, all I would ever really want is a big, bright blue, absurdly wonderful Volvo S60 Polestar. It's the car that left every racing pretension back at the track, and finally remembered what fun is.
In the briefest of moments, while while firing off a gear change at 9000 RPM with the banshee-like V10 wailing in my ears, I caught a glimpse of that L-shaped Lexus logo on the steering wheel. And as I gripped the wheel to wrest the car through the winding road, I wondered if I had somehow woken up in a parallel universe that morning instead of my own.
The BMW M4 is a perfectly lovely machine. In stock form, its 3.0-liter, six-cylinder, twin-turboed engine makes 425 horsepower and 406 foot-pounds of torque. With a base MSRP of $62,400, that's a ton of speed wrapped in a beautiful package – far more car than the price tag would suggest.
I'll be the first to admit that I'm really not the most objective person to be writing about the new 2016 Smart ForTwo. That's not because of any loyalty to the company, but rather an innate fondness of the type of car: a rear-engined, small economy car. Decades ago, these were once everywhere, and now, in the U.S. at least, there's only the Smart. Is it a worthy survivor?
Let's start this off with a confession: I'm not into cruisers. Like, not at all. I don't get the appeal to anyone under 50 years old, and I think straight out of the box they are, at best, try-hard expensive pieces of wannabe yesteryear "technology."
I only got a BMW i8 for the weekend, so instead of taking it to a track or anything over the top like that, I decided to turn the whole experience into an extended Children's Day, sort of.
You may not know what Accumoto Motorsport is. But you'll want to. And one day, I have a feeling everyone who loves Porsches will know the work they do.
When Polaris asked me if I wanted to drive a Polaris Slingshot for a week, I knew the answer was yes - I just didn't know why.
The sound is the first thing that about the Ford Shelby GT350R Mustang that grabs your attention. It makes the hair on the back of your neck stand up. It starts with a guttural growl and then builds from there. And keeps building. And building. And building.

Sometimes, you just have to say "Fuck it. I'm going for a drive."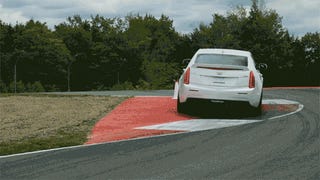 Almost the entire staff has driven the Cadillac ATS-V and I think, individually, there isn't a single person who hasn't enjoyed it. But when it comes to the track it always helps to send a ringer, and our ringer is none other than racer and occasional hoverboarder Robb Holland.
I was worried that something would be terribly wrong with the Citroën Cactus crossover, but it rocks and gives you so much cool stuff for so little money that we must all salute the French for having the balls to make it.
There's the certain kind of driver we all kind of roll our eyes at. You know exactly who I'm talking about.
Please put your stupid hairdresser jokes aside for now because the 2015 Audi TT is a pretty special piece of kit even if it didn't turn out to be the fastest thing on a tight mountain road.