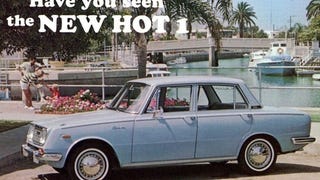 We stumbled onto this image while digging through Toyota's media archives. It's a scan of an ad for the 1970 Toyota Corona sedan. Where have all the Hot 1s gone? Loooong time passing. [Toyota Pressroom]
OK, all you guys who wail and gnash your teeth every time you see a Junkyard Find that "should have been saved," here's your chance to walk the walk! If this classic Toyota doesn't sell, like, now, it's getting scrapped.
Featuring music by Hideki Naoi and Alphaville, this quartet of Japan-market ads for the mid-80s Toyota Corona let potential buyers know that the LASRE 3A engine gave the Corona magical powers!