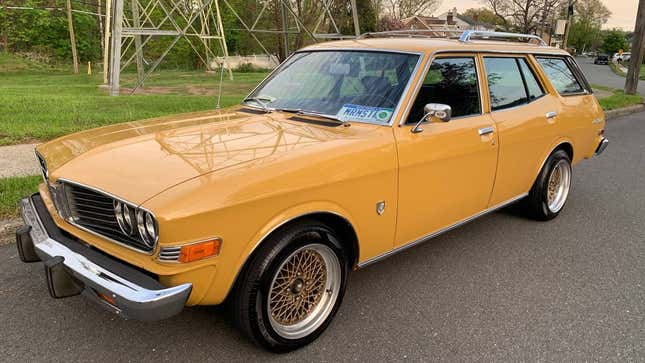 The song Corona by the Minutemen is a two-minute, twenty-five-second polemic about social injustice. In contrast, today's Nice Price or No Dice Toyota Corona seems to be a car that a lot of people might enjoy. Let's see if that justifies its price.
Jalopinions | The Best Type is Jaguar's E-Type
One of the most common horror movie tropes is the single survivor, or "final girl." The character often is actually female and is usually the smartest or most virtuous member of their fated group. When it comes to Volkswagen Golf models, we're getting down to final girl time. The lineup was once rife with coupe, saloon, convertible models, as well as their sporting variations. In the U.S. at least, we're now down to just the performance-oriented GTI and the even more rabid R.
We looked at a 2016 VW Golf R yesterday, which had been made even more ready for battle owing to some well-chosen factory options and aftermarket massages. At $36,000, however, that wasn't enough to survive our vote, and the R went down in a massive 90 percent No Dice loss.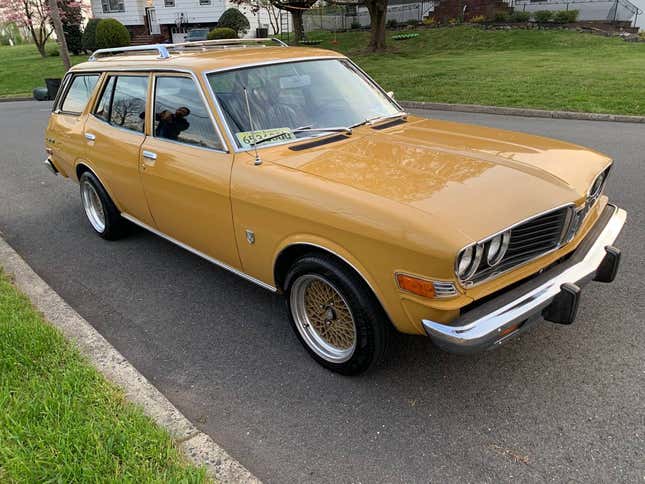 In Henry IV, Shakespeare writes "Uneasy lies the head that wears a crown." This has often been misquoted as "heavy is the head that wears a crown," but the meaning is still there — crowns can be burdensome.
Today's 1973 Toyota Corona Mark II takes its name from the Latin for Crown, but it doesn't seem to offer any burden in its purchase outside of its possibly weighty price tag.
We'll get to that in a moment, but first, let's talk about the car itself.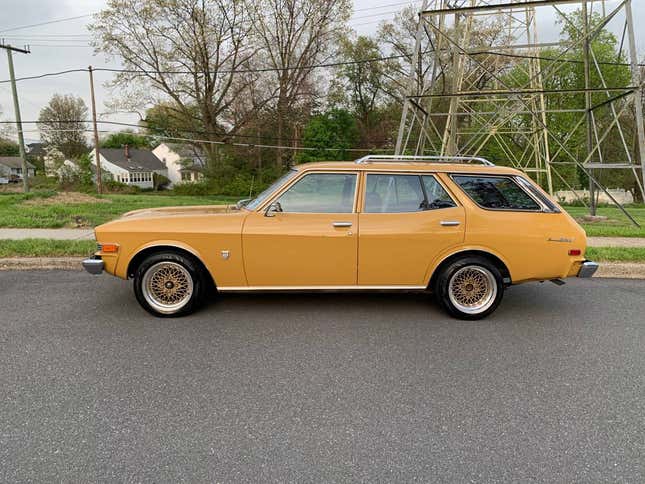 Toyota debuted the Corona Mark II in the U.S. in 1972 to replace the non-Mark II Corona line. At the time, this was Toyota's "big car." It features six-cylinder power, slotting it above the four-cylinder Corollas and Carinas.
Carrying just through the 1976 model year, the Mark II would be supplanted by the Cressida nameplate for its '77 restyle. That model would run until the 1990s when it was discontinued in the U.S. upon the introduction of Toyota's up-market Lexus line. A less luxurious Avalon model took over as Toyota's big car in 1995.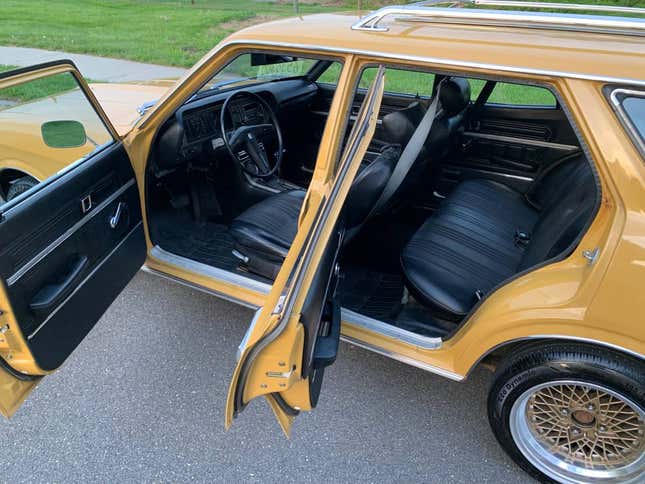 Being a wagon, this Mark II is the coolest of the lot, only missing top honors due to its lack of that wonderful touch of '70s pastiche, woodgrain on the flanks. Instead, we get mustard yellow paint that the ad claims to be original, and a black vinyl interior. No, that's not "leatherette" or "vegan leather," that's good ol' sticky in the summer, creaky in the winter, vinyl.
It all looks to be in very good shape save for a wonky glovebox door and the twitch-inducing use of the same piece of plastic for all three horn buttons on the steering wheel meaning that only one can be right-side up.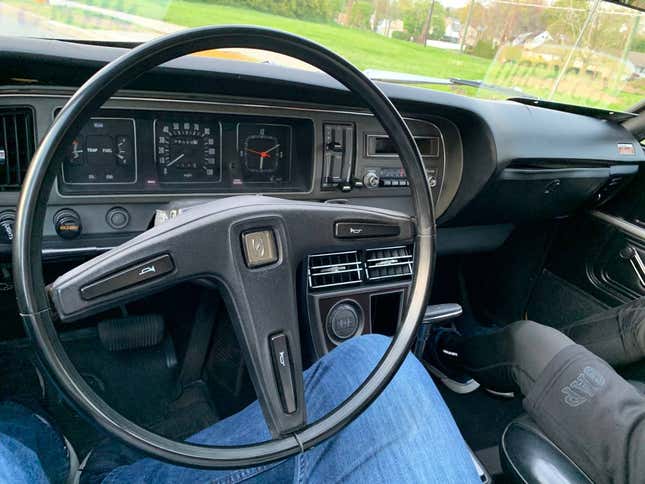 Gold-colored aftermarket alloys spruce things up on the outside, but the ad notes that the original wheels also will come with the sale in case those are more to the new owner's liking.
There are a claimed 39,000 miles on the clock and a sticker on the door jamb that indicates an oil and filter change was undertaken at 26,691 miles. Hopefully, it's had a couple more since then. That 39K could actually be more since there are only five barrels on the odometer and records from this era are sketchy at best.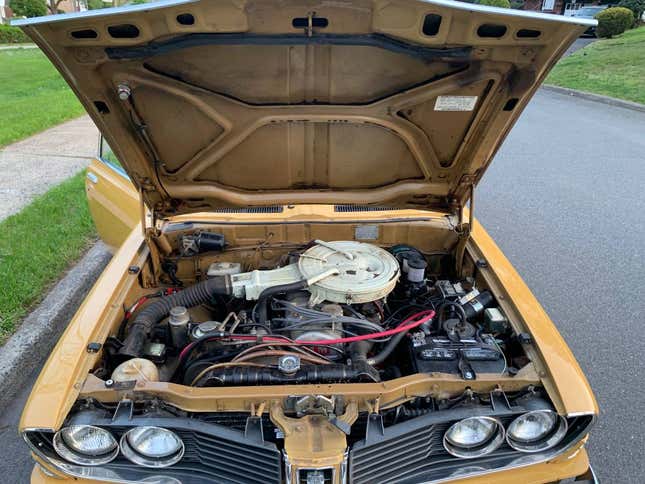 The engine is a 2563 cc SOHC inline-six good for 109 horsepower. That's mated to an Aisin three-speed automatic which sends power back to the live rear axle. Mechanically, there's nothing much to go wrong here. And, this being an old Toyota, it's unlikely anything ever will.
According to the ad, this clean-title Corona Mark II has been a lead car in not one but two movies. You'd think with such a pedigree they would tell us which movies those were.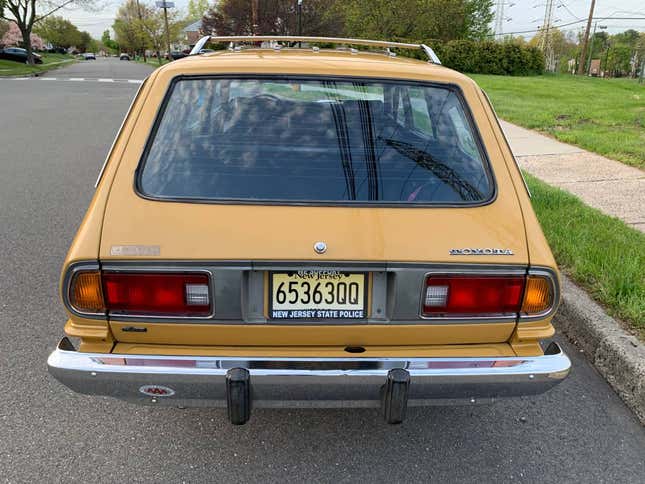 Discounting the fact that this is apparently a Hollywood celebrity, there's still a lot to like about this quirky classic, and we're likely not going to find many others in this sort of shape anytime soon outside of Hemmings. At $16,500 this Mark II is kind of priced for Hemmings. We'll just have to decide if that's ok for Craigslist as well.
What do you think, is this nicely preserved Corona Mark II worth that $16,500 asking? Or, does that price have you unwilling to accept this crown?
You decide!
North New Jersey Craigslist, or go here if the ad disappears.
H/T to Whatsupdohc for the hookup!
Help me out with NPOND. Hit me up at remslie@kinja.com and send me a fixed-price tip. Remember to include your Kinja handle.