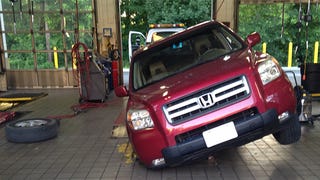 Lots of "quick oil change" joints like Jiffy Lube have pits in their floors so they can work on your car without lifting it. That's all well and good until they actually do need to use the lift, and somebody royally screws it up.
The Nobel Commission and President Obama received plenty of guff over this year's Nobel Peace Prize. One Dallas-area service shop decided to have some fun with it, offering one free Nobel Peace Prize with each oil change.
A wealthy Arab, possibly a Sheik, sent his Lamborghini LP640 a whopping 6,500 miles from an airport in Qatar to Heathrow to have the car's oil changed. The total cost of the shipment was around $40,000, which doesn't even include the $7,000 for the oil change itself.
Okay, the Pontiac Grand Am may not have been the greatest car in the world. It may not have even been of palatable quality when it came out, but that's no reason to drive it into your local oil jockey's pit. This video may be as old as the internet, but occasionally we like to replay the classics, you know, for the…