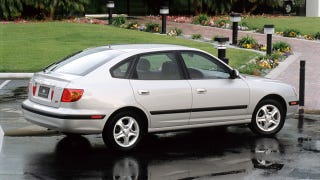 Hey look, it's a 2003 Hyundai Elantra hatchback! No wait, it's the new BMW 3 series GT confirmed today.
Bimmerpost just revealed the BMW 3 Series GT today, catching two completely undisguised cars on a video shoot. It is the 3-series hatchback you've been waiting for… or the one you've been dreading?
Could this test car, caught on the autobahn between Munich and Salzburg, be the long-expected BMW 3-Series Gran Turismo? Is weißwurst traditionally eaten before noon? (That's a yes.) The company's reportedly planning to show the new GT in Frankfurt this September.
According to Automobile, after the F30 rolls out in 2012, BMW's 3 Series will spawn a fifth bodystyle for the 2013 model year. Enter the BMW 3 Series GT — the fifth horseman of the automotive apocalypse. [Automobile]