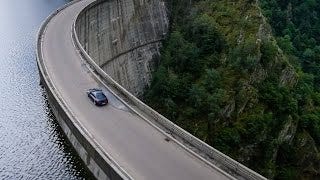 It's okay if you aren't familiar with the BMW 640d Gran Coupe. It's the 6-Series four-door with a 3.0-liter diesel inline six pumping out 317 horsepower and 465 pound-feet of torque. We don't get that engine in the U.S. But all you need to know is the car looks right at home on one of the world's best roads.
I look around, I see lots of Gran Coupes these days. 4-Series. 6-Series. Heck, there's probably more in the pipeline. But which one is the baddest Gran Coupe of all? The Alpina xDrive B6 Gran Coupe, that's what. And it's here in the flesh at the New York Auto Show.
Say what you will about the logic of the BMW 6-Series Gran Coupe's existence, but it's actually rather beguiling in person. Alpina does a good job of making faster BMWs with blue gauges, so that's promising for the 2015 Alpina B6 xDrive Gran Coupe.
The 2007 Concept CS was a Shanghai surprise of refined Bangle-era BMW styling. Now, three years later, the German brand's trying to again redefine their look and feel with the Concept Gran Coupé — that'll make an elegant 6 Series.