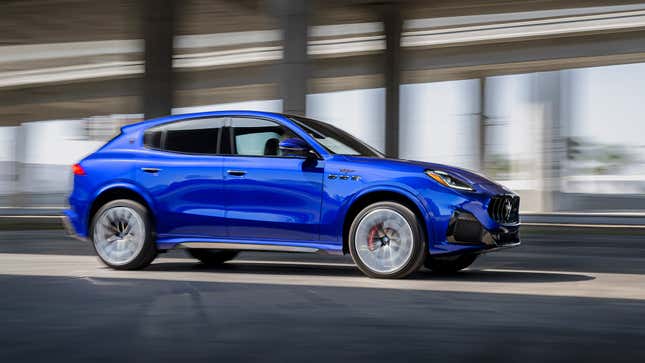 Maserati is a strange brand. It has this cache among the regular folk like it's on the same echelon as, say, Rolls or Bugatti, when in actuality it occupies a tier somewhere just north of Alfa Romeo. The new Grecale midsize SUV starts at a mere $65,000, for crying out loud. Somewhere, an unscrupulous Toyota dealer is probably trying to shift a RAV4 Prime that costs more, as I write this.

In case you missed it:
But Maserati doesn't plan to stay in a specific lane. It's perfectly comfortable being all things to all people, as an Automotive News interview with the marque's boss on this side of the pond illustrated Friday.
In the story, William Peffer, CEO of Maserati Americas, said that the House of the Trident isn't ready to commit to a death date for internal-combustion-powered models. He also credited its diversity of powertrains with Stellantis' myriad resources:
"The only reason we can [offer so many body styles and powertrains] is because we're part of Stellantis," Maserati Americas CEO William Peffer told Automotive News. "We're making dual investments, which is cool."

This is a period of rejuvenation and expansion for the brand, which was marred by a lineup that had grown stale over the past decade. Its U.S. sales, after peaking at 13,699 in 2017, declined in four out of the next five years.

The drought of fresh product is letting up with the introduction of the MC20 halo model in 2022, the Grecale and the upcoming return of the GranTurismo coupe, which went out of production in 2019. The gasoline-powered GranTurismo will launch first this summer, followed by an electric version soon after.

Maserati said last year that it would go all-electric by 2030 and debut electric versions of each nameplate by 2025. Peffer, however, isn't holding the brand to any specific dates to fully make the transition.

"I'm not aware in North America of a drop-dead date that says, 'By this point, this day, we will no longer sell ICE,'" Peffer said. He added that Maserati is observing to see "what the adoption looks like, watch and see where consumer preferences go, watch and see how the rest of the industry deals with the aspects of [charging] infrastructure and things like that."
Maserati's aged product lineup certainly hadn't done it many favors in recent years, which is why the decision to make the new GranTurismo visually almost exactly like the only one, save for the mug, struck as an odd choice. Sure, the GranTurismo has always been an attractive car, but I have to regularly remind myself the 2024 model is more than a midcycle facelift.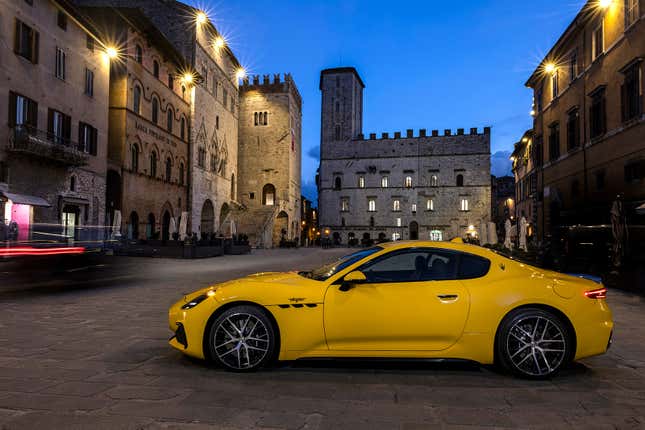 Meanwhile, dealers seem ready for the Grecale to woo new customers to the showroom. In an era when every brand is trying to slide upmarket where the margins are much cushier, Maserati's content making a play at mainstream luxury volume.

The Grecale starts at $64,995 with shipping, a price point that may surprise some consumers. Houston Maserati dealer Steven Wolf said the brand's image can make people assume its products are out of their reach, but the Grecale is more accessible.

"I think that there's a lot of people that don't know you can get a Maserati in the $60,000 range, and I think that's something [where] the word needs to get out," said Wolf, who held a private gathering at his dealership for prospective customers to check out the Grecale in September. "I think that would be a significant shot in the arm for us. We're doing a TV campaign; we're going to spend a lot of money talking about that. We have it on our electronic billboard, we put it on our email blast, and I think that drives traffic, at least an opportunity for someone to come check it out."
According to Maserati, early data suggests that as many as 80 percent of Grecale orders represent "conquest" buyers — which is to say they considered models across multiple makes before making their purchase. Should they want to go electric with their next Maserati, the brand plans to have the Folgore line at the ready. And should they prefer another twin-turbo V6, they can have a better version of that same engine mounted behind them, in a convertible. It's all a part of Maserati's strategy of doing everything, because why not?