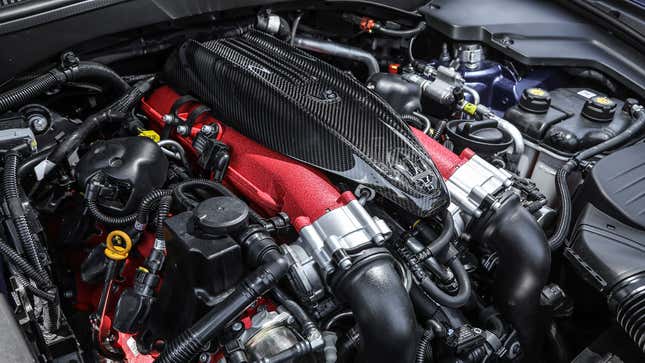 Maserati may have the cache of an Italian luxury brand, and lots of people might be surprised to find they can get one for under $70,000 — but Ferrari it is not. Maserati's demigod half-cousin that it sometimes borrows engines from can do whatever it pleases. Ferrari's clients are begging it to never stop making V12s, a clamor that will assuredly only grow in volume once the status quo reverses and internal-combustion cars running on synthetic fuel become a status symbol accessible only to the elite. Because Maserati is but a mortal brand, it's waving goodbye to its V8s this year.

In case you missed it:
Currently, Maserati offers the twin-turbocharged, 3.8-liter F154 V8 in the Trofeo versions of its Levante, Ghibli and Quattroporte. Ferrari tipped everyone off that it would stop offering the F154 to its extended family years ago — way back in 2019, as a matter of fact, when then-CEO Louis Camilleri said on an earnings call that Maserati chose not to renew the contract. At the time, Camilleri called this a "good thing."
Well, four years went by like that, and 2023 will mark the final year in which Maserati will stuff the F154 into its cars. Starting next year, it'll be all four- and six-cylinders — and the occasional EV — rolling off the production line, all the time. And by the end of the decade, the Trident badge will appear only on battery-electric cars. Depending on who you ask anyway; the North American side of the operation appears to be distancing itself from such proclamations.
In July, Maserati plans to reveal final, V8-powered editions of the Ghibli and Levante, with the "Ultima" designation. The duo will bow at this year's Goodwood Festival of Speed. And as Maserati's press release makes abundantly clear, make no mistake: these are collectors' items, through and through.
A historic moment for the Modena-based company, which has always looked ahead without leaving its roots behind, and for those who love the history and modernity of the Trident's models and their ability to ensure style, emotions and timeless performance. The same abilities will be maintained in the cars that will now become the new object of desire for collectors.

Since 1959, when the Maserati 5000GT was created as the first car with the powerful V8, more than 100,000 units have been made and sold with an eight-cylinder engine; the latest editions of the Maserati Trofeo, Ghibli 334 Ultima and Levante V8 Ultima, will be unveiled at the Goodwood Festival of Speed in July 2023.
It's funny to imagine anyone holding onto and caring for their Levante Ultima 60 years from now, in the same way they would a 5000GT today. Enthusiasts are going to pine for the weirdest gas-burning cars when they can't have them anymore. It's unclear how many units of the Ghibli and Levante Ultima Maserati intends to build, but we're likely to know more in about two months.