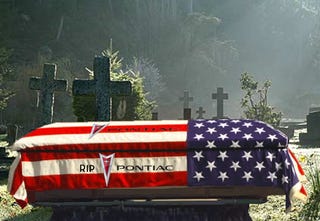 Apparently other publications weren't reading Jalopnik in February when we broke the news Pontiac would either die, or become some sorta zombie. Whichever it is, we've decided to run our eulogy, in its entirety, again.
Welcome, friends. We're here today to bid farewell to GM's Pontiac. Once a re-badged middle ground between Chevy and Buick, it attempted to build excitement. Now, it is gone in a blaze of platform prostitution.
The Beginning
Pontiac started life as part of the General's mid-20s "companion" program, which the once-massive automaker implemented to create a sensible cost difference between their cars. Pontiac models were to be produced by then Oakland Motor Car Company, a quality six-cylinder line of cars, and designed to be placed between Chevrolet and Buick. Pontiac cars sold well but, when the market crashed, the companion program was discontinued, Oakland was folded and GM severely cut back on their offerings.
What helped Pontiac survive, beyond its popularity, was the cheap production cost attained by combining components with Chevrolet. When GM was forced to reduce itself to three divisions, Pontiac was rolled into Buick and Oldsmobile with dealers forced to sell all three if they were going to sell one. This would save the brands but set a precedent partially to blame for their inevitable downfalls.
The DeLorean Era
Pontiac's fortunes quickly changed under the management of Bunkie Knudsen and car enthusiasts-turned executives Pete Estes and John DeLorean. Knudsen had the vision to see Pontiac as something other than merely slightly nicer Chevrolets and the idea to bring young blood like Estes and DeLorean into the fold.
The story, as repeated numerous times, goes like this: when GM put a ban on divisions participating in auto racing, Pontiac felt its newly cultivated image as a performance brand would be ruined. In order to win fans among gearheads DeLorean, along with a few others, decided to offer a Pontiac Tempest with a 389 cubic-inch V8 as an "option" package hoping there would be a market for a racer's engine in a teacher's car. The name came from DeLorean's appreaciate of the Ferrari acronym for a homolgated race car. It was a gutsy move but one that paid off huge.
High on success, Pontiac attempted to show up Chevy in the 1970s by doing more, which meant more production and more competitive pricing. Unfortunately, this movement of Pontiac models all around confused buyers and the company's sales sagged. The rapid increase in gas prices and the Malaise Era didn't help either. Pontiac didn't have a small car and had to readapt the Chevy Nova into a Ventura. The performance brand would soon become more and more the other Chevy, though not especially luxurious or perceptibly sportier. With the exception of the Firebird Trans Am, there wasn't much to be excited about.
The exciting promise of the Fiero, though never fully fulfilled, did inspire Pontiac in the 1990s to at least mimic what they once were. The new Firebird, though funky, had its appeal among American muscle car fans. The redesigned Pontiac Grand Am added athletic flair to boring GM platforms, helping the brand to become a sales success again. Even the Bonneville, which had sunk to unsexy lows, got a new rounder treatment with cat's-eye headlights and almost a Hoffmeister Kink at the rear. The addition of the SSEi supercharged model almost created a true competitor to foreign makes.
By the mid-2000s this turned into perhaps the ugliest Pontiac of the modern era: the fifth-generation Pontiac GT, which was a misshaped, FWD, underpowered, ugly coupe with as much cladding as you could possibly imagine and had one of the worst car interiors ever.
2000s: A Decade Of Promise And Peril
The one bright spot for Pontiac in the first half of the 2000s was the Holden Monaro-based Pontiac GTO, which was a good idea poorly executed — seeing a pattern here? America wanted a RWD, V8-powered sporty monster as proven by the recent move towards vehicles like the new Camaro, Mustang and Challenger. Sadly, rather than remaking a new car here in America to satiate this desire they merely imported Australian-built cars and slapped a new grille on them. They were a flop, but once again hinted at what would come.
If we're generous, the GTO was a place holder for what GM hoped to rebuild the brand into — the definition of performance. The Pontiac Solstice, though not an amazing performer and a shared-platform ride, was consistent with the brand's image. Even better was the introduction of the Pontiac G8, which brought the promise of an impressively performing RWD American sedan. In G8 GT and G8 GXP trims it's a world-class car. Then, last year, they announced the Pontiac G8 ST sport truck and we were on cloud nine.
Pontiac announced it would be killing the Pontiac G8 ST and bringing a rebadged Aveo to the market as a Pontiac G3. Also, word came down GM was killing the Pontiac G8 altogether. Unlike the transition from the 1960s to the 1970s, Pontiac's death spiral appears it will occur almost immediately after its first steps in the right direction.
We're hearing the Pontiac nameplate will live on but not as a separate brand and on what products and in what form we we don't yet know. Is the General right to kill the brand now? Would Americans truly embrace great, RWD American cars once again? Are we better off getting less? There's no way to be for sure, but in our minds GM is killing the brand as soon as it was starting to again build a reputation and a following.
Here's to Pontiac. It wasn't always the sporty, high-performing brand it set out to be but, at least, it set out to be something more. To properly serenade the brand we've included the lyrics from Lyle Lovett's song "Pontiac" from the album of the same name:

I park my pontiac
Down the hill out in back
Late every afternoon
With a coke and a cigarette
And all of the neighbors there
They see a nice old man

And the girl there across the street
She sits on her front porch swing
She never realized
What I told her with my eyes
How back in the second war
I killed twenty German boys
With my own bare hands

And the woman inside my house
She won't stop talking
She never says a thing
She just keeps talking
And I might just leave her still
After the sun goes down
And I smoke this cigarette