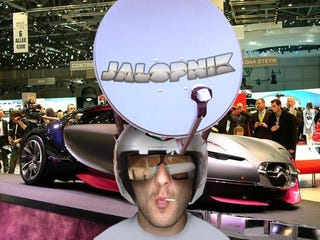 Not content to offer just watered-down dispatches from the 2010 Geneva Motor Show, we've harnessed the power of cheap Eastern European labor the interwebs to bring you video of every single reveal and press conference today.
Just click on any of the videos, all helpfully marked with the name of the presenter, to view the show free of context, filtering, or the opinions of the fat, jaded automotive press. All of it in order of when it happened on the show floor. It's sort of like you get to be a member of the fat, jaded automotive press yourself. Well, without the free tote bags.
Of course, if you want to read our thoughts and see what didn't get a conference, just surf on over to Jalopnik's Geneva Motor Show page.
(Note: Because we're committed to not being page view whores, you can click here if you want to see the whole mess in non-gallery form. Warning — it's a lot of videos to take in at once.)
BYD Auto
Time: 08:00
Revealed: Partnership With Daimler
Zagato
Time: 08:15
Revealed: Joule Electric Car
Porsche
Time: 08:15
Revealed: Porsche 918 Spyder
Citroen
Time: 08:30
Revealed: Citroen Revolt
Koenigsegg
Time: 08:30
Revealed: Koenigsegg Agera
Kia
Time: 08:45
Revealed: Sportage, Venga EV, Ray
Lotus
Time: 08:45
Revealed: Lotus 414E
Time: 09:00
Revealed: Mercedes F800 Style
Spyker
Time: 09:00
Revealed: C9 Aileron, Saab
Abarth
Time: 09:15
Revealed: Fiat 500C Abarth
BMW
Time: 09:30
Revealed: BMW 5-Series
Valment
Time: 09:30
Revealed: A Weird Electric Car
Mini
Time: 09:45
Revealed: Mini Countryman Crossover
Pininfarina
Time: 09:45
Revealed: Alfa Romeo 2uettottanta
Italdesign Giugiaro
Time: 10:00
Revealed: EMAS
Bertone
Time: 10:15
Revealed: Alfa Romeo Pandeon
Volvo
Time: 10:15
Revealed: Volvo S60
Jaguar
Time: 10:30
Revealed: Jaguar XJ
Bufori
Time: 10:30
Revealed: Bufori MkVI
Aston Martin
Time: 10:45
Revealed: V12 Vantage Carbon Black
Ford
Time: 11:00
Revealed: Ford Focus Wagon
Mazda
Time: 11:15
Revealed: New Mazda5
DR Motor
Time: 11:30
Revealed: Tiny little cars
Nissan
Time: 12:00
Revealed: Nissan Juke
VW
Time: 12:15
Revealed: 2011 VW Touareg
Brabus
Time: 12:15
Revealed: Brabus E V12 Coupe
SEAT
Time: 12:30
Revealed: SEAT Ibiza ST
Skoda
Time: 12:45
Revealed: Fabia, Combi 2.0, Roomster, Yeti 2.0 Tdi
Hispano Suiza
Time: 12:45
Revealed: A ruined Hispano Suiza R8 V10
Lamborghini
Time: 13:15
Revealed: Lamborghini Gallardo LP570-4 Superlegerra
Audi
Time: 13:30
Revealed: Audi A1 & Justin Timberlake
Ferrari
Time: 14:00
Revealed: Ferrari HY-KERS Hybrid Concept
Carlsson
Time: 14:15
Revealed: Carlsson C25
Dacia
Time: 14:45
Revealed: Dacia Duster Concept
Toyota
Time: 16:30
Revealed: Toyota Auris Hybrid
Lancia et Chrysler
Time: 17:00
Revealed: The sad future for Chrysler
Fiat
Time: 17:15
Revealed: 2010 Fiat Bravo