This is the Mercedes F800 Style, a concept previewing the 2012 Mercedes CLS. It's got a choice of either plug-in hybrid or fuel-cell powertrains, minivan doors and can steer itself around corners without driver input. Sorry, we're out of expletives.
The F800 is pretty much a direct continuation of the styling themes first seen on the wacky CLS sculpture in Detroit. That means it's an evolution of the current CLS's design, with less awkwardness, a lower rear deck, more exaggerated lines and the grille off the Mercedes SLS AMG.
Underneath the hood is, in reality, likely empty space, but Mercedes wants you to think there's either a plug-in gas/electric hybrid based on the non-plug-in system from the S400 Hybrid or a hydrogen fuel cell similar to that used in other Merc concepts with "F" names. While the fuel cell definitely won't reach production, at least not in the 2012 CLS, Mercedes does seem pretty serious about pandering to moronic American by bringing the plug-in thing to the next S-Class. Here's a hint Nancy Pelosi: if you want to save the environment, you should probably look at ways to do so that don't involve driving a giant Mercedes.
G/O Media may get a commission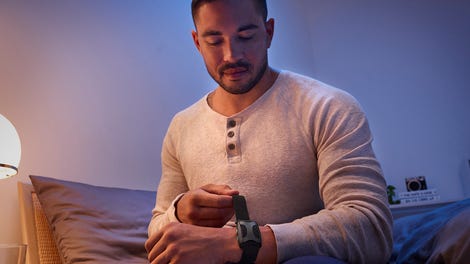 There's also two new technologies being previewed on this car that, given Merc's track record, are almost 100% likely for production in the near future. DISTRONIC PLUS Traffic Jam Assist is just another radar-assisted cruise control system designed to help lazy drivers maintain a safe distance from vehicles in front, but his one's targeted at the super, extra special lazies who can't even be bothered to steer their own cars. It will maintain that preset following distance all the way down to 0 MPH and, here's the innovation, is capable of following the car in front around curves at up to 25 MPH. That doesn't even sound safe to Mercedes, who promise that the super extra smart computers can tell the difference between turning off the road, swerving while drunk and/or asleep and actually taking the appropriate lane around a curve.
PRE-SAFE 360° continues the active safety of previous Pre-Safe systems by applying the brakes just before an impact to ameliorate the forces involved. Think of it as an electronic crumple zone. The 360° system now works for rear-end collisions too, hitting the brakes to decrease the chances of you bumping the car in front because you were hit from behind.
The other big whizz-bang feature on the F800 are the totally-not-going-to-reach-production minivan doors. They pivot and slide in a typically concept car way to aid access to the rear and somehow eliminate the B-pillar. Finally, we have the sexiness of a 1984 Chrysler Town&Country combined with the practicality of a four-door coupe.