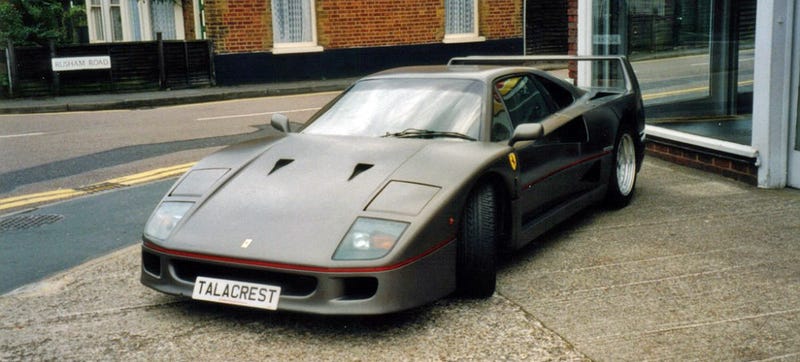 All 1,315 Ferrari F40s left the factory as left-hand drive cars with a Rosso Corsa paint job. Or at least that's what Ferrari told the public back in the day. But the Sultan of Brunei got a few with more changes than just the steering wheel.
Jay Leno joined a protest at the Sultan of Brunei's Beverly Hills Hotel last month, aimed at raising awareness of the Sultan's repressive new laws that act as a basic insult to humanity, and punishing him where it hurts in the wallet. And it just so happens that the punishment is working.
The Sultan of Brunei's car collection is one of the most famous — and secretive — in the world. Hundreds of cars are kept squirreled away in a locked garage where they are rarely driven. That means that some of them are decaying while others remain pristine, brand new examples of the rarest cars in the world.
The mysterious cache of exotic cars collected by the Sultan of Brunei has been hidden from public view for many years — until this week, when 21 popped up for sale for as much as $2 million. The worst news? The sultan never drove most of them.
The Noah's Ark of untouched supercars we identified yesterday as belonging to the Sultan of Brunei may actually be in Singapore, despite being sold by some Kiwis.
A broker is selling 25 Ferraris, three Lamborghinis, and a Cizeta, among other rare supercars. All are unregistered with delivery mileage only, which means they almost certainly belong to the Sultan of Brunei. Who is selling the Sultan's cars?
OK, so it's neither that or old or that junky. But you can still buy it, and it's right-hand drive — one of just two F50s made that way. Is there something wrong with this? You decide!
Google Street View camera trucks have photographed something even better than the white Stig: a custom Aston Martin built for the Sultan of Brunei. Here is the story of how we found it.
These days, paddle shifters are on everything from hatchbacks to luxury sedans. But not so long ago, they could only be found on certain exotica and racing cars. Some love 'em, but a lot of enthusiasts would rather have a good ol' fashioned third pedal and a stick. So who do we have to blame for this virus of…
Ferrari wagon-izations and hypercars bathed in magnetizing yellow are just a couple hints the Sultan of Brunei is perhaps the most Jalopnik head of state in the whole world. Like us, he seems to have a maddening obsession with odd cars. However, what sets him apart is his seemingly unending pot of money with which to…
According to Supercars.net, the Sultan of Brunei's custom Jaguar XJ220 Pininfarina surfaced recently — no mean feat considering the Sultan has approximately 5,000 cars to his name. The history of this rare cat traces to sometime in the mid-1990s, when the Sultan and his brother, Prince Jefri, went on a supercar-buying…