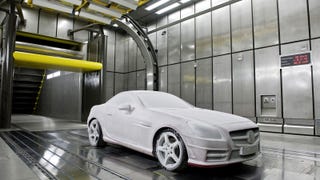 Mercedes is again showing off its pair of "climate tunnels" designed to abuse their cars while sparing their drivers. Imagine a Category 5 Hurricane, followed by a dry 140-degree Fahrenheit heat, and then a snow storm with -40 degree Fahrenheit cold. Actually, don't imagine it. Look at it. This Mercedes-Benz SLK is…
The new 2012 Mercedes SLK has what ze Germans call "MAGIC SKY CONTROL." The feature allows drivers to dim or lighten the convertible's folding glass roof with a touch of a button. The car may also have an engine.
While European Union bureaucrats took the liberty of publishing the trademark views of the 2012 Mercedes SLK, just a month after Mercedes gave us a glimpse, a Jalopnik reader caught the real deal enjoying the Bay Area views.
Over the weekend, a French promo film featuring the 2012 Mercedes-Benz SLK found its way onto the web. Our question — was the new Sportlich, Leicht und Kurz Benz an accidental leak or an attempted viral reveal? (H/t to everyone!)
Our spy shooters spotted the next-generation Mercedes SLK taking a spin in Germany seemingly borrowing styling from the revealed Mercedes SLS AMG. Unfortunately, the big "63" on the side doesn't indicate a 6.3-liter AMG V8 under the hood. More below.
Not all days at the Nürburgring are rainbows and unicorns, as evidenced by this 2012 Mercedes SLK prototype breaking down and spewing smoke in the tester's first run. Yeah, that's a bad day.
One of the worst things about owning a Mercedes SLK is that if you don't have a convertible you're forced to stare at the car's ceiling after sucking back a line of coke from the dash. Mercedes now appears to have a solution. According to these spy photos from World Car Fans, Mercedes is testing out a glass roof for…
Remember those photos of the 2009 Mercedes Benz SLK we showed you yesterday? They're real. Seriously. Touch them. We don't mind. And now we've got more of them. The European version is going to get a refined version of the supercharged four with a boost to 184 hp as well as a worked over V6 good for an additional 33…
It looks like the sporting folks at Auto Express managed to get their hands on some early photos of the facelifted Mercedes SLK that we've been showing you spy shots of. As with other Mercedes products, the new SLK retains the sport F1-style nose and gets a revised front bumper with a new split design. Out back the…