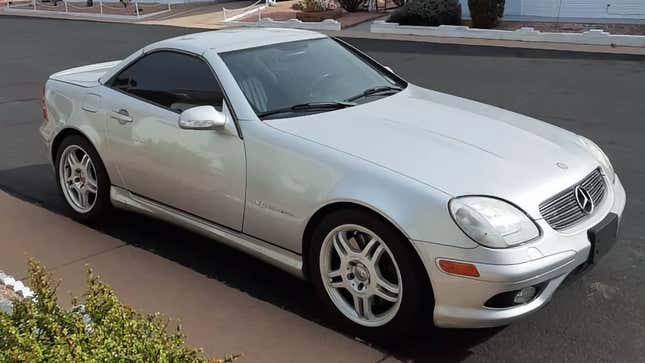 For some, the most important aspect of today's Nice Price or No Dice SLK 32 AMG is its fully-functioning top. For others, it's the 349-horsepower supercharged V6. Let's see if it's priced to please both of those factions.
Chase Elliott Explains the Challenge of Adapting to NASCAR's Next Gen Car
Regicide is not a term one hears every day, and in the case of yesterday's 1990 Chevy Corvette ZR-1 "King of the Hill" it was actually the car that slayed. For most of you, its $28,500 price tag didn't seem like a king's ransom, earning the ZR-1 a solid 56 percent Nice Price win.
There are so many letters in the name of today's 2002 Mercedes-Benz SLK 32 AMG that it may be hard for the uninitiated to make heads or tails of what they all mean. The neophytes needn't worry, however. I've got your back.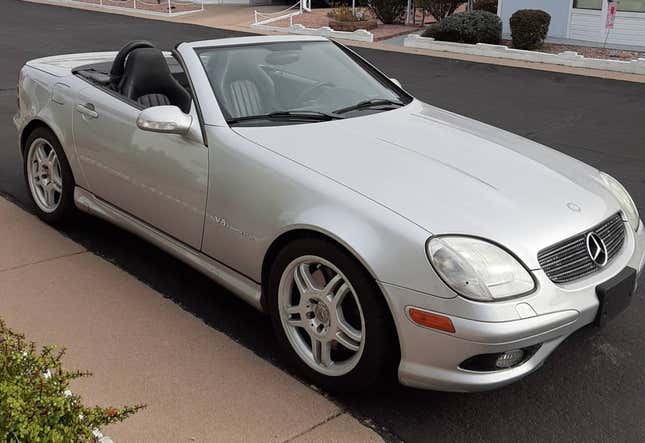 First off, there's SLK. That follows traditional Mercedes practice for its roadsters, denoting the models with the SL or Sportlich Leicht (Sporty Light) designation. On this model, that's appended with K for Kurz or, in English, Short. This is all not to be confused with "Short Round" the Indiana Jones and the Temple of Doom character portrayed by recent Best Supporting Actor Oscar winner, Ke Huy Quan.
How short, light, and sporty is this Benz? Well, that's where the other three letters in its name come into (literal) play. AMG (named for its founders Hans Aufrecht and Erhard Melcher, and Aufrecht's hometown of Großaspach, Germany) started out as an independent tuning business focusing on Mercedes products. Later bought by Mercedes-Benz, it is now the company's in-haus performance arm. Those three letters ensure that the Benz beneath them is going to, at the very least, look the part of a performance car. In the case of the SLK 32 AMG, it has the goods to support those looks as well.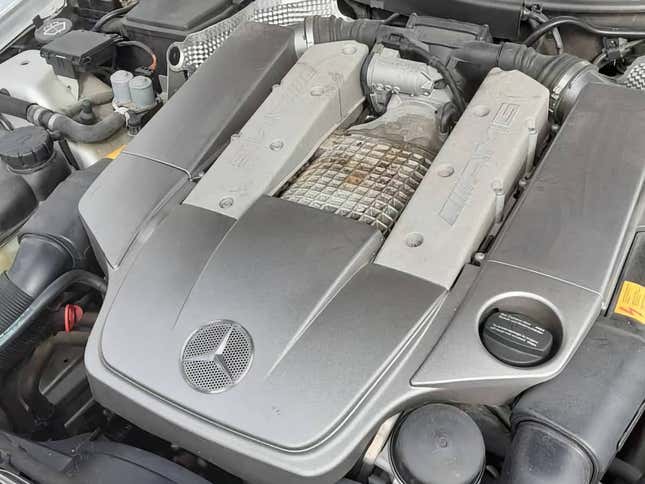 At a tad over 3,200 pounds, the SLK isn't actually all that light. Blame that on modern safety and convenience features and an electro-hydraulic origami folding hard top that hides in the boot. It is short though, which helps. And, the AMG-built, supercharged M112 V6 under the hood does more than its share of heavy lifting. That makes 349 horsepower out of its 3.2 liters of displacement, along with 332 lb-ft of torque, the latter available at a loping 4,100 rpm. behind that sits a five-speed 5G-Tronic SpeedShift automatic and limited slip differential in the back.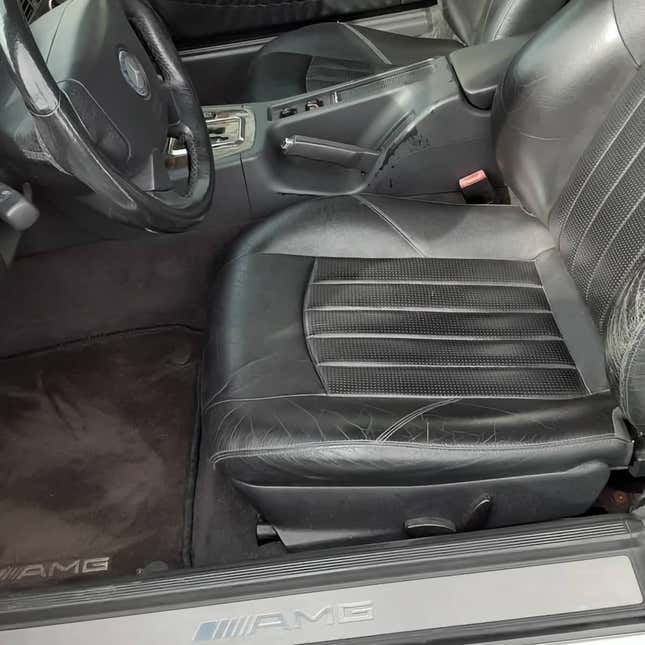 The SLK AMG brings the bling too. Visual cues for the model include changes to both front and rear bumpers, side skirts, model-specific AMG alloy wheels, and, of course, badging. The interior also gets a slew of AMG logos thrown in for good measure, including one on the speedo in the white-faced gauges. Out of a total model run of around 4,330 cars, just 2,056 SLK 32 AMGs were U.S. spec.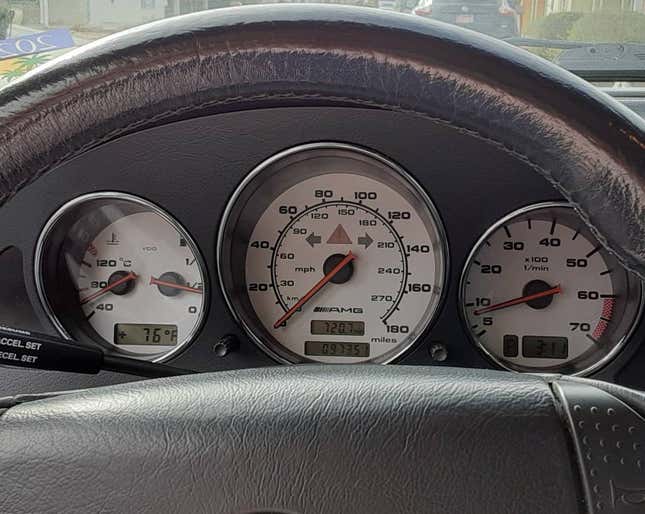 This one is painted, appropriately enough, in metallic silver. That complements the black interior nicely. The car boasts a mere 97,300 miles on the clock, plus a clean title, and is described in the ad as being in excellent condition. The exterior supports that assertion, with just some scarring on the alloys to detract from the overall look.
The interior, with its leather-clad seats, also shows a bit of wear, notably on the driver seat outside bolster and the soft-touch plastic coating on the console next to the parking brake. Most importantly, however, all the seals all seem to be doing their jobs and all the model-specific kibbles and bits look to be intact. So too are the copious quantity of original manuals and the Monroney sticker from when the car was sold as new.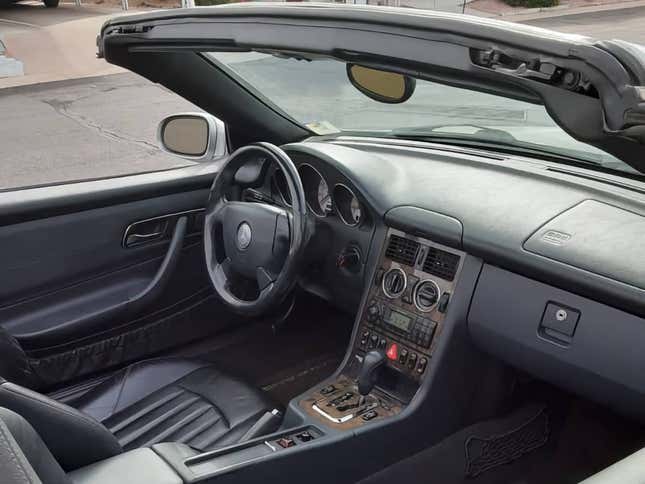 Now it's old enough to drink and is said to be owned by a retiree who doesn't get it out for exercise all that often anymore. According to the included window sticker, it was originally sold in Santa Monica, California. Now it's being offered in Phoenix, Arizona. Neither of those locales indicate that rust would ever be a problem.
Do you know what might just be a problem, though? That would be the car's $11,000 asking price. We'll just have to see. Mercedes originally intended these cars to be in competition with Porsche's Boxster S, and eleven-grand can almost get you behind the wheel of one of those today. In its defense, the Benz offers 100 more horses and the security of a hardtop so weigh that into your evaluation. Also, this would be a less-obvious option in this class of cars, so there's that too.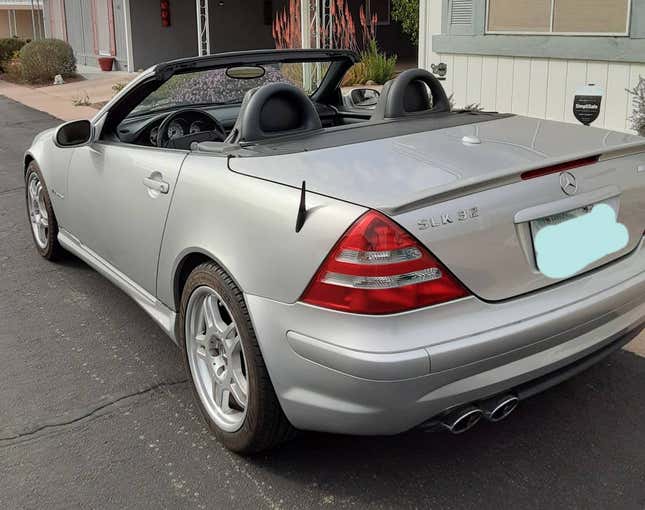 What do you say, is this SLK 32 AMG worth that $11,000 asking as presented in its ad? Or, does that price weigh heavy on what's supposed to be an otherwise lightweight car?
You decide!
Phoenix, Arizona, Craigslist, or go here if the ad disappears.
H/T to Paul T. for the hookup!
Help me out with NPOND. Hit me up at remslie@kinja.com and send me a fixed-price tip. Remember to include your Kinja handle.