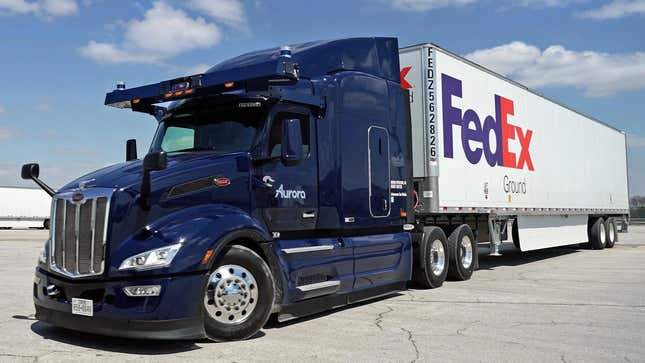 Three autonomous trucking companies with roots in California – Kodiak Robotics, Aurora Innovations and Gatik.AI – all fled the Golden State looking for greener pastures in Texas when it came time to test their vehicles. According to Bloomberg, this sort of move was set in motion back in 2017 when lawmakers in the Lone Star State approved a legal pathway for autonomous trucks. Compared with California – a state where regulators haven't set the rules for initial trials – the choice to head east was easy.
Regulation of autonomous vehicles is up to individual states, and about a half dozen of them allow driverless trucks as well. Texas has apparently embraced the technology. It has set up a task force to collaborate with operators and troubleshoot issues like roadside inspections and how police will respond when there's no driver.
Meanwhile, lawmakers in California have opposed autonomous 18-wheelers. Part of that, according to Bloomberg, is because of a "robust" union campaign led by Teamsters. There's also the issue of California's experience with robo-taxis in San Francisco. It's gone less than well there with a number of crashes and other incidents. State officials have actually ordered GM's Cruise to cut its autonomous fleet in half after one of its cars hit a fire truck.
On September 11th, the California State Senate reportedly approved a bill that would require drivers to always be present in large trucks – even if they're being operated autonomously. The legislation now heads to Governor Gavin Newsom.
Bloomberg says there's no guarantee that it'll pass for a number of reasons.
A top adviser in his office wrote to the bill's sponsors saying the proposed law "takes an inflexible approach to regulating a growing industry borne out of California's innovation economy."

That stance raises questions about the bill's chances of becoming law, but there's growing opposition to driverless trucks in the state. Unions are concerned about jobs, while proponents of the technology say it will help ease a perennial trucker shortage, especially for the long-haul routes that keep drivers away from family for long periods. And with no humans behind the wheel, rules such as limits on driving hours and a ban on drug and alcohol use will no longer apply.

[...]

Safety remains the paramount concern. Software and sensors don't "have a gut reaction" when something goes wrong, and they can't read the body language of a driver who's about to cut into a lane, says Mike Di Bene, a Teamster who's worked as a driver for three decades. "Our families are on those highways," Di Bene says. "If you're going unmanned, you're going unsafe."
According to the outlet, the trucks being tested in Texas have a much easier go of it than the cars in California. Out in Texas, the highways are mostly empty and flat, and the weather is usually favorable for visibility. It's a much different story in SF, where taxis have to contend with, well, a city.
Bloomberg says that so far it's been going well in Texas. Federal data reportedly shows that there have been fewer than 20 incidents in Texas, and all of them were caused by the drivers of other vehicles. Contrast that with 2021 collisions involving 18-wheelers, and you get a much different story. There were nearly a half-million collisions, killing nearly 5,800 people and injuring a further 155,000. Granted, there are a hell of a lot fewer autonomous trucks in Texas.
Still, that's probably not enough. The outlet reports that folks within the industry need the systems to be flawless – not just better than vehicles with people behind the wheel. That's apparently because insurers will likely balk at offering coverage unless they're sure they will not face expensive settlements.