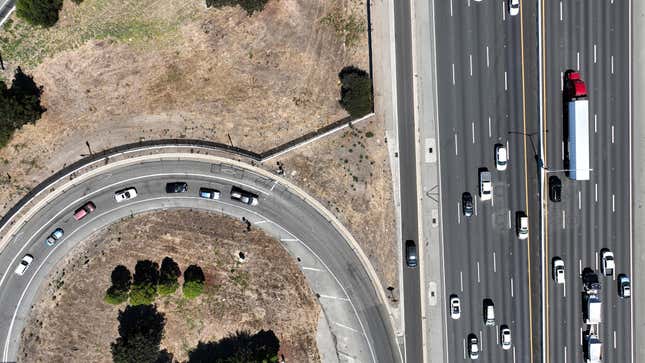 Good morning! It's Wednesday, May 24, 2023 and this is The Morning Shift, your daily roundup of the top automotive headlines from around the world, in one place. Here are the important stories you need to know.

Nate Bargatze's $1,500 Mazda Was a Beater That Wouldn't Die
1st Gear: California
California is making moves to ban the sale of new fully internal-combustion engine-powered cars in 2035, and has just asked the Environmental Protection Agency to sign off. The ban would still allow for new plug-in hybrids to be sold, and wouldn't effect used cars. From Reuters:
The California Air Resources Board (CARB), which approved the plan in August, asked the Environmental Protection Agency (EPA) on Monday to approve a waiver under the Clean Air Act to implement its new rules that set yearly rising zero emission vehicle rules starting in 2026 and would end the sales of vehicles only powered by gasoline by 2035.

"These vehicles will permanently displace emissions from conventional vehicles," wrote CARB Executive Officer Steven Cliff, adding that motor vehicles and other mobile sources are the greatest source of emissions in California.

The Biden administration has repeatedly refused to endorse setting a date to phase-out the sale of gasoline-only vehicles. [...]

Under an EPA proposal released in April to drastically cut vehicle emissions through 2032, automakers are forecast to produce 60% EVs by 2030 and 67% by 2032 to meet requirements, compared with just 5.8% of U.S. vehicles sold in 2022 that were EVs.

California's zero-emission rules will cut by 25% smog-causing pollution from light-duty vehicles by 2037. The rules mandate that 35% of the new cars sold be plug-in hybrid electric (PHEV), EVs or hydrogen fuel cell by 2026. That proportion will rise to 68% by 2030 and 100% by 2035.

The 60-page California waiver request seen by Reuters says through 2040, California's zero emission rules will cost $210.35 billion but have total benefits of $301.41 billion.
Reuters notes that a number of states are following California's lead in this, including Rhode Island, Washington, Virginia, Vermont, Oregon, New York and Massachusetts. 2035 is a ways away, and with the exponential year-on-year increase of electrified vehicles in the U.S. — and the Golden State in particular — it's quite possible California would more or less get there on its own in 12 years time. Plus, PHEVs would still exist, and they're a good stop gap on course to full electrification.
Unfortunately for California, if there's a change in the White House oh, say, 18 months from now, history suggests state officials will have a tough time getting their wish. Which brings us to...
2nd Gear: House GOP Overturns Big Rig Pollution Rules
The pollution caused by commercial trucks is a big problem, particularly in Southern California and, really, any residential area off a major roadway. Heavy-duty trucks were poised to see their first emissions reforms in more than 20 years, which you'd think is a rational move because the planet and, consequently, humans are in shittier shape than they were 20 years ago. But business, as it always does, wants to take precedence over your life expectancy. From Reuters:
The U.S. House of Representatives voted 221 to 203 on Tuesday to overturn Environmental Protection Agency (EPA) rules that aim to drastically cut smog- and soot-forming emissions from heavy-duty trucks.

The White House said President Joe Biden would veto the measure that now goes to his desk after being passed by the Senate in April. It said the EPA rule "cuts pollution, boosts public health, and advances environmental justice."

Republicans argue the new rules, finalized in December, are overly challenging to implement, will increase supply chain costs and will make trucks too expensive for small business owners.

Republican Senator Deb Fischer said "every American consumer will feel the effects of this rule and its price increases."

Democratic Representative Frank Pallone said the "Republican bill would have dire consequences for EPA's ability to fulfill its mission to protect public health and welfare from dangerous pollution."

Under the Congressional Review Act, a simple majority vote in both chambers of Congress can reverse recently finalized rules, but that action must win approval of the president.

The standards tighten yearly emissions limits, the first update to clean air standards for heavy duty trucks in more than two decades, and are 80% more stringent than current standards.

The EPA estimates by 2045, the rule will result in up to 2,900 fewer premature deaths annually, 1.1 million fewer lost school days for children and $29 billion in annual net benefits.
3rd Gear: VW <3 Its Jetta
In happier news, not EVs, not the ever-encroaching onslaught of SUVs nor weakening consumer confidence can extinguish the pride Volkswagen of America still feels for the Jetta, a compact sedan that I cannot believe is still on sale when so many of its contemporaries are dead. Automotive News sat down with the brand's new boss in the region, Pablo Di Si, and the CEO gave the Jetta its flowers in an answer to a question about keeping products affordable:
Let's start with the electric vehicles, and then let's talk about the Jetta. The ID4, not only do we manufacture it here in the U.S., but it's one of the most affordable vehicles in the electric space, especially with the Inflation Reduction Act credit, and in some states, there are additional credits available that can push the starting price below $30,000. Over the last couple months, I've visited a lot of dealers not only in the U.S., but in Canada and Mexico as well. One of my many questions in all those places I visited was: "Do you want more Jettas? And if you do, what's the price point?" And I said, "Give me a real price point, not $100." But the discussions were really good. So we're going to have a push in the second half of the year on the Jetta, with affordability, production, because it ties in with our brand values.

The Jetta is a great entry product for the family. When you look at the life journey of the consumer in our brand, that entry point is critical. I still get a lot of comments from consumers, "My son had a Jetta or, I drove a Jetta." I have two teenagers; I bought them a Jetta, because first, it's safety, and second, it's an affordable car with great engineering, and they can have a great experience with the brand as a first vehicle. So you're going to see a lot of marketing push from us as an organization on affordability, both with the ID4 and with the Jetta.
VW is going to run Jetta ads! That's nice. Only problem is I'm trying to build a Jetta on Volkswagen's U.S. site right now and I'm no longer seeing an option for that perfect Habanero burnt-orange color you used to see GLIs in. Bad move, Pablo.
4th Gear: Aston Martin Keeps AMG Power Off The Track
If you're wondering how Honda's shock decision to stay in Formula 1 years after announcing its exit may affect the British automaker's relationship with its investor and partner, Mercedes-Benz, you may be relieved to know that the companies will continue their close collaboration for road cars. Courtesy Automotive News Europe:
The Silverstone-based Formula One team is separate from the road car company but owned by Canadian billionaire Lawrence Stroll, whose Yew Tree consortium is Aston Martin Lagonda's biggest shareholder.

"Aston Martin Lagonda is a public company, one of its shareholders is Mercedes-Benz and a significant proportion of its power units for the road cars comes from Mercedes-Benz," Whitmarsh told reporters. That is planned to continue."

"We are purely focused on racing activities and we have chosen to partner Honda. We will be absolutely focused on winning in Formula One with Honda and Aston Martin Lagonda will continue to develop its own strategy."
Aston and Merc will remain in good graces — off the racetrack. On it, anything goes.
5th Gear: SK On-A-Tear 
South Korean battery maker SK On will receive an influx of almost $1 billion in funds to double its manufacturing capacity by 2025, which it will need to as one of the world's foremost EV battery producers. From Bloomberg:
SK Innovation Co.'s battery unit will raise as much as $944 million from financial investors in a bid to more than double its global production capacity by the middle of the decade.

SK On Co. secured up to $800 million from a consortium led by MBK Partners Ltd., and another $144 million from Saudi Arabia's SNB Capital Co., SK Innovation said in a statement on Wednesday. The South Korean company has been seeking long-term financial investors to ensure continued growth of its battery business, it said.

The electric-vehicle battery manufacturer, which has plants in the US, South Korea, China and Hungary, aims to increase its worldwide production capacity to at least 220 gigawatt-hour by 2025, from 88-gigawatt hour at the end of last year, it said.
Hyundai and SK On are planning a $5 billion battery plant in Georgia, which is of critical importance to Hyundai as it seeks eligibility for the same discounts all of its competitors are getting.
Reverse: Happy 140th, Eighth Wonder
On this day in 1883 — 140 years ago — the Brooklyn Bridge opened. At the time of its construction it was the largest suspension bridge ever built.
Neutral: What's Your Favorite Modern Car Color?
Love that Habanero Orange. What exterior paint makes you do a double take these days?