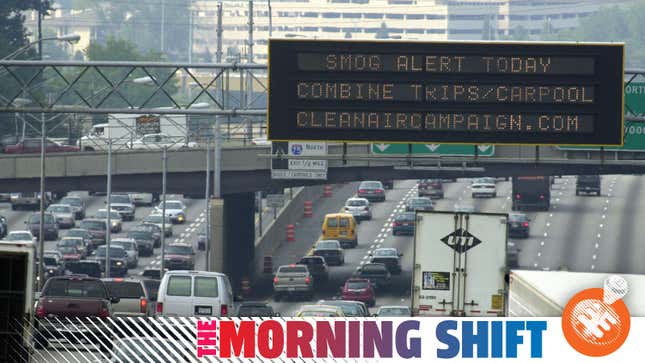 Very overdue heavy-duty truck emissions reform has met inevitable opposition in Congress, Southwest says all systems worked as designed when it had to cancel almost 17,000 flights back in December, and Volvo has got work to do. All that and more in The Morning Shift for Thursday, February 9, 2023.

1st Gear: Who Didn't See This Coming
Back in December, the Environmental Protection Agency finalized new rules to cut down on heavy-duty emissions beginning with 2027 models. It was a very long time coming, considering the government last tightened standards in 2001, and the transportation sector is responsible for more than a fourth of all U.S. greenhouse gas emissions and 26 percent of that contribution comes from medium- and heavy-duty vehicles. So much effort has been expended on lessening noxious fumes from passenger vehicles for decades, you'd expect the most flagrant individual polluters on our roads to receive the same attention.
A group of 34 Republican senators voiced their displeasure with the new regulations in a joint resolution proposal this week, claiming it's a step too far while summoning the ever-familiar specter of a supply-chain crisis. From Reuters:
The senators said the Biden administration rule finalized in December was overly challenging to implement, would make trucks cost prohibitive for small business owners and would increase supply chain costs. [...]

Republican Senator Deb Fischer of Nebraska, who is leading the effort to repeal the rule, said the "aggressive" EPA rule would incentivize "operators to keep using older, higher-emitting trucks for longer."


The new EPA rules target heavy-duty truck and engine manufacturers by tightening yearly emissions limits and changing key provisions of existing rules to ensure emissions reductions in long-term road use. The rules toughen test procedures, regulatory useful life requirements and emission-related warranties.

"It's really important, especially for protecting the health of the 72 million people living near truck freight routes in America," EPA Administrator Michael Regan told Reuters in December. The rule would reduce smog-forming nitrogen oxide (NOx) emissions by as much as 48% by 2045, he added.

Todd Spencer, president of Owner-Operator Independent Drivers Association, said if small business truckers could not afford the new, compliant trucks they would stick with older, less efficient trucks or exit the industry entirely.

Some environmental groups said they backed the rules, while others said the EPA had not gone far enough to protect public health from emissions.
The rules are projected to save 2,900 lives a year and spare 1.1 million lost school days for kids, particularly in low-income communities that, as always, end up inhaling most of the poison. The rules also, again, won't kick in for truck manufacturers until 2027, giving them and the industry at large plenty of time to prepare for this necessary measure. Nobody's taking away any trucker's existing rig, at any point. And given that these trucks tend to remain in duty for a very long time, it's critical that slow changeover starts eventually.
It's also a valid argument that the EPA didn't go as far as it could and probably should have, considering Daimler and Navistar shoehorned in an exemption to relax pollution control standards under 77 degrees Fahrenheit — 25 degrees warmer than the annual average across the country. The rule's already been kneecapped, its benefit limited. Even that still isn't enough to keep Senate Republicans from playing the "price of food" card.
The group will need a majority vote in both the Senate and House of Representatives to overturn the legislation, which is scheduled to go into effect March 27.
2nd Gear: It's the Weather's Fault
A Senate committee hearing on Thursday will attempt to get to the bottom of Southwest's December collapse. Executives from the airline will blame mother nature, while its pilot union will blame willful ignorance at the executive level to ongoing systemic problems, per written testimonies seen by Reuters:
The Dallas-based airline attributed the breakdown in service to a "historic" winter storm, both in size and scale, which caused frozen jet bridges and icy aircraft engines.

It has also defended its computer system, saying the technology "worked as designed," while adding the airline has tapped General Electric Co to improve crew rescheduling capability and hired consultant Oliver Wyman, a unit of Marsh McLennan, to recommend operational changes.

Southwest's Chief Operating Officer Andrew Watterson repeated that message in his testimony, saying the airline experienced a "historic event" with a combination of challenges it had not confronted before.

"What began as a weather event on December 21st turned into a crew scheduling event by December 24th," said Watterson.

But Southwest's pilot union, which is in contract negotiations with Southwest, blames the company and its leadership for a "failure" to modernize crew management processes and technology and to prepare for the storm.

Casey Murray, president of the Southwest Airlines Pilots Association (SWAPA) said the union has been sounding the alarm about the carrier's crew scheduling technology and "outdated" operational processes for years.

"Unfortunately, those warnings were summarily ignored," he said.
The thing is, all airlines are subject to the same sky, and, of course, the rest of the industry navigated the worst of December's storm much better than Southwest did. Now, the storm may have highlighted cracks in Southwest's systems that desperately need to be alleviated ASAP, because this winter is not yet over. But ignoring the problem because "the weather started it" isn't really a mature or logical stance, and any airline that believes it is frankly is one I'd refrain from ever entrusting my life with.
3rd Gear: For Volvo, It's Onto Next Year... 
Volvo's 2022 did not go as well as it could have, what with the chip shortage still being what it is, inflation, and the energy crisis in Europe. It doesn't envision 2023 going significantly better. From Reuters:
Volvo Cars, which is majority-owned by Chinese automotive company Geely Holding, said its fourth-quarter operating profit dropped to 3.4 billion crowns ($322.2 million) from 3.7 billion crowns a year earlier.

Profits were hit by high lithium prices, and having to buy semiconductors and logistics in the spot market, which can be more expensive than under long term contracts.

Volvo Cars and its peers have faced lingering chip shortages over the past year that have periodically hit manufacturing, with the Sweden-based company forced at times to halt production at some factories temporarily.
Demand, the brand says, isn't the problem. Regardless, experts believe it will underperform its target of selling about 1.2 million cars a year, half of them EVs, by "mid-decade."
However, Volvo Cars reaffirmed its mid-decade targets, which include selling cars at an annual run-rate of 1.2 million, with half of them electric. Some analysts had said ahead of the report that target was too ambitious.

"We remain doubtful whether the company will be able to achieve these targets before 2027 and think the company will have to significantly stretch its definition of 'mid-decade'," Bernstein said.
Seems like it's all going to plan, to me. This is exactly why you set intentionally vague targets — to buy yourself some wiggle room.
4th Gear: ...and Probably Lithium Mining
Volvo, like so many automakers, is also considering buying its own lithium miner and/or processor to ensure a steady supply of battery materials for its EVs. From the Wall Street Journal:
With supply chains already under pressure, auto makers are eager to avoid a battery materials shortage like the squeeze on semiconductors over the past few years. That bottleneck was so severe it caused manufacturers to throttle production and ration chips, shifting them to their most profitable models, and to form closer relationships with chip manufacturers.

Now the auto industry is beginning to move closer to suppliers of key battery materials, including investing in mining and processing companies. General Motors Co. has discussed taking a small stake in Brazilian miner Vale SA's base metals unit, which processes nickel and other metals needed to build batteries for EVs.

Volkswagen AG, Europe's biggest auto maker by sales, hasn't ruled out investing in miners. When the company began producing EVs several years ago, it revamped its components business, choosing to make many of the components in-house. It is also building several battery plants in Europe and is looking for a site for a North American battery plant.

Last year, Tesla Inc. held early-stage talks with Glencore PLC about buying a stake in the commodities giant. Glencore mines about one-third of the world's cobalt supply, much of it from the Democratic Republic of Congo. Tesla eventually pulled out of the talks, highlighting the concern over the reputational risks that could come with a direct involvement in mining.
Please, not everybody at once.
5th Gear: Nissan's Small Cars Have Been Hit the Hardest
Blame the chips for keeping the Versa, Sentra, and Kicks off dealer lots through the latter portion of last year, Automotive News reports. The good news is, stock should improve soon.
Slumping sales of the Sentra and Versa small cars and Kicks compact crossover helped fuel an overall 6.9 percent decline in global sales at Nissan Motor Co. for the October to December quarter.

COO Ashwani Gupta said sales of those models, all made in Mexico, have been torpedoed by severe production constraints caused by the ongoing global semiconductor shortage.

"Where we faced the challenge was Sentra, Kicks and Versa, which dropped 40 percent with respect to last year because of the very particular semiconductor shortage for these cars," Gupta said Thursday in announcing the Japanese carmaker's fiscal third-quarter financial results.

Traditionally, these popular nameplates combine to comprise about 18 percent of U.S. dealer inventory. But recently, they have accounted for as little as 5 percent of stock.

North American production of the Versa, for example, plunged 45 percent in 2022, to 61,799 vehicles for the full year, as U.S. sales of the popular economy car tanked 78 percent, according to the Automotive News Data Center. Sentra sales dropped 40 percent, while Kicks fell 34 percent.

Gupta said output and sales will start to recover in the current quarter ending March 31.
Fun fact: the first car I ever reviewed was the Sentra (not for Jalopnik) when the current generation was introduced for the 2020 model year. I still think it's a solid compact sedan, and probably the best buy in the segment if you want the most bells and whistles and care not at all about performance. It's good that Nissan is still making these kinds of cars and shipping them here at a time when many of its competitors are throwing in the towel.
Reverse: Wilhelm Maybach
On this day in 1846, 177 years ago, Wilhelm Maybach was born.
Of course, 41 years later he'd get into a boat chase with the police. Ah, classic Willy.
On the Radio: Swervedriver - "Duel"
Along with Soundgarden's magnificent "Rusty Cage," Swervedriver's "Duel" was featured in Road Rash for the 3DO, PlayStation and Sega Saturn. I love this band so much that I saw them play their first two albums on back-to-back nights in Brooklyn and Philly in 2017. I think the most at peace I've ever felt in a car was listening to Mezcal Head on a long drive one foggy morning in the fall of 2015 — in a leased Dodge Dart, of all vehicles. Further proof that it doesn't matter what you drive, only where you are.