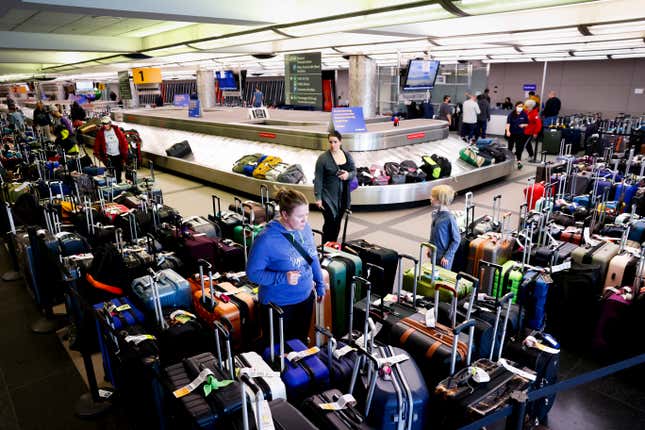 The era of fun flying is over, and the failure of both federal agencies and big corporations to invest in fast and effective technology is only making things worse.
Several congressional oversight committees are ready to tackle just what happened during last year's holiday travel rush when Southwest Airlines canceled 16,700 flights due to a software overload. Congress will also investigate the Federal Aviation Administration, which took the extraordinary step of shutting down all plane take-offs in the U.S. in January for the first time since 9/11 due to a computer glitch. The investigations may shake the entire airline industry, according to the Washington Post:
The two incidents have triggered multiple federal investigations while revealing the fragile underpinnings of a domestic system that routinely carries 2 million people daily. They also are putting pressure on Transportation Secretary Pete Buttigieg, a rising Democratic Party star, to own long-festering problems at an agency he oversees. The aftermath will shape U.S. aviation priorities for years and could usher in new protections aimed at a public increasingly wary of unreliable flights.

The federal government and one of the nation's largest air carriers learned long ago their systems were dependent on rickety foundations, but didn't do enough to update technology that could have avoided recent blemishes. Leaders of the House Transportation and Infrastructure Committee had their first opportunity to ask questions at a hearing Tuesday on aviation safety.

"There's a lot of concern in Congress," said Rep. Chris Pappas (D-N.H.), a member of the committee. "We hear it from our constituents. The step that FAA took was extraordinary."

The hearing is likely to be the first of several to spotlight struggles in the industry, coming alongside deliberations this year on a funding measure for the FAA. In the Senate, the Commerce, Science and Transportation Committee also plans to convene hearings into recent flight disruptions, beginning Thursday, when Southwest's chief operating officer is among those scheduled to testify.

The FAA outage occurred just as Southwest Airlines was beginning to recover from its own outage, leading to thousands of canceled flights and over 10,000 more significant delays. In both cases, aging software was blamed.
But that's not much of an excuse, when both Southwest and the FAA had plenty of warning that their computer systems couldn't handle the surge of flights and passengers following COVID-19 lockdowns. The FAA has been working on updating its computer system, known as the U.S. NOTAM, since 2008. A five-year transition plan was meant to be started in 2016, the Post reports. The deadline was pushed all the way to this year due to funding woes and organization complexity.
Southwest's collapse occurred during a winter storm. While the airline was cancelling thousands of flights, however, other airlines made it through the holiday weekend full of ice and snow with relatively few canceled flights. Over three days, Southwest canceled 60 percent of its flights, and flew more than 500 flights with no paying customers just to get its staff to places where they were needed. The airline lost an estimated $1 billion in revenue and caused chaos for thousands of traveler's holiday plans.
Southwest plans to spend $1.3 billion in upgrades this year to prevent another breakdown in operations. New scheduling software could be up and running in just a few weeks. The FAA, meanwhile, signed a $3 million contract with a software company for modernization support, but that should move much slower as is the case with government agencies.
The entire industry is now in the regulatory sights of congress. Unfortunately, faulty computers bringing down operations aren't the only hurdles facing American travelers in 2023. Shortages of everything from planes, to a shortage of the folks who make airplane parts, are expected to continue to make air travel a monumental and expensive headache.