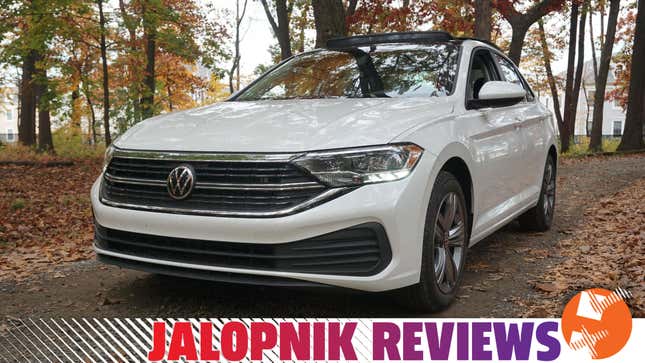 There's something sort of special about an appliance car like the Volkswagen Jetta. It has no delusions of grandeur. It's not trying to be a sports car, a piece of cutting-edge technology or some kind of wannabe off-roader. That might seem obvious, but the truth is, cars like this are getting few and far between. But the Jetta is one of the best no-big-deal cars on sale right now. It will ask nearly nothing of you if you ask nothing of it, and that's exactly why I like it.

Volkswagen Unveils the Jetta GLI Performance Concept
Full Disclosure: Volkswagen lent me a Jetta with a full tank of gas for a mini road trip to Washington, D.C. I got a tour of The White House. It was neat.
Doing Your Job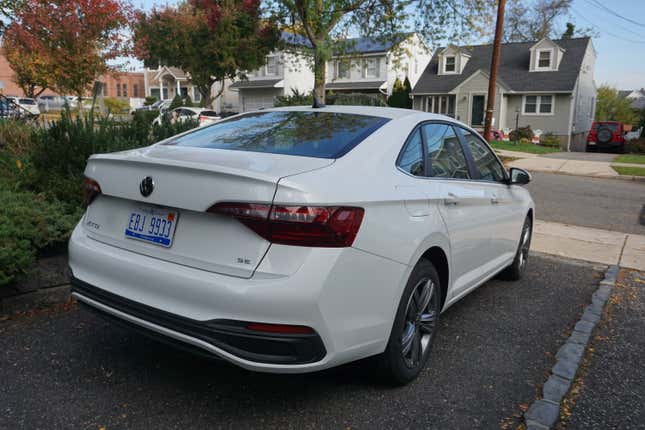 G/O Media may get a commission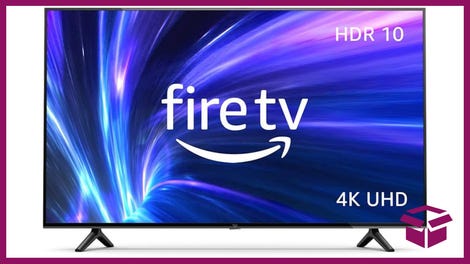 42% Off
Amazon Fire TV 50" 4K Smart TV
With the Jetta, you get in, press the start button and the engine comes to life with deeply unassuming anonymity. You slide the aggressively normal automatic gear shifter into Drive and you pull away. When you arrive at your destination, you put the Jetta in Park and press the engine on/off button again. You get out, lock the doors and walk away. That's it. That's the car.

I know that sounds boring, but take your enthusiast hat off for a second and realize: Most people want a car that won't ask anything of them. They want an appliance. The Jetta exists in the same space as a comfy pair of New Balance shoes. It provides the most basic form of transportation available, and does a damn good job of it.
Let's Talk Specs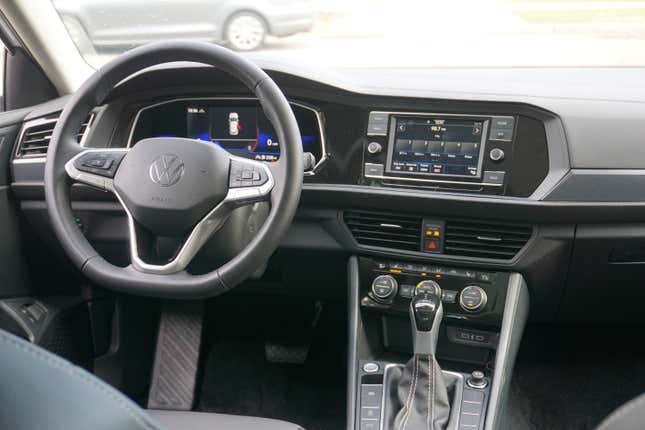 The Jetta is motivated by a turbocharged 1.5-liter inline-4 that sends 158 horsepower and 184 lb-ft of torque to the front wheels through an eight-speed automatic transmission. Is that a lot of power? Certainly not, but the Jetta isn't exactly a lot of car. This Jetta weighs right around 3,000 pounds, and in this day and age that's an accomplishment. It'll accelerate with confidence, but it really doesn't matter how quickly this sedan gets to 60 mph. If you're pushing a Jetta with quickness in mind, maybe get the 228-hp GLI.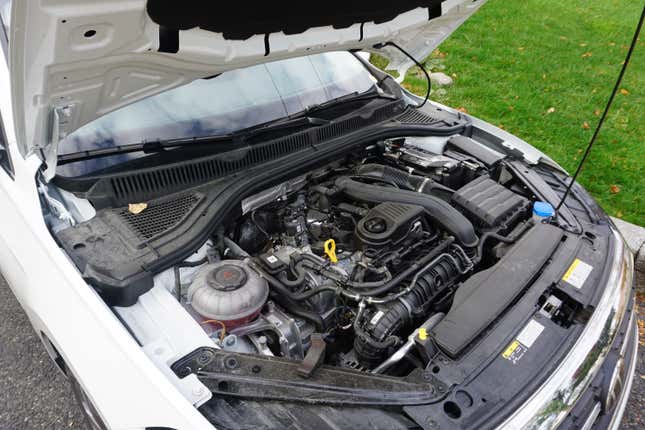 The Jetta's drivetrain is meant to just fade into the background like a Law & Order extra. Unfortunately, wind and road noise make the driving experience slightly less than serene, but I suppose you get what you pay for. The mid-grade SE trim I tested had a sticker price of $26,335 (including $995 for destination). I can forgive a little noise for that price, especially considering that Volkswagen gives you lane-keep assist and radar cruise control with stop-and-go capability at that price. As for handling, yes, the Jetta can go around corners, and the ride quality is good but not great.
Going Inside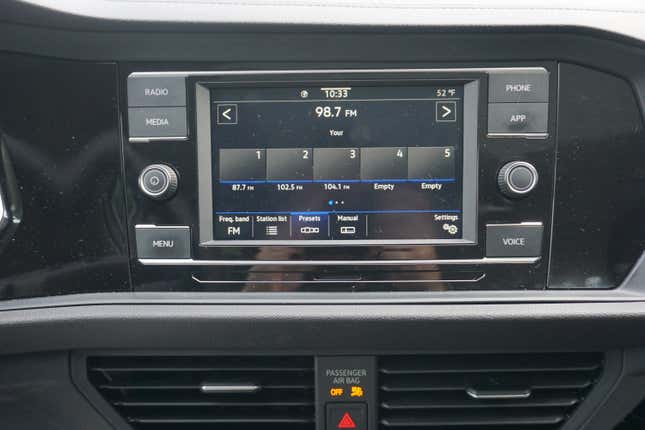 Goddamn does the Jetta have a lot of space inside. The trunk is big enough to swallow two overpackers' weekend bags with plenty of room to spare. Up front you'll never feel any sort of crampedness whatsoever, though you'll certainly notice that Volkswagen decided to slightly angle everything toward the driver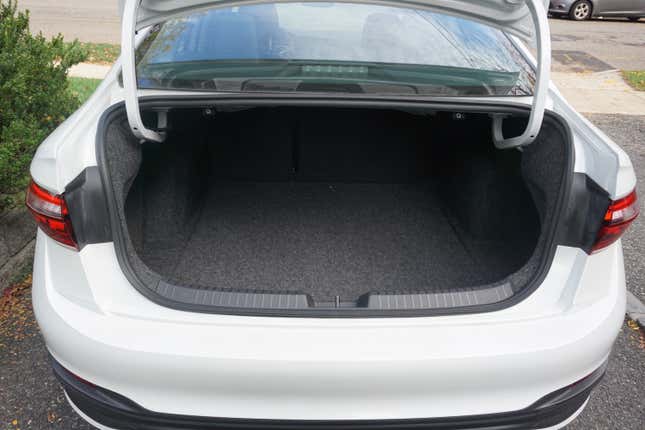 In back there's enough space to trick you into thinking this car is actually a class larger than it is. The Jetta's 37.4 inches of rear legroom and 37.2 inches of rear headroom are comparable to some midsize sedans. My oh my how the times have changed.
Everything works together to create a decent enough cabin. If you've stepped foot in any Volkswagen product from the past decade, you'll feel right at home in the latest Jetta. The controls are all within easy reach of the driver, but they don't have that same quality and solidity as Volkswagens from a decade ago. That low price has to rear its head somewhere.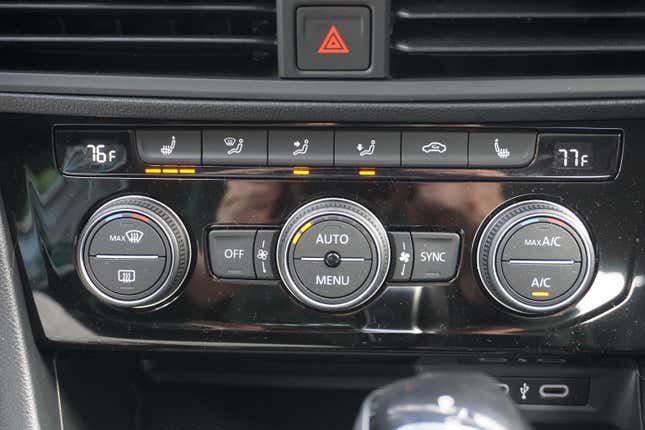 Still, the Jetta does have a few nice features you'll appreciate. There's a smallish 8-inch digital instrument cluster, which cannot really be customized beyond what information is displayed. If you want a bigger 10.2-inch screen, you'll have to spring for a higher trim level. Complementing this is a decidedly small 6.5-inch center infotainment display. It's not flashy, and it's low on features, but you're just going to hook your phone up to it and run Apple CarPlay or Android Auto anyway, right? Unfortunately, there's no wireless smartphone mirroring 'round these parts. You'll have to plug your phone into a USB port the old fashioned way.
All of the seats are covered in a nice-enough leatherette material, and because the SE isn't the base trim, you get niceties like heated front seats, a power driver's seat, dual-zone climate control and, for $850, you can even have a sunroof. Who doesn't love a sunroof?

Summing Up the VW Jetta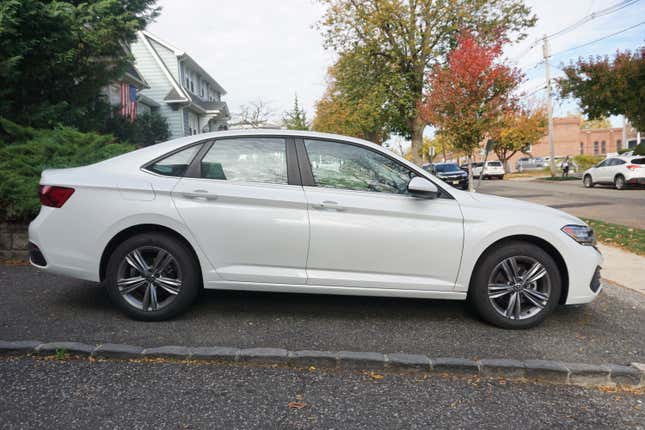 The Jetta is one of the few vehicles left for sale today that is simply just "a car," and that's why it's great. When all you care about is getting from point A to point B, do you really need a car that makes your life more complicated? Absolutely not. The Jetta can be your trusty companion for getting through the day. It'll never make a bad day better, but it absolutely will not make it worse.

2022 Volkswagen Jetta SE Auto Specs
Engine type
Intercooled Turbo Regular Unleaded I-4
Transmission/Drive
Automatic w/OD