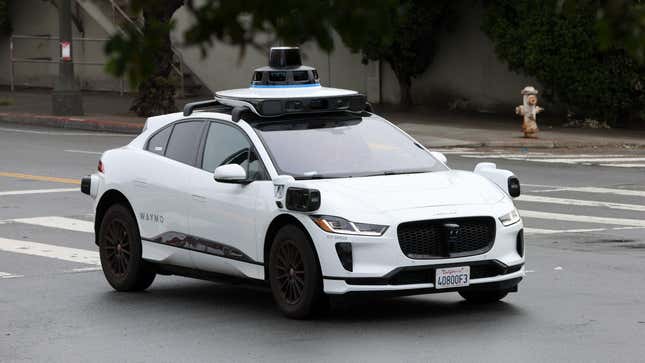 Waymo, a self-driving tech company, has reportedly laid off a "limited" number of employees this week. Automotive News reports that the company didn't disclose just how many people were laid off, but the cuts do seem to be coming from multiple departments.
The news comes during a tough time for the autonomous vehicle industry and the tech sector as a whole. Waymo's parent company, Alphabet, laid off 12,000 people at Google this week.
While we don't know exactly how many people have been laid off at Waymo, at least two dozen now-former employees have reportedly announced their layoffs on LinkedIn. The layoffs seem to be across the board, with cuts in perception, system and software engineering, fleet maintenance and system integration among others.
AutoNews reports that recruiters and friends of the recently-laid off are pointing them in the direction of other self-driving companies like Cruise, Gatik, Kodiak Robotics, Motional and Outrider. But, it's not all peachy keen in the world of autonomous technology. Motional reportedly cut an undisclosed number of jobs back in December, and Argo AI — a joint venture between Ford and Volkswagen — completely shut down.
Regardless of the layoffs, Waymo is still feeling good about its 2023 goals, according to Automotive News. However, it's not all perfect in Waymoland. Plans for the company's autonomous trucking unit, called Via, have been pushed back, and the company has publicly discussed a timeframe for when it would be deploying its Class 8 tractor trailers on public streets without humans aboard. The outlet reports that the internal timeline for Via has been "slightly" delayed.
Despite this, other ongoing trucking projects with partners like UPS and JB Hunt will reportedly continue, and so will work for developing the self-driving system's highway capabilities. Waymo One, the company's passenger-carrying commercial service, will also continue as planned as a near-term goal according to the report.
On top of all this, Waymo will reportedly not be reducing the number of vehicles it has on the road in either testing or commercial services. AutoNews says the company still has over 700 vehicles in its fleet and over 2,000 employees.