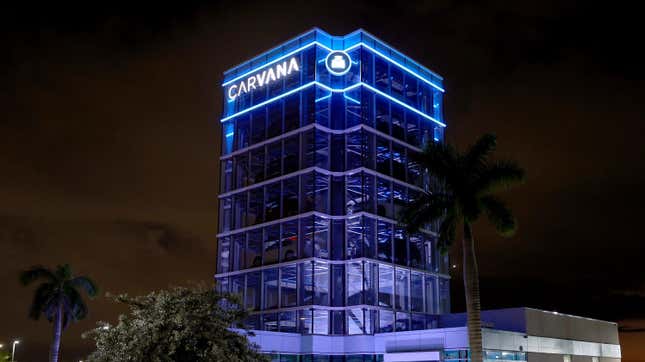 It seems like only yesterday that I was writing a post highlighting how Carvana continues to struggle. Oh wait, it was literally yesterday. And yet here I am, once again writing about Carvana continuing to struggle. But the bad news keeps coming, so I keep writing. One day, it will end. Eventually, either Carvana or I will die. But today is not that day. This time around, though, it's bad news for employees, as Carvana has reportedly begun another round of layoffs and hourly cuts.
Welp, Used Car Prices Are Rising Again
The Wall Street Journal reports that the troubled used car dealer is cutting both staff and hours as it struggles to continue making payments on its $7 billion in debt. The exact number of employees who have lost their jobs this year is still not clear, but this news comes after Carvana laid off around 1,500 employees in November of last year, bringing its 2022 layoff total to about 4,000. That works out to about a fifth of its total number of employees.
Data firm JXCE says Carvana's sales have dropped significantly and that it has a lot less inventory. In the fourth quarter of 2022, sales were an estimated 86,000, which is a lot less than the 113,000 vehicles it sold in Q4 of 2021. Cars are also taking longer to sell, with the average vehicle sitting on the site for 97 days in Q4, up significantly from Q3's 65 days.
You might read this news and think things are going poorly for Carvana, but a spokesperson told the WSJ that "the shift to e-retailing for selling cars will continue and Carvana's infrastructure makes it the best-positioned company to benefit over the long haul." So take that, haters. Stock prices are also up significantly, climbing into the mid-$7 range after spending most of the month below $5. Sure, that's still down a little from its peak of around $360 a share, but percentage-wise, that's a huge price surge.
So maybe all the doomers are wrong. But Credit Sights analyst Jory Eisenberg isn't convinced that's the case, saying "They need scale to be successful but now they need to cut costs. They're kind of screwed from both directions."