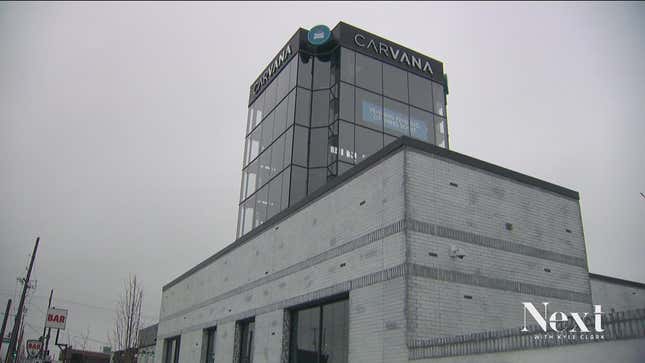 If you've been paying the slightest bit of attention over the last year, you know that Carvana is in big trouble. We recently published a roundup of all the problems Carvana's been dealing with, but the gist is that it got itself into legal trouble with several states, its stock price has tanked from about $360 per share to $6 or so, and with used car prices falling, it's going to probably have to take a loss selling a lot of its inventory. Although in some locations, it doesn't have any inventory at all.
Denver's 9News reports that months after Carvana completed construction of a new car vending machine, the building is still empty with no sign that it will ever open, even though the online retailer says otherwise. The company reportedly bought the land near where I-25 and Evans Avenue meet for $5.8 million. It's a busy area that required Carvana to spend years convincing local officials to rezone the property to allow it to build an eight-story building on it.
As Thomas Gounley, a reporter for BusinessDen who covers real estate, told 9News:
At each stage, the officials on the board or on the council would clearly think it was a little weird, a little questionable… and wasn't really the right thing for a spot down the street from a light rail station. There was kind of like a philosophical debate at the planning board… the first board to hear rezoning things in Denver… about what really is this thing," he said. "It's basically a parking garage that brings the car down to you when you want it and it's obviously a way for them to attract attention.
And yet, after all that trouble, Carvana still has yet to stock the building with any cars. As Phil Ruschmeyer, a commercial real estate broker, pointed out, if (or when) Carvana files for bankruptcy and has to sell its empty vending machine, it's going to be difficult to redevelop since there aren't many companies that can use a giant car vending machine.
Or, as 9News anchor Kyle Clark put it, "[If] you build an office building, and the company goes kaput, another business can just buy the space. You build an eight-story Carvana car vending machine at Evans and I-25, and that company runs into trouble, and you end up with an empty eight-story Carvana car vending machine at Evans and I-25."
Actually, just head over to the 9News report right now and watch the entire embedded video. Aside from being informative, it's full of great lines such as, "Anchorman and reporter Steve Staeger is trapped in this glass case of no motion." It's worth it. I promise. Unfortunately for Denver, rezoning the land to allow Carvana to build what's essentially a giant, difficult-to-repurpose billboard may not end up being worth it after all.