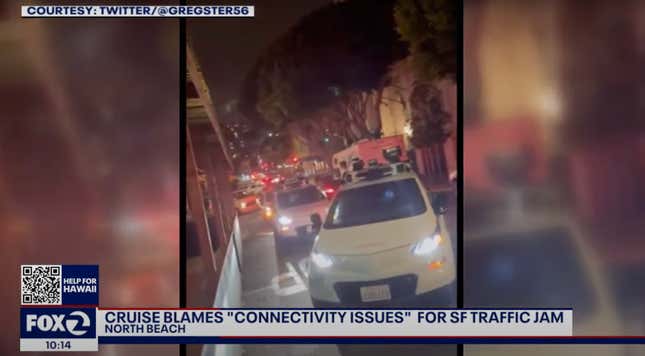 Concert-goers left San Francisco's Outside Lands Music Festival Friday bracing for bad traffic, not knowning a gaggle of Cruise robotaxis would make the mess much, much worse.
The snarl happened just after 11 p.m. on two narrow streets— Vallejo Street and Grant Avenue—where they cross with Columbus Avenue in San Francisco's North Beach neighborhood. Social media posts of the event show up to ten driverless taxis scattered haphazardly across traffic.
NBC Bay Area reports that the driverless cars were stranded for 15 minutes due to bandwidth issues:

Cruise told NBC Bay Area on Saturday that it was suffering from wireless connectivity issues, which caused delays to cars. It added it's working to make sure it doesn't happen again.

This traffic jam coincided with San Francisco's Outside Lands Music Festival which is going on about four miles away at Golden Gate Park.

On the social media platform X on Saturday, Cruise said that a "large festival posed wireless bandwidth constraints causing delayed connectivity to our vehicles."
I mean, who could have predicted a large crowd of people at a concert might be using their phones to upload grainy video no one will ever watch. It's not like that's been happening since cellphones gained internet or anything. This frustrating incident comes the day after Cruise and Waymo were cleared by the California Public Utilities Commission to not only expand their operating times and coverage, but to start charging for rides as well. San Francisco residents and leadership are not happy with the situation.
"Other than being an inconvenience, it's dangerous," said San Francisco Board of Supervisors President Aaron Peskin, who said he immediately received complaints from his constituents about the robotaxi jam.

[...]

"There was just a total meltdown," said Peskin of the incident Friday, "which shows that San Francisco's government that petitioned for an incremental approach —that we're right."

"These things are not ready for prime time," Peskin said of the autonomous vehicles.

He also said the notion that wireless issues caused this backup "is scary as heck if you think about the fact that moving these vehicles out of traffic requires cell service."

Peskin worries about what would happen if a natural disaster, for example, knocked out cell service. He referred to autonomous vehicles as "amazing devices," but is among the local leaders arguing that "they should not be expanded until the technology has been worked out."

Cruise says it's investigating the loss of connection, NBC reports, to prevent it from happening again. But almost exactly a year ago, around 60 Cruise vehicles blocked traffic all over San Fransisco for the same reason—loss of connection to main server.
Both Waymo and Cruise have had problems keeping cars moving on the road safely. Two Waymo robotaxis recently blocked traffic during both a pride parade and a baseball game. A Waymo taxi even killed a dog after recognizing a dog was in the vehicle's path. And when it comes to emergency vehicles, both self-driving car taxis tend to freeze or drive right through active emergencies, where a human drive would be able to negotiate the situation.