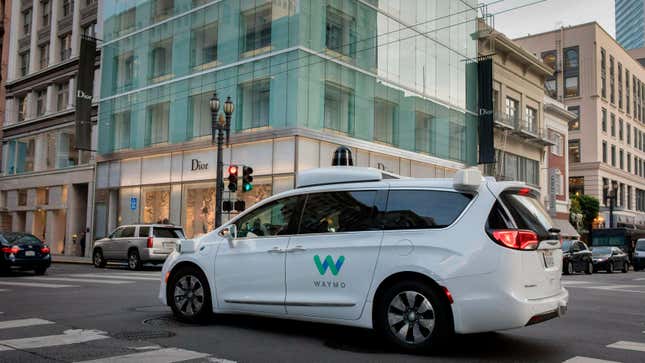 Autonomous vehicles aren't that great. And yet we keep trying, mainly because there is a lot of money behind it. In the Bay Area, this has led to some predictable consequences, as news outlet Mission Local reports that San Francisco police and first responders are dealing with glitchy driverless cars that are in the way during emergencies or cause traffic issues. Incident reports show it happens quite a bit.
Listen To The Lexus RC F Sing Through The California Mountains
In case you missed it:
Reports obtained by Mission Local detail the problems local responders have had with driverless vehicles from both Waymo and Cruise, both of which have authorization to test on the city's streets. In 15 different incidents, autonomous cars have either glitched out and caused a traffic problem or gotten in the way of a situation with officers and first responders left scrambling to try and get the car to move.

In one incident that occurred on April 25, a firetruck was responding to a call. The firetruck turned onto a narrow street, too narrow for two vehicles to pass at the same time. According to the report, approaching from the opposite direction was a Waymo autonomous car. As the firetruck approached, instead of getting over for the first responder as it should have, it did something else: it continued to approach the firetruck until it was less than 10 feet from it. And then it just stopped. The firefighters had to physically get out of the truck, approach the car and speak to the vehicle's monitor to tell it to move. The monitor responded that it understood the situation but, apparently, the car didn't respond to commands. The firetruck had to back down the street and go around.

Another incident from late January had a driverless car continue to approach the scene where a fire was being fought. The report says the vehicle kept approaching, so much so that firefighters on scene thought the car was going to run over the hoses and impede firefighting efforts. So one firefighter took matters into his own hands to stop the car.

I yelled at car twice to stop, banging with my fist on hood. After warning car twice I smashed the window and the vehicle stopped. Thank you.
While a lot of these incidents read like something out of a movie, the reality is not as entertaining. Many police and first responders Mission Local spoke with don't want the cars on city streets. But driverless cars are state regulated, with backing by the city that says that the local government doesn't have much say regarding them. In the meantime, emergency responders will have to work around them or hope that they don't get in the way. Or better yet, have the vehicles recognize emergency situations and react accordingly, as one firefighter pointed on in a report. "The need for these vehicles to recognize a road closed by caution tape, and caution sandwich boards," the firefighter said, "is imperative."