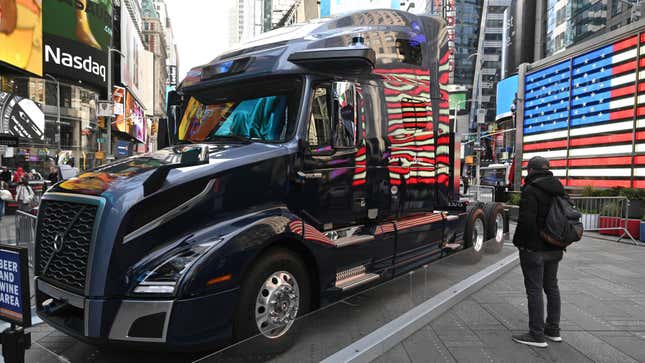 California labor organizers and some members of the state's legislature are pushing back over a proposal to reverse a ban on autonomous heavy-duty trucks on public roads.

According to Automotive News, the California Labor Federation and a number of Teamsters unions held a rally in the state's capital this week regarding a proposed bill that would require a trained safety driver to be in a truck's cab during any testing or operations of an autonomous vehicle that weighed over 10,000 pounds. Teamsters and lawmakers alike cited safety as a concern for keeping folks behind the wheel of these rigs.
A spokesperson for the Teamsters told AutoNews that the bill would act as a "backstop" in case the state DMV decides to allow autonomous trucks on public roadways.
"If we are going to roll out this technology, then it should be done by the legislature, not by a regulatory agency. It should be well thought out," Jason Rabinowitz, Teamsters Joint Council 7 president, told Automotive News. "Protection of our economy should be the number one concern, not the profits of these corporations that are pushing this technology, trying to make us move too fast."
Losing a job to a machine also weighed heavy on the minds of some of the folks the outlet talked to, which is a very fair thing to be worried about.
"We also cannot overlook the potential cuts to good jobs and how these jobs support the livelihoods of so many California families. This is not just a job for me," Joe Garner, a member of Teamsters Local 315, told the outlet. "It is life support for my family."
All that being said, not everyone is on board with this planned legislation, and they believe it'll end up being a big mistake for California if the bill progresses. AutoNews reports that multiple companies are already testing autonomous trucks in other states — mainly in the Southwest. Some believe that California may become an outlier in the country if this bill comes to pass.
Multiple companies like Daimler, Volvo, Waymo and Aurora Innovations, are already working on driverless technology for trucks. The outlet reports that right now, all of the trucks still operate with safety drivers, but most likely by 2025 they'll be driving all on their own. I guess we'll believe it when we see it.