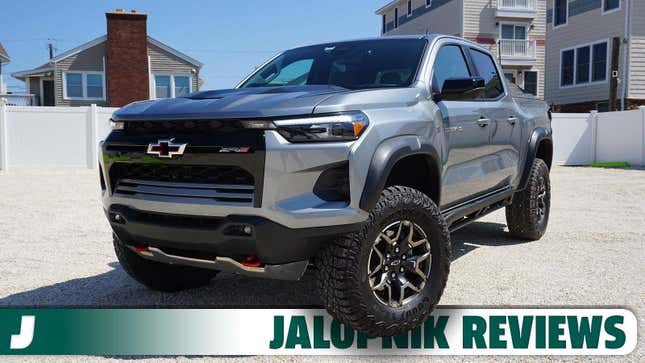 The Ford F-150 Raptor and Ram 1500 TRX are absolutely massive vehicles in just about every sense of the word. In all honesty, they're just too damn big for most places outside of Texas, and most people don't live in Texas. Luckily for us, though, Chevy has the answer: the Colorado ZR2.

This NYC Garage Takes Vanlife To The Next Level | Jalopnik Visits
This little(ish) truck will give you almost the exact same amount of capability as those two vehicles, but it costs a hell of a lot less and occupies a much smaller footprint. Because it's smaller, you can park it and drive it in places that are – you know – meant for normal vehicles, and it won't require a small oil refinery every time you fill it up.
Oh, and as it turns out, it makes a great rig for a weekend trip down to the Jersey Shore with friends. Loaded up with beach gear, four adults and a little dog, the ZR2 comes into its own when the going gets a little bit rough.
Full Disclosure: Chevrolet was kind enough to lend me a 2023 Colorado ZR2 with a full tank of gas to do whatever I wanted for a weekend.
Driving The Colorado ZR2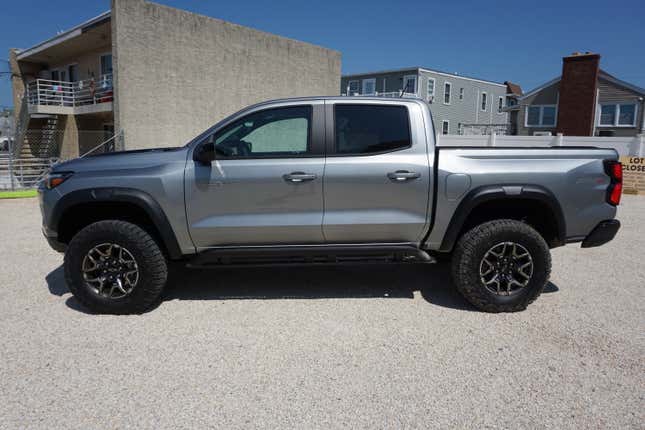 We'll get it out of the way right off the bat. The Colorado ZR2 is an immensely capable vehicle. Any terrain you throw at it, whether it's deep sand, mud or a cracked and broken sideroad in Manhattan, the truck handles it with brilliant ease.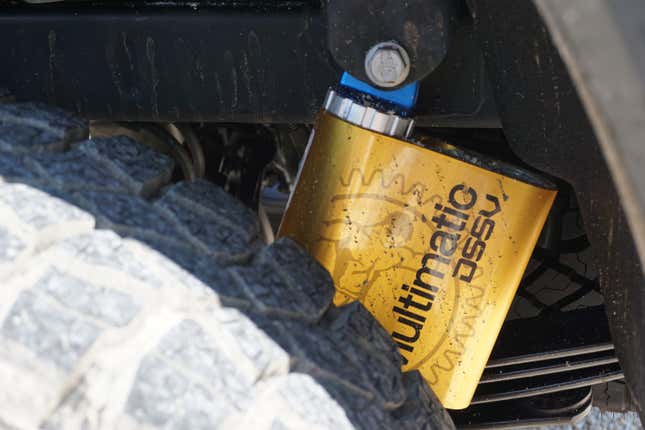 With over half a dozen drive modes, selectable four-wheel drive, a low-range gearbox, 33-inch tires and beefy suspension, it would be an absolute feat to get this thing stuck.

All of this offroad prowess does sort of come at the expense of on-road driving manners. Now, I'll say this: the Colorado ZR2 never felt dangerous or unwieldy. It just sort of felt a bit well – floaty. But again, that's to be expected. After all, you aren't buying this thing because it's a canyon carver. Eventually, a high center of gravity will make a car do high center of gravity things.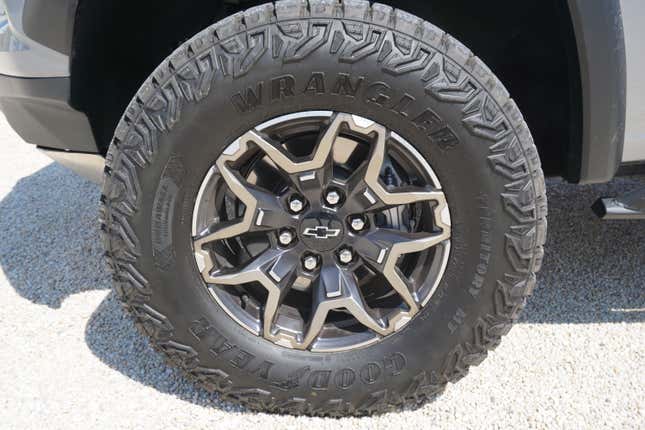 Around corners, the body floats and rolls as you'd expect out of something with such big tires, long-travel suspension and 10.7 inches of ground clearance. It wasn't enough to make anyone feel car sick, but you are going to notice inertia pushing you in the other direction. Luckily, the front seats do a good job of holding you in – for a truck at least.
In a straight line, the Colorado ZR2 won't exactly blow you away with acceleration or passing power, but it'll get the job done and then some. It'll do 0-60 in a bit under seven seconds, but that's not what all this is about, is it?

The Colorado ZR2's Mechanics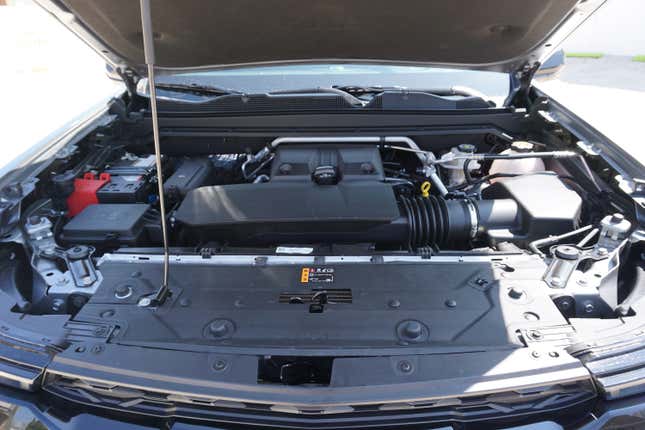 Speaking of straight-line performance, the Colorado ZR2 is motivated by a high-output version of GM's 2.7-liter inline-4. There's a lesser version of this engine in Colorado down the rung, but who cares about that? In this application, the motor puts out 310 horsepower and a very healthy 430 lb-ft of torque. It's more than enough to get this 5,000-ish-pound truck up to speed. It's also enough power to tow about 6,000 pounds if you're into that sort of thing. The number is higher for some non-ZR2 Colorados.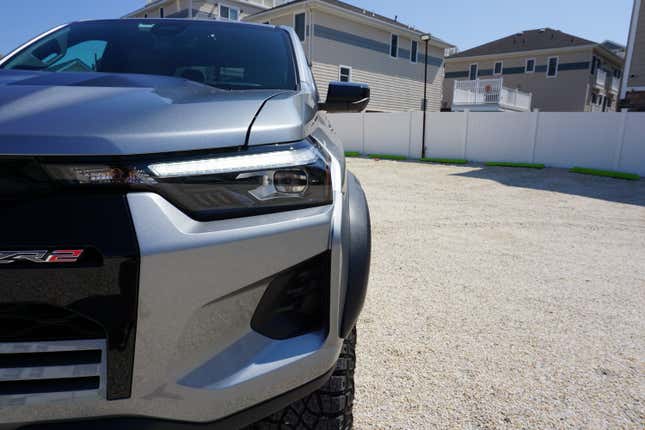 That power then gets routed through GM's 8-speed automatic transmission to all four wheels. Unfortunately for some, GM's V6 and Duramax Diesel have been discontinued for the new Colorado.
In terms of suspension, the Colorado ZR2 uses an independent setup up front and a solid axle out back. All four corners get fat Multimatic DSSV dampers. The ability to lock the front and rear diffs means you're rarely going to get stuck. If you do, it's an accomplishment and you should get made fun of.
On The Inside Of The Colorado ZR2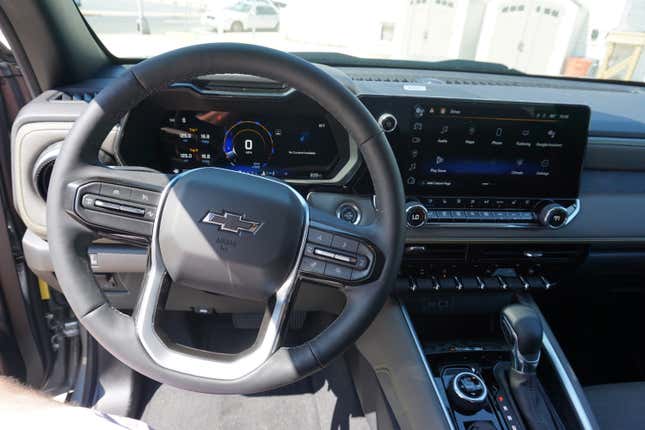 It's nowhere near a luxury car, but the Colorado ZR2 is a wonderful place to be. It's improved leaps and bounds over the outgoing truck, and several touches inside the ZR2'll set it apart, as well.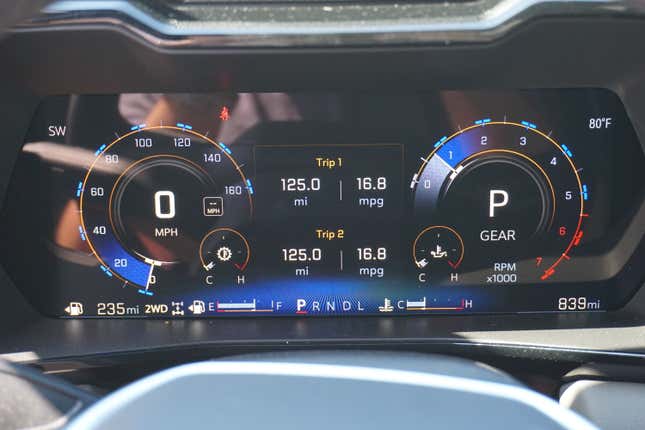 Dominating the interior of the standard crew cab body are two touch screens that serve as the gauge cluster and infotainment system. The 11.3-inch infotainment screen is simple to use, but it still packs in just about all of the features you could want.
The gauge cluster is also supremely customizable. There are several themes and information readouts to choose from to perfectly tailor your ZR2 experience to what you want. It can also be had with Google Built-In that'll take care of navigation, music and some other features. Let's be real though. You're going to use CarPlay or Android Auto. Lucky for you, they both integrate seamlessly – wirelessly or otherwise.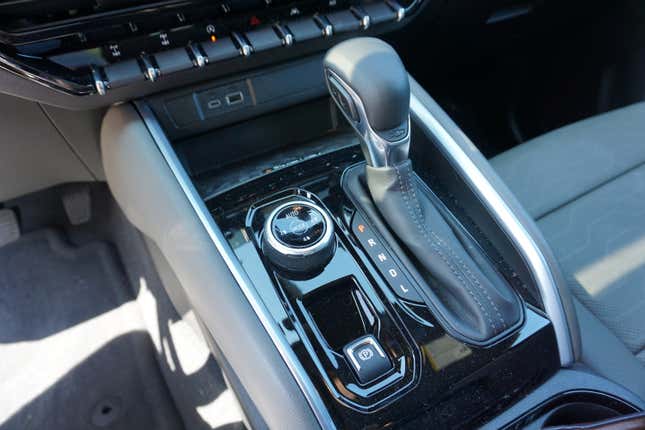 Away from the screens, we've got a center console that houses a couple of cup holders, a dial that handles drive modes, an electronic parking brake switch and four-wheel-drive settings and a real gear shifter. No Ram dial here. Most of the controls are well-placed and slightly angled toward the driver.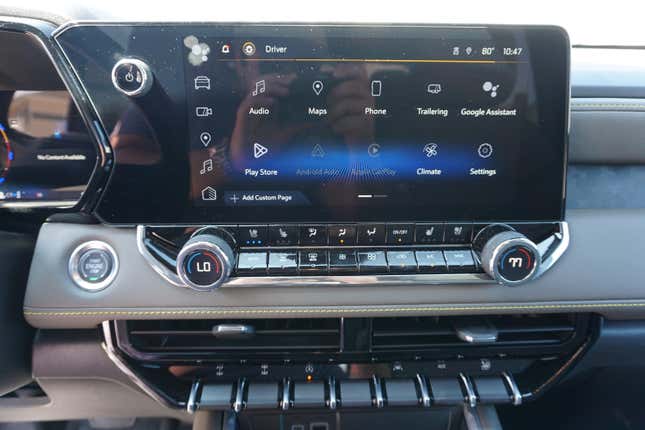 In terms of the overall design, it's a handsome interior. There are plenty of interesting details like contrast stitching and patterned plastic to make you feel like you're in something special. If I had just one complaint, it would be the goddamn piano black plastic. It's everywhere – the center console, screen and buttons are covered in the stuff. After a few hundred miles of driving it looked absolutely gross. I cannot imagine what it would look like after doing some off-roading. Not good is my guess.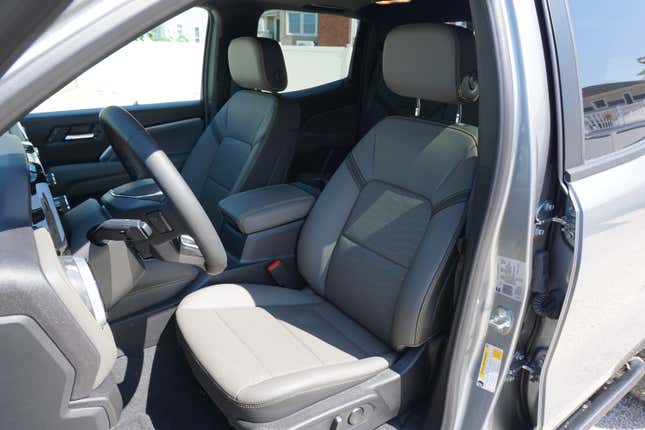 Space-wise – there's a lot of it. Even though it's not a full-size truck, there was plenty of room for four adults and a dog without any real squeezing. There's also tons of storage around the truck – plenty of storage cubbies, cup holders and outlets. Lest we forget the bed out back.

Getting Into Bed With The Colorado ZR2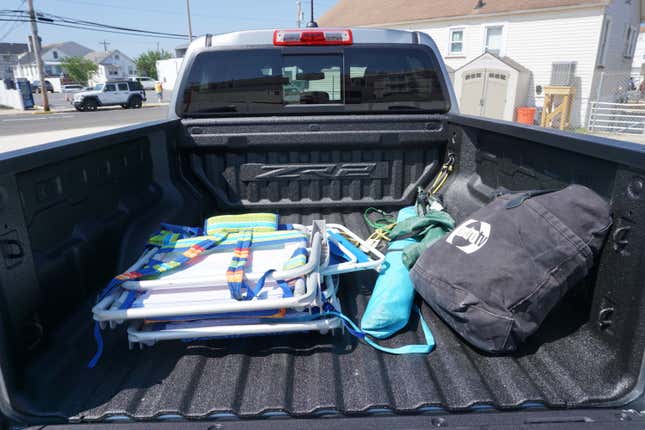 Ya know, I keep on forgetting why people like pickup trucks. Then I live with one for a few days and I am reminded how wonderful they are. Having five-ish feet of open space behind you to hold all your shit is a wonderful thing.

I took my ZR2 loaner to Seaside Heights, New Jersey for the weekend. As you may have imagined it was a very sandy affair. In a normal vehicle, all of that sand and ick would have gotten inside the car. It would have been miserable to clean. Instead, just throw your shit in the bed, tie it down with some bungee cords you borrowed from your dad, and sail down the New Jersey Turnpike without a care in the world. It's just a bonus that the bed has a power outlet, too!
If I had one complaint about the bed, it's that on the ZR2 it is very tall – and there's no real way to get in without looking goofy. There's no step to be found anywhere, and when the tailgate is down, it's still pretty much at nipple height. It means you've got to hoist yourself up. I'm sure Chevy has off-roading reasons for forgoing a step, but if Ram can do it, so can the bowtie.
Where The Colorado ZR2 Fits In The World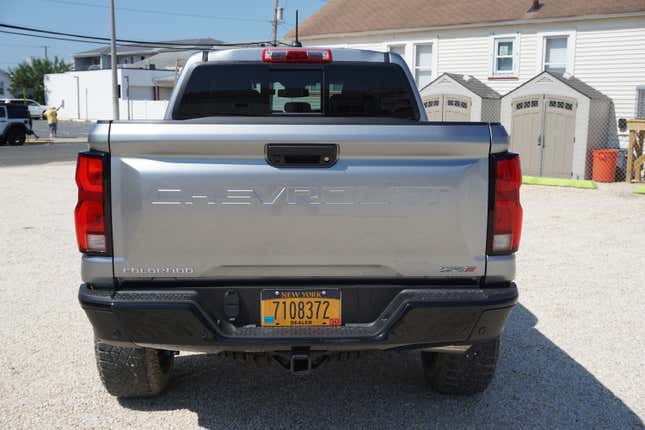 Livability-wise, you could absolutely daily a Colorado ZR2. Its small package and cushy suspension mean that living in a city isn't going to keep you out of the truck. It's obviously not tiny, but things could be much worse. Inside, you've got enough creature comforts and driving aids to make commuting a breeze during the week. Then, all you've got to do is flip a couple of switches and turn a few knobs, and you'll be mobbing down a dirt road or climbing over a big ol' rock in no time.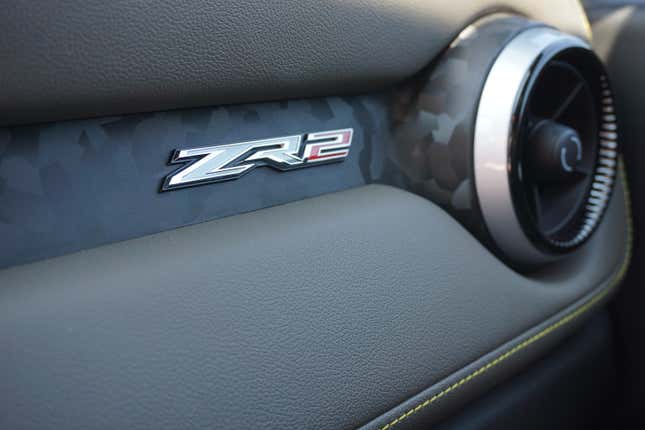 The only place the ZR2 really lets you down is gas mileage. The EPA rates it at 16/16/16. Take solace in the fact that no matter what you do, you're going to get 16 mpg. Unless you're me because I only managed 15. Close enough.
With a sticker price of $52,235 the Colorado ZR2 isn't exactly cheap, but you do get your money's worth and then some. It's sort of a Swiss Army knife. No matter what you ask of the ZR2, no matter how stuck you get, and no matter how much people and shit you throw into it, this truck will still get you home
2023 Chevrolet Colorado 4WD Crew Cab ZR2 Specs
Engine type
Turbocharged Gas I4
Transmission/Drive
Automatic