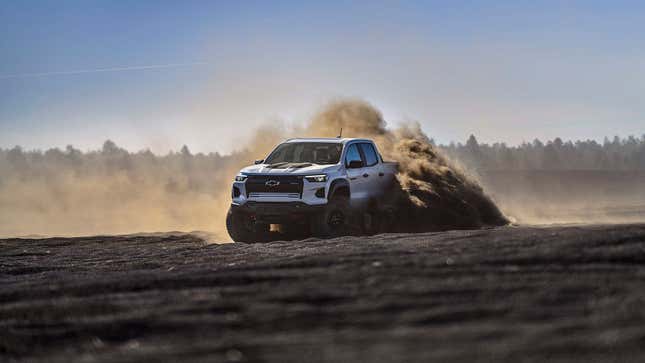 If you're the kind of person that looks at a Chevvy Colorado and wishes for more, then the ZR2 has long been the first choice. It ups the rugged looks of the Colorado and makes it a touch more off-road ready. But if that still isn't enough for you, then the all-new Chevrolet Colorado ZR2 Bison might be the truck of your dreams.

The new truck has been made in partnership with American Expedition Vehicles and comes packed with tweaks and changes that have all been added with the sole aim of improving off-road performance.
Changes to amp up the ZR2 Bison's off-roading pedigree include modifications to the Multimatic spool-valve dampers that you find in the standard ZR2, which are now equipped to handle the truck's 300-pound weight gain. But the Bison's trick up its sleeve are the hydraulic front and rear bump stops. Supplied by Multimatic, Chevrolet has badged these the "Jounce Control Dampers," and they've been installed to help the truck handle more aggressive off-roading.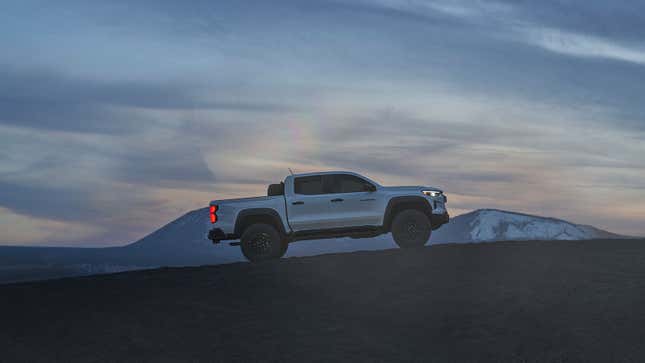 The Bison also comes with power-locking differentials at the front and rear and a raise to the ride height that gives the truck 12.2 inches of ground clearance, or 1.5 inches more than the standard ZR2. The changes have also improved the Colorado's approach angle, which is now 38.2 degrees, and its departure and breakover angles: 26 degrees and 26.9 degrees respectively.
These upgrades are all fitted to a truck that comes with Chevrolet's 2.7-liter inline four motor up front, which produces 310 HP – up from 237 hp in the standard Colorado. That engine is paired up with an eight-speed automatic transmission.
As well as those mechanical updates, Chevvy and AEV have also fitted the Colorado with some monstrous tires: a set of 35-inch chunky rubber that's good for tackling mud and all kinds of terrain. To fit these tires, the truck's front axle has actually been shifted forward by 3.1 inches. The ZR2 Bison is also fitted with steel skid plates and rocker protection to keep the underside of your truck in tip top condition.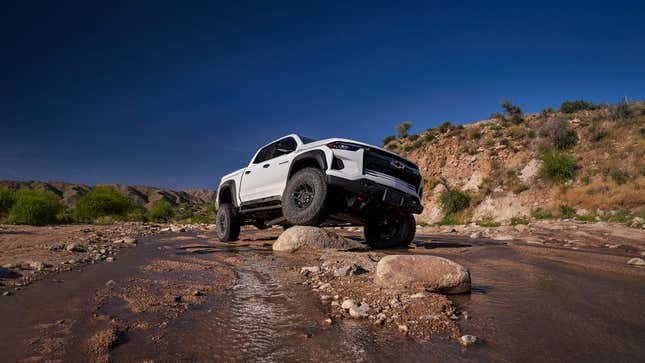 Finally, there are the essentials every good overlander needs, like big fender flares to ensconce those new wheels, a new rear bumper and a heavy duty winch up front. Lovely stuff.
Because this is still a Colorado at its heart, the ZR2 Bison is also equipped with all the usual Chevrolet niceties inside. We're talking an 11.3-inch display that handles your infotainment, which is also compatible with Android Auto and Apple CarPlay. There's also Chevy Safety Assist as standard, which brings features like emergency braking and lane-keeping, and adaptive cruise control can be specced as an option.
Chevrolet is expected to put the 2024 Chevy Colorado ZR2 Bison into production towards the end of this year, with Car & Driver reporting that the truck will "break the $60K barrier."