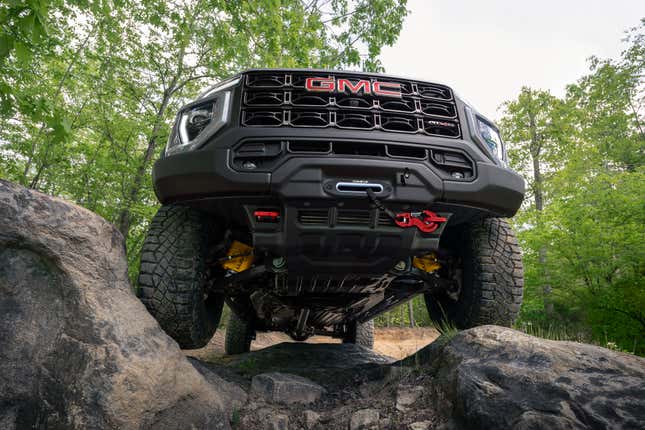 The 2023 GMC Canyon AT4X is already capable enough as it is, but GMC is partnering with American Expedition Vehicles to increase the midsize truck's off-road capabilities with the new Canyon AT4X AEV Edition. So far, the U.S. automaker has only released a teaser of the new truck that shows off the AT4X AEV Edition's underbody protection, as well as its integrated front winch.

GMC is set to fully unveil the AT4X AEV smack dab in the middle of summer, on July 6. That ought to leave enough time to still get out on the trails before the cold season — not like that would be a detriment to the Canyon AT4X, anyway, which boasts the same capabilities of the highly-lauded Chevy Colorado ZR2.

The upcoming Canyon AT4X AEV will add some more farkles to the AT4X package, although it's likely to be more about bragging rights and ease of use on the trail than actual performance upgrades. The AT4X's claim to fame is its Multimatic DSSV dampers, along with other suspension and chassis upgrades. The AT4X will likely add some touches to distinguish it from the "regular" old AT4X, including stamped steel bumpers, integrated recovery points, a front winch, steel skid plates and AEV-branded wheels.
It's unclear what the Canyon AT4X AEV will cost for now, but the Canyon AT4X starts at $58,490 including destination. The price difference, or premium, for the AT4X AEV is likely to be over $10,000. The Canyon AT4X's Chevy sibling, the Colorado ZR2, has its own special edition which buyers can order by adding the Desert Boss package, coming in at an additional $9,295.
On the Chevy ZR2, the package adds things like beefier bumpers and underbody, unique wheels and unique branding throughout. It's likely that the AT4X AEV will feature something similar, though it's unclear if the AT4X will have the same sports bar with sleek sail panel as the ZR2 Desert Boss.
This marks the latest edition to the GMC truck lineup to get its own set of customizations courtesy of American Expedition Vehicles. GMC earlier announced the upcoming release of the Sierra 2500 HD AT4X AEV Edition. You can think of this latest AEV truck as the yin to that massive truck's yang, but we all now that midsize is the right size.