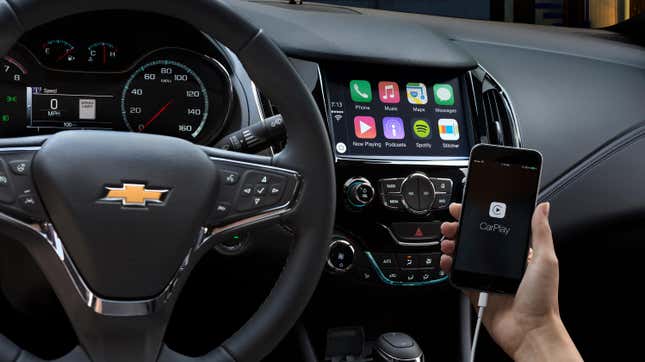 GM recently shook things up with its announcement that the company is phasing out Apple CarPlay and Android Auto in future EV models. But some buyers may be turned off by their models as phone projection is a big part of some people's buying decisions, and industry experts and analysts were left thinking just what the hell are they thinking. Apparently, GM doesn't think a whole lot of the backlash: The Verge reports the company is hoping to win over buyers with a new system.
Chase Elliott Explains the Challenge of Adapting to NASCAR's Next Gen Car
In case you missed it:
GM's VP of software defined vehicle and operating systems, Scott Miller, has a unique view of the situation. He doesn't think GM's decision to stop using phone projection systems was a bad one, which makes sense given his position. And he doesn't see data showing that most car shoppers want Apple CarPlay in their vehicles as a sign that the company should have stuck with it. Interestingly, he sees demand of those systems as an indicator that customers want more or a better infotainment system experience. "I don't think anybody would tell you that the projection experience is fantastic. Right now, it's convenient, it's good, and compared to where we've been in the past, it's been really good," he told The Verge.

In what's almost a knock against phone projection systems, Miller said GM doesn't want a system that's " merely "really good." Speaking about the native infotainment system the company is currently developing, Miller said the company is developing a system that is "holistically integrated." This means that the system will display important and integral information regarding the vehicle and its battery. His argument is that this isn't something that can be done with a phone projection system. Doing this required the company to "narrow down the scope." He gave an example using a possible navigation and charging experience.

...when the owner of a Chevy Blazer EV routes to an EV charging station, the vehicle's native software can begin warming up the battery so that it's primed for a faster charge. That's a level of "holistic integration" that's unavailable through CarPlay and Android Auto.
Miller downplayed the backlash the company has been getting over its decision as hurtle. He also downplayed CarPlay and Auto's popularity by saying people love using them because they're used to them. "People are creatures of habits, and if they've been using it, they've been using it," he said.

Still, why can't a system with the level of integration they're looking for be designed alongside a system that's still capable of running a phone projection system? The other side of this is that GM's track record of designing infotainment isn't great — something GM shares in common with almost every other automaker. There's Cadillac's CUE, which tried too hard and was widely panned, as well as MyLink which wasn't much better. Both of these are in addition to other infotainment system failures like an in-car marketplace that was shut down because no one was using it.

Partially at stake is money and data, as the EV transition means GM needs to know how you drive and charge your car. Funneling customers to use a native infotainment system developed in-house is a good way to do, while also learning about customer charging and driving habits and possibly getting more revenue from subscription-based features.

In the meantime, according to Miller, Blazer EV reservations didn't seem to take much of a hit after the company's announcement. He also said that phone projection systems aren't going away completely yet. They'll be phased out and still offered on gas-powered vehicles. Bluetooth connectivity will also still be offered on EVs. I wish GM the best of luck.