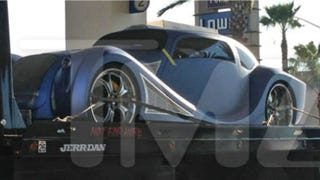 William (I refuse to call him Will.I.Am) of the Black Eyed Peas has a penchant for custom cars. He customized the crap out of his Delorean to create a one-of-a-kind masterpiece/monstrosity. Now it looks like he's acquired yet another very customized, and very expensive ride.
Oh, Will.I.Am. Part of us wishes your goal to launch your own car company would result in something awesome instead of something continuously hilarious. But only part of us.
Everyone jabbers on about an Apple iCar, but what if Microsoft built a car? You'd get this — a 1967 Mustang body on a 2012 Mustang with blazing lights, Windows Phone controls, an Xbox 360, and tablets everywhere. Called "Project Detroit," it's actually the Windows Vista of Mustangs.
The Discovery network, perhaps hoping to pick up eyeballs from a SPEEDTV network no longer interested in doing car-related programming, is rebranding its HD Theater channel as "Velocity" and aiming squarely at guys with short attention spans and lots of money.
Range Rover Sport too dull for you? Too many doors? Not in line with your posh Dubai lifestyle? Need something to comb the desert in? Good news friend, West Coast Customs Dubai is reproducing the Range Stormer concept in street legal form. Better news is there's one on sale at Alwan's used cars for a cool $500,000. It…
Founded in Laguna Niguel, CA, West Coast Customs moved to Compton in '98 and then Inglewood in 2000. Apparently tired of ghetto-cred, owner Ryan Friedlinghause is moving the operation to Corona, California, of all places. According to the Fried, "The interest in custom cars and the money to spend on customization is…
Two well-sung heroes of the aftermarket, Shelby Automobiles and West Coast Customs, have teamed up to build a SEMA-worthy limited-edition Ford Mustang GT. Shelby contributed the engine tweaks, including a Vortech supercharger that boosts horsepower to 500, while WCC is handling interior and exterior pimpage: extensive…