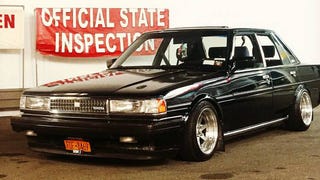 Welcome to Little Car in the Big City, where I highlight fascinating cars I found walking around a town that is known for being bigger than everything else, but where every car is fighting to stand out: New York, New York.
Award season is rapidly approaching, and Nice Price or Crack Pipe wants you to arrive at the red carpet shouting oh, what a feeling!
In the play My Fair Lady, Professor Henry Higgins turned Cockney flower girl Eliza Doolittle into a proper English lady. Today, Nice Price or Crack Pipe brings you a similar transformation from Toyota.
Welcome to Down On The Street, where we admire old vehicles found parked on the streets of the Island That Rust Forgot: Alameda, California. Here's a car that should be recognizable to anyone venturing to Alameda's main downtown strip during business hours: an '86 Cressida that lives in a yellow loading zone in…
This is Down On The Street Bonus Edition, where we check out interesting street-parked cars located in places other than the Island That Rust Forgot. You know those movies about the scattered survivors of a heinous plague? Here's a machine that's emerged victorious- though hardly unscathed- from repeated assaults by…