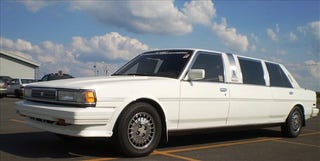 Nice Price Or Crack Pipe
Is this used car a good deal? You decide!
Award season is rapidly approaching, and Nice Price or Crack Pipe wants you to arrive at the red carpet shouting oh, what a feeling!
Given that yesterday's tasty Lambo garnered a healthy 80% Nice Price vote (and for the record, that was a nice price) it looks like all is forgiven for Tuesday's Chevette Diesel debacle.
Let's say you are participating in a VH1 reality program. Based on your cutting and insightful Jalopnik commenting, you have achieved some semblance of celebrity, which has quickly turned into a life-threatening spiral of wine, women, and song, only it's really meth, your mom, and milli-vanilli. Oh the ignominy. And so you do what every celebrity perched on the narrow ledge of obscurity does- you agree to join a reality rehab show.
How would you arrive for the first day? Sliding sideways through the mansion gates in your F430 Scuderia? Landing on the roof in your Sikorsky S76A? How about rolling in in the back seat of your black on black on black 'Slade with the 28 inch DUBs and diamond-studded stripper pole in the middle?
Naaaaaaaahh, ain't gonna' happen, playa.
But if you want to maintain at least a shred of your dignity, you could roll in this 1987 Toyota Cressida Limo which is rocking a you haven't quite hit rock-bottom yet price of $10,995. One of only ten Cressida limos built by Armbruster Coachworks in of all places, Ft. Smith, AK, this burgundy velour and laminate sanctuary may not have the presence of a block-long Town Car, but its tinted windows, and landau roof will hide your tears of shame as you are motored to your gig at the D-List Detox house for an 8-episode stint at cathartic self realization, relapse, and eventual redemption under the guidance of 3-week clean Todd Bridges and the morbidly flaccid Tara Reid.
The sturdy and reliable Toyota would be a final cosseting comfort before - like a splash of yesterday's coffee to the face - you are paired as roommates with a hyperkinetic David Hasselhoff, who spends his time alternating between eating imaginary hamburgers off the floor and tearfully singing Hooked on a Feeling in German. As the realization of what you have gotten yourself into begins to sink in, you watch the Cressida drive off, not to be seen again until you are whole. You comprehend just how much you miss the white beauty when house-mate Jack Osbourne takes to masking his bulimia by vomiting into your underwear drawer, and then blaming it on the house cat. The volume of cat hair in the mess is pretty convincing evidence, until you catch him in the act of tossing his cookies onto your tighty whities, and discover that he suffers from yet another emotional illness- compulsive cat bathing.
Adding to your misery, the impromptu after-dinner sing-a-longs with the remaining members of the Poison tribute band Auntie Dote are so grating and off key that you'll yearn for the dulcet exhaust note from the smooth, powerful twin-cam six of the Cressida. And, while you agreed to take this twelve-step program, the pillow-like seats and expansive leg room of the Toyota limo mean you'd rather be driven. Toyota's legendary reliability means that once you are clean, you'll get to keep the car for damn-near forever, much like your emotional scars.
So, what'll it be for your final ride to infamy and redemption? Is $10,995 a stretch for this little limo? Or, is admitting that you need a Cressida Limo the first step on the road to recovery?
You decide!
Chambana Craigslist or go here if the ad hits rock bottom. Hat tip to Falude!
Help me out with NPOCP. Click here to send a me a tip, and remember to include your commenter handle.