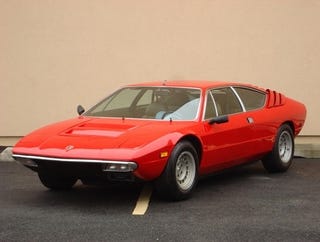 Nice Price Or Crack Pipe
Is this used car a good deal? You decide!
Are you ready to get your budget exotic on? Well, Nice Price or Crack Pipe has a Piccolo toro for you, and that's no bull.
Yesterday the poor little diesel chevette got a shiv in the gut by an angry 69% of you. After that, we're not turning our backs on you, and today, as a bit of a peace offering, we've got a mid-engine masterpiece that's ten times the price of that Chevy, but only half as tall.
Ferruccio Lamborghini's company started out building tractors, and, with the exception of the LM002, they've never let their agrarian past seep into their automobiles. Initially a series of Giotto Bizzarini designed V12-powered cars, the bull-badged maker brought out a smaller V8-engined car to engender greater volume and compete with the contemporary Ferrari 308 and Maserati Merak. Designated as a 2+2, the back seats of the Urraco are best left to soft luggage or individuals for whom waterboarding is no longer an option, as they're pretty tiny. The Marcello Gandini design borrows heavily from 3-day Blinds, but manages to hold its own even today, demonstrating the talent of the then Bertone-employed stylist. The interior, on the other hand, is a dog's breakfast of instrument placement and material quality, typical of the Sant 'Agata Bolognese based maker.
This '72- one of only 791 total built- is rocking the 2.5 litre all-alloy single-cam eight, which is mounted transversely, in Miura-esque fashion, just ahead of the rear wheels. That engine pumped out a '70s-proud 180 bhp, which would push the little bull to a top end of 143 mph on the Autostrada. The car is claimed to be in original condition, and to have but 43k on the clock.
Now, you may have seen the Top Gear episode in which the boys each were given ten thousand pounds to buy an exotic, and James May showed up with an Urraco. . . on a trailer. Despite that inauspicious start, and in a car that didn't look half as good as this one, he managed to outdistance Clarksnob in a Mauser, and Hamster in a 308, on the final challenge, although even he didn't make it to the target strip club due to electrical failure.
But that wouldn't happen in this beauty, would it? For the $22,500 asking price, you could buy a car with a warranty should you be so concerned. But where would the fun be in that? And the reason you buy a Lamborghini is for fun. Not necessarily the fun of driving, because the driving position is a little awkward, and it's not going to win any stop light drag races that KIA drivers throw in your face. No, the fun is in all the attention you will get when you pull up to the Magic Pan in it. And by attention, we mean sex. Regardless of which side you zip your pants, the Urraco is pretty much a roofie on wheels, and you won't need the strip club when driving this.
So, would you be willing to part with $22,500 of your hard-earned cash for this littlest Lambo? Or do you say bull to that price?
You decide!