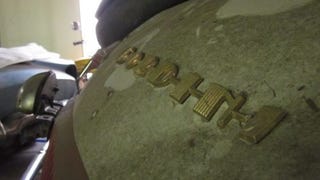 When you bring a Renault Le Car with skunk tail and fur to a LeMons race, you've already got a big jump on the Index Of Effluency competition. All you need to do is keep the thing running all weekend.
Even though Renault never had a big presence here in North America, we can still admire the TV commercials for their cars. Spanning the spectrum from salacious to surreal, Renault ads rarely fail to entertain.
We're on a four-straight Crack Pipe roll, with 68% of you directing the $37,995 Ferrari Mondial to take its sorry self to Booth Number Two. Will today's car be the one to break the streak?

Was the Renault Le Car (aka Renault 5) really the best-selling front-wheel-drive car in the world in 1981? From the country that brought us the bullet train, here comes the Le Car!
How much is too much for an interesting old car? The Renault Le Car (that's a Renault 5 to you Yurpeans) is pretty interesting, all right, but $5300.83? Nice Price… or Booth Numbah Two?
We had a debate going on whether we should call this Le Car the Le Carmino or the El Carmino, seeing as Le and El carry the same meaning. No matter, this French fry is a dreamy vehicle no matter how you slice the name. For reasons that we have no explanation for, this particular Camino has been outfitted not only with…